Bath Advisors is supported by readers. If you buy through links on our site, we may earn an affiliate commission at no extra cost to you.
Freestanding bathtubs aren't new, in fact, they are the preferred choice among homeowners looking to remodel the bathroom or build a new one!
The biggest perk freestanding bathtubs offer is the sheer opulence and luxuriousness. Moreover, you don't need to worry about the tiny corner space inside the bathroom since you can fit this bathtub almost anywhere.
I have also installed a freestanding tub in my bathroom. It has certainly improved my bathing experience and not just the bathroom's aesthetics.
However, choosing a bathtub, especially a freestanding one, requires you to be aware of all the features it offers. That's what I came across when looking for one for my bathroom.
Thus, I rounded up every single thing you should know when choosing a bathtub.
Now you don't have to search "how to choose a freestanding tub" anymore. Since this detailed guide will tell you everything, you should know.
What Is a Freestanding Tub?
A freestanding bathtub looks just like a regular tub, but the major difference is that it's standalone and unattached to the walls. In addition, all the tub sides are rounded and finished, so you can install it in the center of the bathroom.
With a freestanding bathtub, you are free to choose any location since these tubs are compatible with freestanding faucets that aren't restricted to any particular location.
The tub sits directly on the floor and does not have feet or any platform supporting it. The flat base keeps the tub stable. Thus, you can have a soothing bath every day, unfurling inside the bathtub.
Types of Freestanding Tubs: Popular Freestanding Bathtub Styles
You'll find yourself lucky as these tubs are available in a range of styles perfect for every bathroom. Here are the following types available to choose from:
1. Pedestal Tubs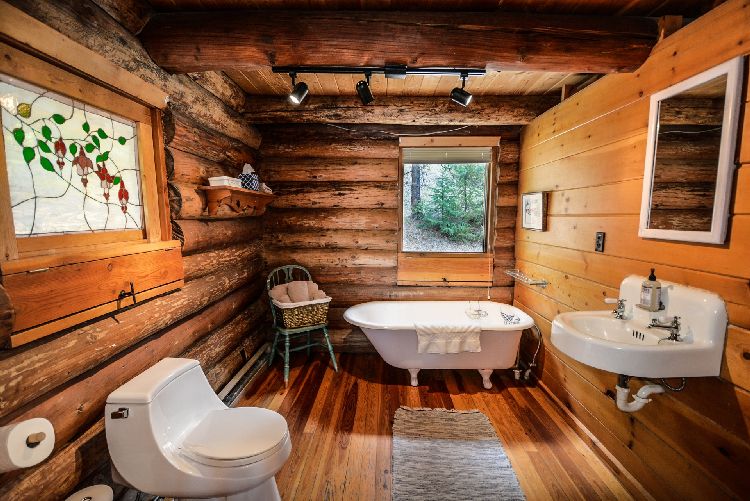 This is the most common type of freestanding bathtub and is perfect for homeowners with a tiled bathroom floor. There's a pedestal under the tub that is the same as the tub material.
Pedestal tubs are a great choice if you do not want the main tub body to rest directly on the floor. The base offers better protection and safeguards the tub from dings and dongs.
However, pedestal tubs aren't a great option for smaller bathrooms because of space issues.
Available Sizes: 52″ to 78″
Pros:
The base keeps the tub clean and protected
Suitable for any type of floor
The combination looks beautiful
Cons:
Not suitable for small bathrooms
2. Clawfoot Tubs
The clawfoot bathtub or the footed freestanding bathtub has feet that lift the tub up from the floor. If you do not want the tub to rest directly on the floor, you should choose these tubs.
Also, the feet make it easier to clean the underside, and your bathroom looks spick and span. Clawfoot tubs can also fit in bathrooms with limited space because there is no big pedestal under them.
Available Sizes: 48″ to 72″
Pros:
Easy to clean and maintain
It does not damage the floor
You can easily clean the underside of the tub
Cons:
You need to be extra careful while installing them
3. Roll Top Tubs
Roll-top bathtubs have a similar base to any other regular tub. But the biggest difference is that all the edges are rolled up. So if you need a tub that feels soft and does not scratch your arms or legs while getting in and out, you should choose roll-top tubs.
There are plenty of colors and sizes available in these tubs, making them perfect for every bathroom.
Available Sizes: 55″ to 72″
Pros:
Suitable for homes with kids and elderly
Available in multiple shapes
You can easily rest a caddy over the soft edges
Cons:
Limited material options because of the molding
4. Corner Tubs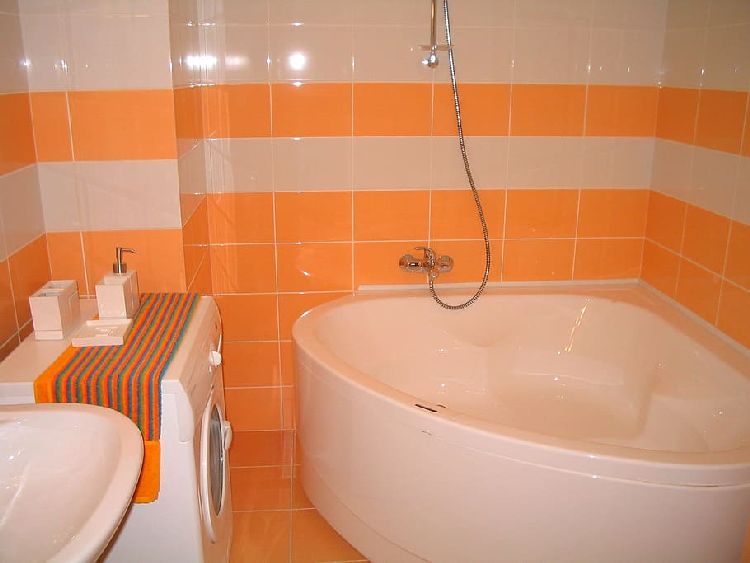 Not every freestanding bathtub is designed for the center, some fit in the corner as well. You should choose these tubs if your bathroom has some space available in the corner.
However, the tubs aren't designed to be mounted against the wall, so you can install them easily. In addition, these tubs have two straight sides that fit into a corner, making it easier to install a faucet.
Available Sizes: Usually Customized
Pros:
These bathtubs are good for bathrooms with limited space
Easy to install
It can be used with a wall-mounted faucet
Cons:
Only available in one shape
5. Slipper Tubs
As you can easily understand from the name, these tubs have a raised interior to create a comfortable seating area.
These tubs come in single as well as double slipper options, so you get multiple choices of heights. Folks with back problems should choose slipper tubs as they are easy to get in and out.
Available Sizes: 59″ to 78″
Pros:
Available in multiple heights
These tubs have an ergonomic design
Ideal for people of all ages
Cons:
6. Japanese Soaking Tubs
Japanese soaking tubs are smaller yet taller, so they are suitable for sitting and not for laying. These freestanding tubs can have seats made up of wood and other durable materials.
If your bathroom lacks space, and you still need a lavish bathtub, choose these freestanding soaking tubs.
Available Sizes: 40″ to 60″
Pros:
These tubs are ideal for relaxing
The comfortable seat lets you sit for hours
Can fit in small as well as big bathrooms
Cons:
Not that great for bathing
Common Freestanding Tub Materials
Well, it is essential to know about the material since it affects the durability and the lifespan of the tub. Also, some tubs are made up of metal and can catch corrosion over time, which makes it even important to understand the material before ordering your tub.
Here are the most common freestanding bathtub materials with a brief explanation.
1. Fiberglass Tubs
It is a type of reinforced plastic with multiple layers molded into the shape of a bathtub. On the top, there's a coating of Gelcoat resin that keeps the bathtub stain-free and easier to clean.
Usually, homeowners choose freestanding tubs in fiberglass because they are affordable and lightweight.
Pros:
Cons:
These tubs are brittle
The finish and color may deteriorate over time
2. Porcelain Tubs
Made using stamped steel or cast iron, porcelain bathtubs come with a layer of enamel coating. These tubs are easy to clean and do not require a lot of maintenance.
The material can easily withstand high temperatures up to 750 and 850 °C making the tubs highly durable. Also, the coating lasts longer, and the tub retains its sheen and luster over time.
Pros:
The smooth surface makes the tubs comfortable
Resistant to cracking and chipping
Easy to clean and maintain
The coating lasts longer
Cons:
These tubs are slippery
The tubs have lower heat retention, so the water gets cold quickly
3. Ceramic Tubs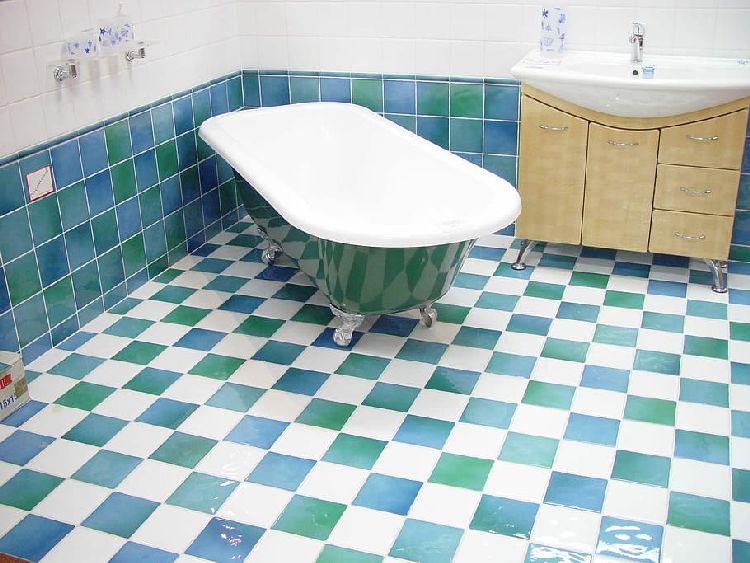 These freestanding bathtubs are fabricated using several ceramic tiles and have similar properties to the bathroom tiles. The tubs look great, have a sheeny surface, and are perfect if you want the bathroom to look modern.
These bathtubs are more expensive than fiberglass ones, but they offer more luxuriousness. There are plenty of colors available in ceramic bathtubs to suit the décor of your bath space.
Pros:
These bathtubs are available in multiple colors
Easy on maintenance
Resistant to heat and stains
There's no place for mold to thrive on this surface
Cons:
These bathtubs are prone to crumble
The material is slippery, so not fit for the elderly
4. Copper Tubs
Copper bathtubs are for those who aren't interested in a ceramic or tile-like tub. The biggest advantage these tubs offer is durability. However, corrosion is something you should worry about if planning to have one.
Popular manufacturers like Kohler, and Woodbridge offer these tubs coated in thick corrosion-resistant paints. Apart from durability, another advantage these tubs offer is aesthetics. Copper tubs go well with dark-themed bathrooms.
Pros:
These tubs do not chip or crack
Maintaining a copper tub is easy
The material offers a good grip
The tubs are aesthetically pleasing
Cons:
These tubs are heavy, so installation is challenging
Pricier than some other types
5. Stone Resin Tubs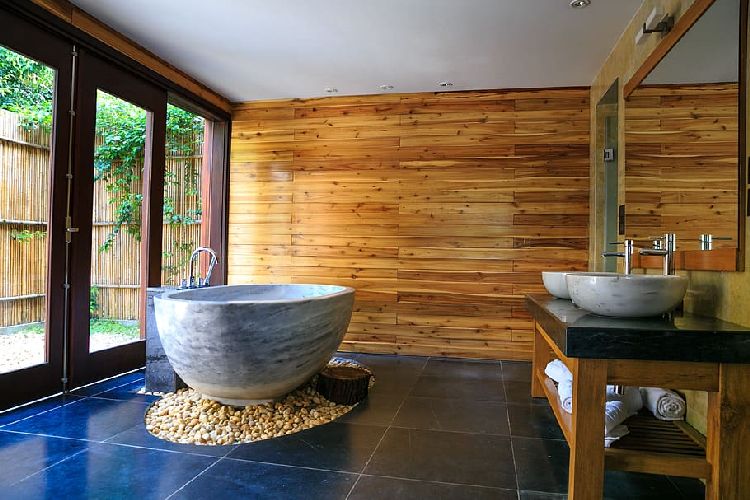 These bathtubs have a natural stone-like finish making them a perfect décor item for your bathroom. However, the tub is fully functional like any other and offers you a soothing bath.
The colors of these tubs do not fade away, making them highly durable. And not to mention, the stone resin can withstand the tests of time. Cleaning these tubs is simple, and you can make the material spick and span within minutes.
Pros:
These tubs are highly durable
Hassle-free cleaning and maintenance
The tubs last really long
Available in a wide range of colors and patterns
Cons:
Stone resin tubs are heavy
The material is slippery
6. Acrylic Tubs
If a durable freestanding bathtub is on your bucket list, you shouldn't overlook acrylic freestanding tubs. Made using a solid sheet of petrochemicals, resins, and stabilizers, acrylic is highly durable and offers a smooth finish.
These bathtubs aren't slippery as the ceramic ones and are not prone to chipping and cracking as well. The best thing about acrylic tubs is that they are inexpensive and easier to maintain.
However, the unavailability of color options may be a little disappointing.
Pros:
The non-porous material does not catch stains easily
The tubs keep the water warm for long
The material repels mold from growing
These tubs are durable
Cons:
Not the cheapest bathtubs
These tubs flex, making difficult to walk on
7. Wooden Tubs
The wooden freestanding bathtubs are a synonym for exquisiteness. These tubs look amazing and are highly durable as well. The thick varnish on the top safeguards the tub from rotting, and the wood retains its natural appeal for years.
There are no chances of chipping and cracking, but you must follow the regular wood caring regimen. Lastly, these tubs come in a range of color options and multiple kinds of wood. However, they weigh more than their acrylic and ceramic counterparts.
Pros:
These tubs offer next-level durability
You get a natural feel bathing in these tubs
Wooden bathtubs are available in multiple shapes and finishes
They look luxurious
Cons:
Wooden bathtubs are pricey
The material requires regular cleaning since wood is porous
8. Cast Iron Tubs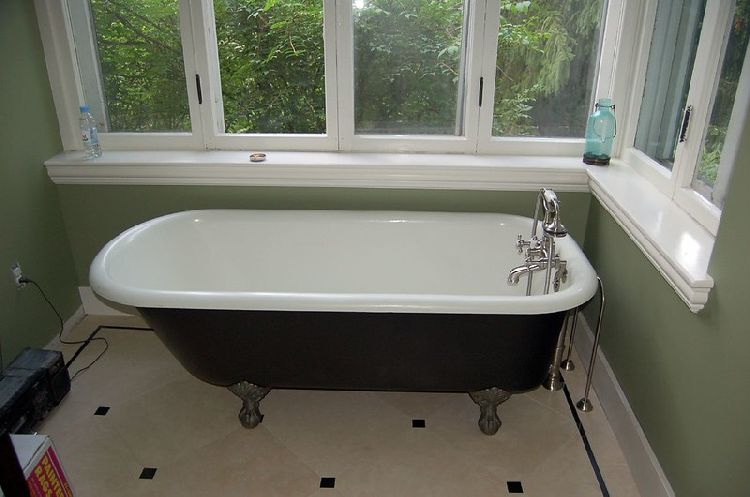 Cast iron freestanding tubs are exceptionally durable. However, they are heavy as well, so you might need professionals to install them. Popular for their classic appeal, cast iron tubs are a great choice for a traditional bathroom.
Also, the surface offers a nice grip and isn't as slippery as ceramic and acrylic. The thick coating over these tubs protects them from scratches. However, you may spend more time cleaning the surface.
Lastly, the cast iron tubs retain heat for a long time, so they are good for soaking.
Pros:
No need for extensive maintenance
These tubs last longer
They have a classic appeal
Cast iron tubs are affordable
Cons:
If the coating chips off, the tub will corrode
They are bulky
Freestanding Tub Dimensions: Different Freestanding Bathtub Sizes
The freestanding bathtubs are available in a range of sizes from small to big, and some even bigger, designed for spacious bathrooms. Well, the size of the tub can significantly affect your choice of the best freestanding tub, so you should be aware of what to buy.
Since freestanding bathtubs are unconnected to the walls, they require a larger space than a regular bathtub. In addition, these tubs are bulkier because of the increased soaking depth that you get.
Below, I've covered different dimensions, with a brief of what size is right for which bathroom.
| Tub Size | Length | Width | Depth |
| --- | --- | --- | --- |
| Small | 55 inches or 4.58 feet | 27 inches or 2.25 feet | 15 inches or 1.25 feet |
| Average or Medium | 60 inches or 5 feet | 30 inches of 2.5 feet | 19 inches of 1.6 feet |
| Large | 72 inches or 6 feet | 32 inches or 2.6 feet | 20 inches of 1.89 feet |
How to Choose the Right Size Freestanding Bathtub for Your Bathroom?
As you can check, these tubs aren't limited to a few sizes but are available in a wide range. Some brands like Woodbridge, Kingston, and American Standard even offer customization services on these tubs to help you get the best fit for the bathroom.
Start with measuring your bathroom and figure out the available space. You can then find out how a tub fits well without making the bathroom look small.
Also, take into consideration your requirements, such as your body stature, and for what purpose you need a freestanding tub, i.e., for soaking or bathing or both.
Which Material Should You Choose?
The choice of material should depend on several factors such as the appeal, aesthetics, ease of cleaning, and how much you are willing to spend.
Always choose a material that lasts longer, requires less maintenance, remains stain-free, and offers a nice grip so the kids and the elderly can also use the tub.
Best Brands of Freestanding Tubs: The Most Popular Ones
A freestanding bathtub is a big investment for your bathroom and bathing regimen. So you shouldn't overlook the brand when finding a good freestanding bathtub.
When you choose a popular brand, you can expect excellent quality, fantastic after-sales services, and decent warranties on the tub. Here are a few popular freestanding bathtubs you can choose from.
1. Kohler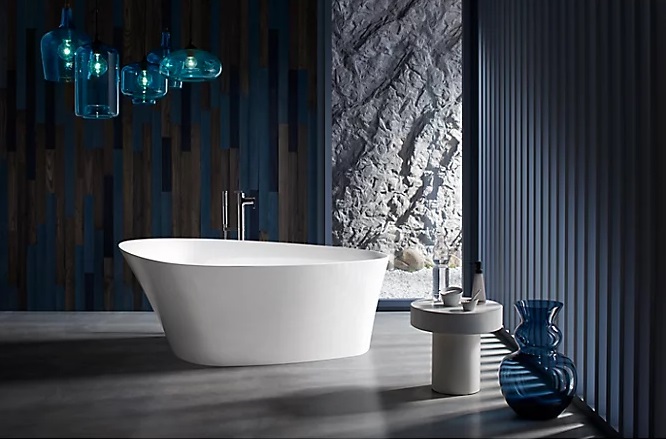 Image Credit: Kohler
Kohler needs no introduction, and the brand has been offering amazing bathtubs and accessories since 1873. The brand has a range of ceramic and acrylic freestanding tubs that are highly durable and are perfect for any modern bathroom.
Kohler freestanding tubs are highly popular for their different shapes and wide range, including clawfoot, pedestal, roll top, and more.
2. American Standard
Founded in 2008, American Standard is another big name in the freestanding bathtub industry. If you need a tub that's fairly priced, looks beautiful, and comes with a decent warranty, you should not overlook American Standard freestanding tubs.
Their soak-in freestanding tubs are the most preferred by homeowners looking for a comfortable place to unfurl. Lastly, you'll find these tubs in a variety of locations, including Home Depot and Lowes Hardware.
3. Woodbridge
Woodbridge may not be as old as Kohler, but the brand has established a good presence in the market. You'll find a variety of beautiful and affordable freestanding bathtubs from Woodbridge that are suitable for any type of bathroom.
What's best about this brand is the availability of multiple shapes and sizes in the tubs. Also, Woodbridge has a decent service network across the United States, so you can buy their tubs with confidence.
4. Jaguar
Jaguar is another name for luxury bath essentials. If you are looking for a tub that spices up your bathroom décor game, you should look for a freestanding bathtub from Jaguar.
Their tubs are simply gorgeous and available in different material options, including acrylic, ceramic, and more. The best part about buying a Jaguar tub is that they come with long warranties.
However, these tubs aren't cheap, so you should have a good budget if Jaguar is your choice.
5. Roca Parryware
Founded in 1952, Roca Parryware is a brand based out in Spain. Being one of the prestigious brands, it offers an amazing range of freestanding bathtubs. What makes Parryware a great choice is an average price and high-quality bath essentials.
The brand is highly popular in Asia and is growing in popularity in the United States as well.
6. Kingston
Known as Kingston Brass, this brand creates high-quality kitchen and bath essentials. Their extensive portfolio contains multiple freestanding tubs, including clawfoot, soak-in, and more.
The prices are standard to high, but you can expect quality, durability, and highly responsive customer care service from Kingston.
Single-Ended vs. Double Ended Bath
When you start searching for a freestanding bathtub, you'll surely come across single-ended and double-ended baths.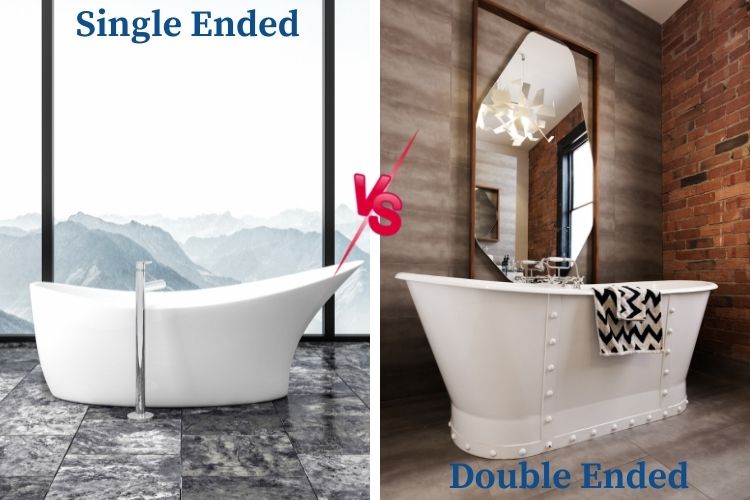 But, just a minute? Don't all bathtubs have two ends? Yes, they do. However, single-ended tubs are a lot different from their double-ended counterparts.
Here's which tub type is right for your needs.
Single Ended Baths
These baths have the overflow and drain at one end, and the interior is sloped to one. Designed especially for a single bather, these baths are usually small and have the faucet affixed to the wall.
Single-ended baths usually come in a rectangular shape and are available in a range of materials, including acrylic, fiberglass, and more.
However, these tubs are easier to clean due to their small size and are cheaper as well.
Double Ended Baths
These baths have a faucet and a drain in the center. Both sides of these tubs are sloped to fit more than one bather. Also, these tubs are usually bigger, so you need a more spacious bathroom to install them.
Double-ended baths are the most common in the freestanding category and are available in a wide range of materials, including acrylic, ceramic, cast iron, and more.
Single-ended Vs. Double-ended Baths
Single Ended Bath
Double Ended Bath
Common Type
Inset
Freestanding
Number of Bathers
1
2
Shower or Faucet Type
Often Affixed to the Wall
Freestanding Tub Fillers
or Shower Wands
Suitable For
Smaller Bathrooms
Larger Bathrooms
Types of Freestanding Bathtub Faucets
Now that you know the difference in the types of baths, you are ready to know about the type of faucet you need. Freestanding bathtubs are compatible with different types of faucets or fillers.
And the choice depends on the type of bathtub you go for. Here are the commonly-used faucets you need to know about.
1. Freestanding Tub Fillers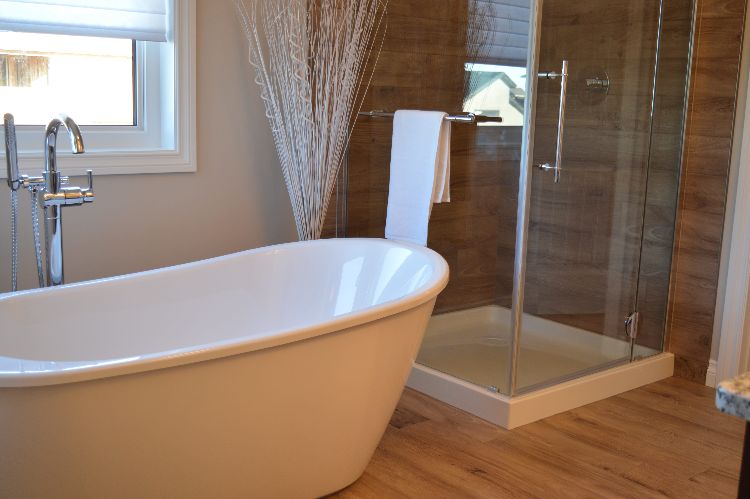 As you can easily guess from its name, these faucets are designed to fit on the floor and not on the wall. You can have these faucets or tub fillers anywhere around the bathtub, depending on the position you prefer.
There are plenty of finishes available in these faucets, so you can get one that lifts up your bathroom décor game. You can check out the best freestanding tub filler reviews to get an amazing faucet for your bath space.
Usually, these tub fillers have a handheld wand making bathing even more convenient.
2. Wall Mounted Tub Faucets
These faucets fit on the nearest wall to the bathtub, giving the bathroom a clean look. Available in a range of options with a round and straight neck, wall-mounted tub fillers are elegant and stylish.
Some of these faucets can have a handheld wand as well. Lastly, you will find numerous premium finishes in wall-mounted tub fillers making them perfect for any modern or contemporary bathroom.
3. Deck Mount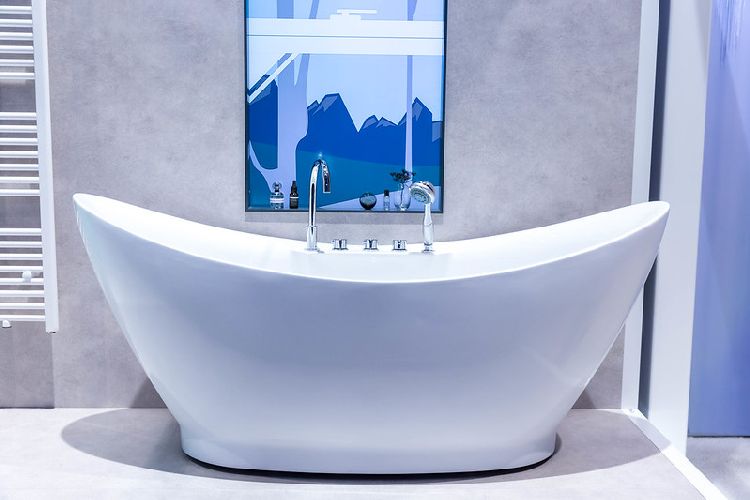 You'll usually see these faucets with cast iron bathtubs because the faucet is designed to fit on the inside of the tub. Some freestanding bathtubs come pre-drilled with holes, making installing these faucets easier.
If you need the faucet handle right beside you so you can turn it on and off conveniently, you should choose these tub fillers. Yes, these faucets look contemporary but are perfect if you have a traditionally-styled bathroom.
4. Roman
If you are planning for a corner freestanding bathtub, you can consider a Roman faucet. Designed to fit on the top of the bathtub, these faucets are minimalistic and do not make the bathtub look occupied.
However, these faucets do not have an extendable handheld wand, and you can only use them for refilling the tub and not for any other purpose.
Must-have Freestanding Bathtub Accessories
So, you know everything about a freestanding bathtub and the type of faucets compatible with it. Well, now it's time to know about some common freestanding bathtub accessories you should have.
Not just accessories will make your bathing experience convenient, but also make the bathroom look great.
1. Wooden Bathtub Caddy
Designed to fit on the edge of the bathtub, these caddies let you keep the shampoo and shower gel handy. Since freestanding tubs are far away from the wall, the only place to keep these items is a caddy.
Go for a caddy that is big enough to hold your bathing essentials. Also, make sure it complements the color of your bathtub to complete the décor.
2. A Shower Curtain
Who said freestanding tubs couldn't have curtains! Well, you can still enjoy the privacy while soaking in a tub right at the center of the bathroom. Just go through this choosing shower curtains guide, and you can easily get the right pick.
Ensure choosing the right type of shower rod that fits well with the curtain and lets you roll the drape around the entire bathtub.
After enjoying soaking in a freestanding bathtub, you might need something to clean your feet so that the floor does not get wet. Get a good-quality bath bat that looks great and lets you wipe your feet. Make sure to get a durable one if you want it to last longer.
4. A Bath Pillow
Well, a bath pillow behind your back can surely enhance comfort while bathing. You can look for the bathtub pillows if you enjoy soaking for hours.
These comfortable pillows are specially designed to be used in tubs and do not wear out when used in water. Just choose a pillow that does not catch mold, else you'll be spending a lot of time cleaning it.
5. Rub-side Stool
A rub-side stool gives you space to keep your bath essentials handy. Well, you can use it to place the big shampoo pumps that do not fit in a caddy. The stool can also be used to keep the towels near you, so you don't have to walk around in the bathroom drenched in water.
6. Bath Bombs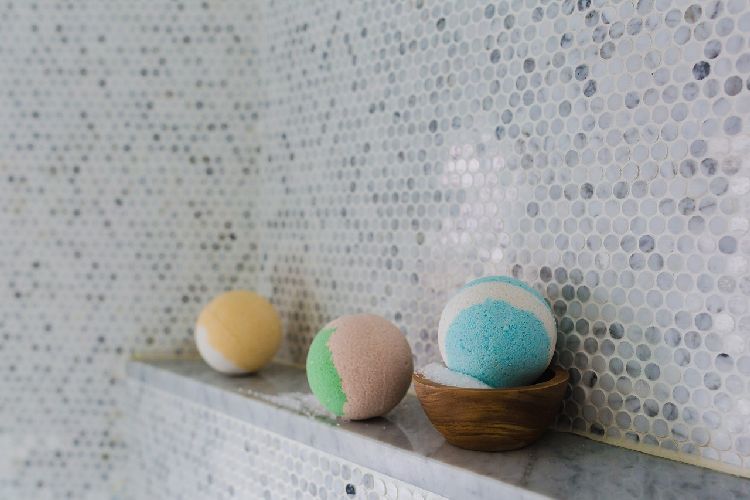 If you want your skin to get silky smooth and smell great, you most probably need a bath bomb. These bombs dissolve in the bathtub, and you get colorful heaven to submerge in.
Read the best bath bomb reviews here, and choose an amazing bath bomb that suits your skin type and is perfect for enjoying a bath with.
7. A Massage Mat
As per studies, soaking in a tub full of warm water can promote good health and help you relax. However, you can take this experience to another level with a massage mat.
Specially designed to use in a bathtub, these mats help you relax, and you can enjoy soaking inside the tub.
8. Bluetooth Speakers
A tub provides you with physical relaxation, and listening to your favorite music can be mentally relaxing. Look for a waterproof speaker that you can use inside the freestanding tub.
There are speakers that submerge in water and have amazing LED lights. Make sure the battery lasts longer and the speaker does not run out of charge before you get out of the bathtub.
FAQs
Q1: Can a Freestanding Tub have a Shower?
A1: Yes, you can have a shower with a freestanding bathtub. But getting one installed needs a professional plumber. Make sure to get a shower curtain as well so that the water does not splash out of the tub.
Q2: Is a Freestanding Tub Really Worth it?
A2: A freestanding bathtub looks good, offers you a soothing bathing experience, and that definitely makes it worth it! However, to enjoy taking a bath with these tubs, you need to get the best one.
Look for a tub that is big enough according to your body stature and offers a comfortable lying position if you want to soak in for longer.
Lastly, these tubs usually last longer, making them worth your investment.
Q3: What kind of Tub Faucet works with a Freestanding Tub?
A3: There are plenty of faucets that work well with a freestanding bathtub. But if you are looking for a recommendation, I'd say go for a freestanding faucet.
You can install this faucet anywhere around the bathtub. Also, most of these tub fillers have a handheld wand, and you can use it to wash the tub, bathe your kid, and for other purposes.
Look for a finish that matches the décor of your bathroom and compliments your bathtub as well.
Q4: Do Freestanding Baths Tip Over?
A4: I've come across a lot of people that worry if these tubs tip over while bathing! Well, that is not the case. These tubs do not tip over because the heavy base rests firmly on the floor.
Make sure to install the bathtub properly, or get it installed by professionals if you are not a handyman.
Q5: Can you put a Freestanding Bath in a Small Bathroom?
A5: Freestanding bathtubs are usually designed for medium or big bathrooms because they occupy a lot of space. But there are some small freestanding tubs that fit in smaller bathrooms.
If you are unsure if your bathroom can fit a freestanding tub or not, it would be great to contact a plumbing guy or the bathtub company. They'll help you with the facts of whether the bathroom can accommodate a tub or not.
Final Thoughts
Now that you know how to choose a freestanding bathtub, you are all set to pick an amazing tub for your money. Consider all the factors in mind, and you can easily select a tub that's worth every penny and rewards you with an enjoyable bathing experience.
Make sure to choose a compatible faucet, and also get your hands on some of the bathtub accessories.
Once you start bathing in a freestanding tub, there's no going back, and to achieve that, you need an amazing tub!
Have a Wonderful Bathing Experience!