Bath Advisors is supported by readers. If you buy through links on our site, we may earn an affiliate commission at no extra cost to you.

There is nothing better than soaking in a bathtub full of lukewarm water after a tiring and exhausting day! Those bath bombs and the floating bubbles can reward you with a mesmerizing experience.
But the only thing that can turn this heavenly experience into a nightmare is resting your head against the hard side of the bathtub!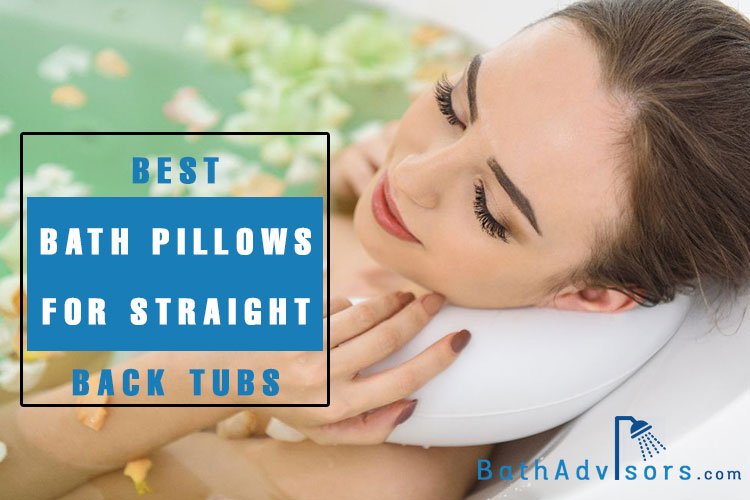 All bathtubs have hard sides and edges, and resting your head against the edge can lead to an uncomfortable experience.
What you need is one of the best bath pillows for straight back tubs to eliminate the discomfort. Here we have covered the best-selling bathtub pillow reviews so that you can easily buy an ideal pillow for your needs.
Best Bath Pillows for Straight Back Tubs Comparison Table [2023]
Name
Panel Design
Dimensions (inches)
 

Idle Hippo Full Body Bath Pillow


(Editor's Choice)
Single Panel
(Full Body)
16.34 x 12.76 x 11.69

Check Price

Idle Hippo Bath Pillow


(Budget Pick)
Two Panel
14 x 13 x 4

Check Price

Bath Haven Bath Pillow

Single Panel
50 x 15 x 3.5

Check Price

Indulge Me Bath Pillow

Two Panel
14 x 13 x 4

Check Price

Viventive Bath Pillow

Two Panel
14 x 4 x 13

Check Price

GORILLA GRIP
Bath Pillow
Two Panel
12.5 x 12.5 x 4

Check Price

Bath Haven Bath Pillow

Single Panel
2.5 x 17 x 17

Check Price

SelectSoma Bath Pillow

Single Panel
16.26 x 8.9 x 4.61

Check Price

IndulgeMe Full Body
Bath Pillow
Single Panel
15.8 x 6.1 x 7.4

Check Price
Features to Look for While Buying Best Bath Pillows for Straight Back Tubs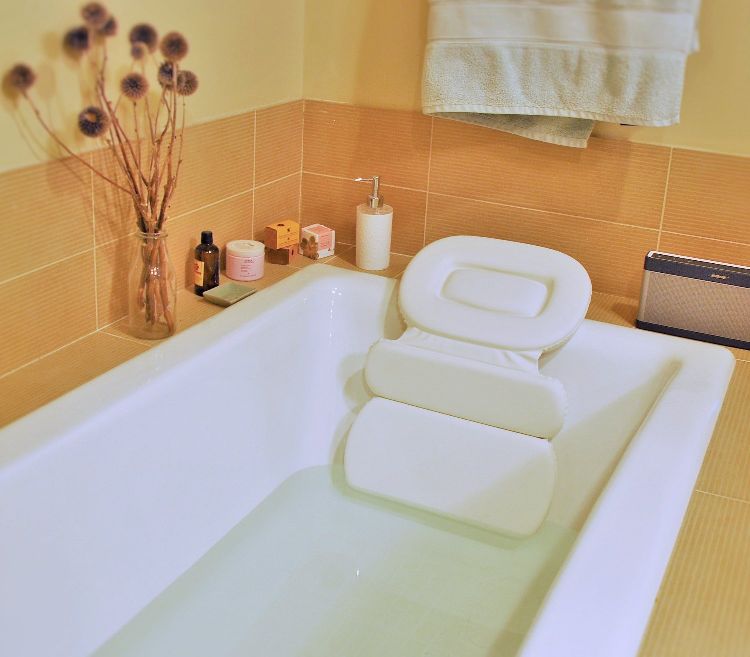 Buying a bathtub pillow is not like buying a regular pillow. You need to be extra careful while choosing a bathtub pillow as your comfort and ease depend on it. Here are some features you need to look at while buying a bathtub pillow.
1. Size
The foremost thing you need to look for in a bathtub pillow is the size. These pillows are available in a myriad of sizes, so you need to select the one that fits perfectly in your bathtub. You can also choose from full body and head bathtub pillows based on your requirements.
2. Strength of Suction Cups
The suction of the bathtub pillow will depend on the strength of the suction cups. If the cups have weak suction, then there is no chance that the pillow will remain glued to the bathtub. Don't go with bathtub pillows that are very cheap as you will get poor suction cups with them.
3. Machine Washable
Yes, a bathtub pillow remains in water most of the time, but you need to check whether it is machine washable or not. If more than one person is using the same pillow, then it is vital to wash it before using it.
4. Anti-Mold Fabric
Mold and bacteria can grow anywhere where they get moisture. Your bathtub pillow will remain wet most of the time. So mold formation can take place on it, which is harmful to your health. Go for a pillow that has anti-mold fabric and can resist mold formation. These pillows are available at reasonable prices, so they will not burn a hole in your pocket.
5. Quick-Dry Material
Bathtub pillows that have quick-dry material dry quickly as compared to other pillows. You can check whether a bathtub pillow has quick-dry material to make the best purchase for your money.
Top 9 Bath Pillows for Straight Back Tubs Reviewed
1. Idle Hippo Full Body Bath Pillow – Editor's Choice
Do you love soaking in your tub for hours and need a bath pillow to keep you comfortable? This long bath pillow from Idle Hippo offers comfort from head to toe. The pillow covers most of the tub area, and you can enjoy a relaxing bath without hurting your back. With a built-in headrest and ergonomic design this tub mat is perfect for anyone including people with back pain.
Best-in-class Comfort
This soft cushioned bath pillow can take your bathing comfort to next level. The sleek cushioned body offers you full body support, while protecting you from the hard tub's surface. Additionally, it can easily fit in any straight back tub, so you don't need a new pillow when you upgrade the bathtub.
Dries Quickly
You can use this bath pillow every day, as it dries quickly, so there are fewer chances of mold and mildew formation. With its built-in hook, you can hang it anywhere to get the excess water out. The material is not completely waterproof, but it is permeable so the water seeps through it.
Anti-slip Design
If you have ever used a bath pillow before, you'll agree that they slip a lot. However, that's not the case with Idle Hippo Full Body Bath Pillow. The bigger stature keeps it stable inside the tub, and the suction cups also help hold the pillow in place. Just soak in the tub without worries, and enjoy every bath.
Pros
Machine washable
Powerful suction cups keep the pillow stable
More soft and breathable than other pillows
Dries quickly in ventilated places
Cons
Not very portable
Might not fit well in smaller tubs
2. Indulge Me Bath Pillow
This bath pillow from Indulge Me is perfect for those who don't want to compromise with comfort while bathing. The pillow is made with 3D mesh that makes it easy to clean, and comfortable. You will get a Konjac Bath Sponge free with this bath pillow so you will get a better bath every day.
Adapts the Shape of Your Head
The soft material of the pillow adapts according to the shape of your head. As a result, you will get the ultimate comfort while bathing. It is a soft bath pillow that is built to last.
Quick Drying
The material used in the making of this bath pillow is a mesh that allows air to flow through it. The bath pillow will dry quickly, and you can use it for the next bath session. Also, it ensures less mildew formation, and you don't have to worry about any foul smell.
Excellent Hold
The sturdy suction cups of this bath pillow can hold the surface of your bathtub firmly to prevent the pillow from sinking. This bath pillow with suction cups has bigger and better suction, so you will get a quality bath without adjusting the pillow multiple times.
Pros
Easy to clean
Two-panel design is ideal for orthopedic patients
Skin-friendly fabric
Four big suction cups
3. Viventive Luxurious Bath Pillow
Viventive is here with a sleek and luxurious bath pillow that you can use with your straight back tub. The pillow is very comfortable and can reward you with superior relaxation. From fabric to suction cups, everything is top-notch. If you need a pillow that offers promising comfort, then this bath pillow should be your choice.
Two-Panel Design
The two-panel design of this bath pillow makes it ideal for everyone, including the patients suffering from orthopedic problems. The headrest of the pillow easily adapts according to the shape of your head, and you can relax for a long time without feeling any stress and strain.
Durable Material
The bath pillow can withstand daily wash and usage. The 3D mesh material allows air and water to pass through it, and that makes it a quick dry bath pillow. There will be no signs of tearing and molding if you use the pillow for a regular bath.
Flexible Hinge
The flexible hinge of this bath pillow makes it ideal to use in bathtubs of all shapes and sizes. If your bathtub has a little bit of curve on the inside, then the flexible hinge will make it possible to attach this bath pillow correctly.
Pros
Sticks perfectly to the bathtub
No mildew or mold formation
Relieves muscle soreness and aches
Machine washable
Cons
This pillow is fragranced which is not suitable for some users
4. GORILLA GRIP Bath Pillow
If you need a luxury bath pillow that looks sleek and elegant, then this pillow from Gorilla Grip should be on your bucket list. The pillow has a two-panel design that makes it ideal for orthopedic patients. Also, the material is skin-friendly, and cushion support is excellent for a comfy and relaxing bath.
Optimum Suction
There are 7 suction cups attached to this Gorilla Grip Bath Pillow. The suction is great, and the pillow will remain secure in place even if you move while bathing. The size of the suction cups is neither small nor huge, which makes it perfect for bathtubs of all sizes.
Waterproof Material
The material of this waterproof bath pillow will resist the water from entering the pillow. When there is no water, then there will be no mold formation. In short, it is an easy to clean bath pillow that dries quickly and requires a casual wash and drying.
Thick Padded Foam
Unlike other bath pillows, this one has thick padded foam. The foam will ensure excellent comfort and will not get crushed after multiple uses. You can relax your head on this pillow due to the comfortable foam included in both panels.
Pros
Easy to clean
Luxury bathtub pillow
Oversized panel for better comfort
Fits any Jacuzzi and smooth bathtub
Cons
Not ideal for tiled or rough bathtub surfaces
5. Bath Haven Luxurious Bath Pillow
Here is a single panel bath pillow that offers unparalleled comfort and is washable. This pillow has super comfy foam that delivers ultimate comfort just like you are relaxing on a huge cotton ball. The pillow is ergonomic and is ideal for straight back bathtubs of all sizes.
AirMesh Technology
The AirMesh technology prevents the water and air from clogging in the bath pillow. This pillow allows the air and water to pass through it that ensures no mold formation, and quick drying. Also, the pillow remains cold and doesn't get heated after absorbing heat from your body.
Ultra Durable
This bath pillow will remain as it is even after a long time of using it. All you have to do is follow a simple care and wash regime to ensure that your pillow is free from mildew formation. From edges to the shimmer, everything will remain intact with this bath pillow.
No Sliding and Slipping
The chintzy suction cups of this bath pillow will remain glued to your bathtub. Even in slippery bathtubs, the suction cups can sustain a stable grip, which makes this bath pillow a must-have for everyone out there.
Pros
Easy care and maintenance
6 suction cups for better hold
Works on your pressure points for more relief
Quick-dry technology
Cons
Single panel design not ideal for orthopedic patients
6. SelectSoma Bath Pillow for Tub Neck and Back Support
If your neck hurts while taking a bath, SelectSoma Bath Pillow is the best option. The pillow specifically targets the back and neck area to make you feel comfortable all the time. The upgraded suction cups keep the pillow sticking to the tub, eliminating the struggles to hold it in place. Also, the material is hypoallergenic, and feels gentle on your back.
Thick and Padded Design
This bath pillow has a thick headrest to support your neck and to help maintain a healthy posture while bathing. Moreover, the foam headrest feels comfortable and adapts to the shape of your neck to multiply relaxation. The 6 large non-slip suction cups prevent it from slipping and you can entirely focus on your bathing session.
Superior Ventilation
The 4D air mesh material offers better ventilation, and allows the water to pass through the pillow creating a bathing haven. Additionally, this technology helps the pillow to dry quickly reducing the risks of mold formation.
Easy to Care for
Keeping this bath pillow clean is not a task. Just toss it into your washing machine, and run two cycles. Also, you can clean this pillow with hands, but make sure not to use abrasive brushes on it.
Pros
Plush and soft
Fits well in most bath tubs
Does not smell bad like regular bath pillows
The ergonomic design supports your neck, back, shoulders and head
Cons
Does not offer full body comfort
The suction cup placement might not be ideal for some tubs
7. IndulgeMe Full Body Bath Pillow
As a bath enthusiast, I have tried many bath pillows, but the Full Body Bath Pillow from IndulgeMe stands out from the rest.
First and foremost, I love the unique design of this bath pillow. The full-body mat is perfect for individuals with straight back tubs, as it provides support not only for your head but also for your back and tailbone. The pillow top is a game-changer for me, as it allows me to relax my muscles without straining my neck. 
Another feature that I like is the quick-drying material used for this pillow. I could easily wash the pillow and leave it to dry between uses, and there was no worry about mold or mildew growth. Plus, the special 3D mesh design allows for air and water to flow through, making it easy to maintain its quality.
Relaxation and Comfort
 The design of this bath pillow is built for ultimate relaxation. The pillow top gives you the perfect cushion for your head, while the full-body mat offers support for your back and tailbone. You won't have to worry about painful pressure points or awkward positions.
Exfoliation
 The Konjac Sponge that comes with the pillow has done wonders for my skin. The bamboo charcoal exfoliates and deep cleanses my skin gently, leaving it looking and feeling healthy and refreshed.
Durability
 The material used for this pillow is top-notch. Not only is it machine washable, but it is also quick-drying, which means it won't catch mold or mildew.
Overall, the IndulgeMe Full Body Bath Pillow is a product that exceeds my expectations. The design, durability, and added bonus Konjac Sponge make it worth the investment. If you're looking for a way to enhance your bath experience, this pillow is definitely worth considering.
Pros
Provides full-body support for individuals with straight back tubs
Quick-drying material
Machine washable
Comes with a Konjac Sponge for exfoliation
Designed with 11 super grip suction cups for a secure fit
Cons
May not fit individuals with curved or contoured back tubs
Konjac sponge may not be suitable for individuals with sensitive skin
8. Idle Hippo Bath Pillow
If you are dealing with orthopedic issues, then you need a bath pillow like Idle Hippo. This bath pillow has a two-panel design, which is ideal for orthopedic patients. The extra-thick padding ensures more comfort and prevents the foam from getting crushed even after multiple uses.
Upgraded Suction
The bath pillow comes with 6 upgraded suction cups that can sustain their position in the bathtub while you are enjoying your bath. Now there will be no accidental sliding of your bath pillow, and that makes it a perfect choice for straight back bathtub owners.
Hassle-Free Cleaning
You can clean this bath pillow easily just by following a simple washing regime. It has a mesh fabric outer that allows the water and air to pass through it. You can wash this bath pillow in a washing machine. Also, it dries quickly, which makes it ready for your next bathing session.
Two-Panel Comfortable Design
The two-panel design of this bath pillow makes it a comfortable option for every user. The pillow is perfect for personal and commercial uses due to its durability. You can attach it to any straight back bathtub just by pressing the suction cups to ensure that they stick perfectly.
Pros
Easily affordable
Ultra-soft
Skin-friendly
Cons
Can attract mildew without proper care
9. Bath Haven Bath Pillow
When it comes to sleek yet comfortable bath pillows, Bath Haven is among the top brands. This full-body pillow from the brand will give you spa-like comfort at your home. Unlike other pillows, you won't feel like sitting on a thick panel, which improves the overall bathing experience. Made using high-quality foam, the pillow adjusts to your curves, and restores its shape after the bath.
Based on Air Mesh Technology
The Air Mesh technology serves two purposes, one is enhanced comfort and the other is fast drying. The pillow has soft foam with air trapped inside, and you'll feel like sitting on a cloud. The technology also makes this bath pillow suitable for everyone including older adults.
Secure Suction
No more slipping and sliding, as the bath pillow features six extra-strong suction cups. The pillow sticks well to the tub's surface irrespective of its material. And when you sit on the pillow, the suction gets even stronger.
Gentle to the Skin
Made using premium-quality materials, the bathtub pillow is suitable for all skin types. You don't have to worry about skin allergies or rashes anymore. Just make sure to rinse this pillow after every bath.
Pros
Built-in hook for quick drying
Full-body design for maximum comfort
Easy to wash in a machine
Lightweight and portable
Cons
It might get stained easily
The pillow may stink if not cleaned properly
Buying Guide – How to Choose the Best Bath Pillow for Straight Back Tubs?
Types of Bath Pillows
There are different types of bathtub pillows available out there, and it would be best if you know the difference between these pillows before making your purchase.
1. Bathtub Pillow for the Whole Body
You can use a full-body bath pillow for your whole body if you need excellent comfort while soaking in your bathtub. These pillows are bigger in size as there is ample space to rest your legs and back. It is better to be extra cautious while buying these pillows because the size can vary, and a bigger pillow will not fit if you have a small bathtub.
2. Bathtub Pillow for Head and Back
With a bathtub pillow for head and back, you will only get support for your back portion, including the head. These pillows are generally small in size and are easy to use. You cannot use these pillows to rest your arms or other body parts as these are not made for that.
3. Bathtub Pillow for Neck
With these types of bathtub pillows, you will only get support for your neck. There is no back or head support available. These pillows are ideal for traveling as you can pack them in your bag due to the compact size.
Benefits of Buying a Bath Pillow
You might be thinking that why a bathtub pillow is necessary! Well, bathtub pillows have a lot of advantages, and after knowing them, you will surely plan to have one for your bathtub.
1. Relieves Stress
If you love to spend time in your bathtub, then you might be aware of how stressful it can be if you don't get a place to rest your head. With a bathtub pillow, you will get adequate space to rest your head. Also, these pillows are comfortable, and thus you can spend more time in the bathtub.
2. Prevents Neck Pain and Sore Back
Whether you are sitting on a chair or resting in your bathtub, a wrong body posture can result in a lot of spinal cord issues, including sore back and neck pain. A bathtub pillow assists you in getting into the best posture while you are in your bathtub. A correct posture means there will be no spinal cord issues.
3. Avoids Injuries
You will be amazed to know that a small accident in your bathtub can lead to some severe injuries. Resting your head too hard against the bathtub edge can cause a lot of damage. You can avoid these injuries and damages by using a bathtub pillow as you get a soft bed to rest your head.
4. Comfortable Bath
A bathtub pillow will not only save you from injuries, but it will also reward you with a comfortable bath. If you want to relax more in your bathtub, then a bathtub pillow is a must-have element for you.
FAQs on Best Bath Pillows for Straight Back Tubs
Q1: Are Bathtub Pillows Friendly for Children?
A1: It would be great to buy a children-friendly bathtub pillow if you need one for your kid. These bathtub pillows are small in size, so children get more comfort without any difficulties. Also, bathtub pillows for kids are more comfortable and are manufactured with material that is ideal for their sensitive skin.
Q2: How can I Clean Mildew from a Bath Pillow?
A2: Mildew formation can take place on a bath pillow, and it is important to get rid of it at the earliest. You can easily remove mildew from your bath pillow by following the below processes:
1. Use a Baking Soda and Vinegar Cleaning Solution
Baking soda and vinegar are two natural ingredients found in every house, and you can use them to clean the mildew from the bath pillow. What you have to do is take a small quantity of both cleaning agents and mix well until you get a thick paste. Apply this paste to the affected areas and leave it for about 15-minutes.
Now take the pillow and start rubbing the paste to get rid of the mildew. You will see that the mold will start coming off quickly. Wash your pillow with cold water, and let it dry for your next use.
This is the best cleaning process if you want to clean your kid's bath pillow.
2. Bleaching Powder Solution
If you don't have baking soda and vinegar available, then you can use bleaching powder and water. Mix one cup of water with 4 spoons of bleaching powder and take this solution into a spraying bottle. Now spray the solution on the affected area, and let bleaching powder show its magic.
After some time, scrub off the bleaching powder from the pillow and wash it with cold water. If you follow this solution, then you will get a slight bleaching powder smell from the pillow. It is entirely okay as you are getting the mildew off your pillow.
Q3: What is an Ideal Way to Enhance the Lifespan of a Bath Pillow?
A3: Just like any other item, bath pillows for straight back tubs also require regular care. You need to wash the pillow frequently to prevent mildew formation on it. However, a bathtub pillow will not last for too long, and you need a new one once your old one is worn out.
Remove the pillow from the bathtub
Take a small quantity of baking soda and vinegar to remove the mildew
Now use a gentle sponge and detergent to wash the pillow
Use lukewarm water to wash it for best results
A Pro Tip: Let the bath pillow completely dry before you use it for your next bathing session.
Final Thoughts
This is all about the best bath pillows for straight back tubs. We have shortlisted these best bath pillows after extensive research and after using them to evaluate the results. All the pillows listed here belong to renowned brands, and rest assured you are purchasing something that is friendly for your skin. Moreover, these pillows have no skin irritation or allergies, which makes them ideal for everyone who owns a straight back bathtub.
The best pillow in this list is Idle Hippo Full Body Bath Pillow. It is a pillow for the whole body and will give you a spa-like experience at home.
However, if you need a budget-friendly bath pillow, then you can consider Idle Hippo Bath Pillow.