Bath Advisors is supported by readers. If you buy through links on our site, we may earn an affiliate commission at no extra cost to you.
The hunt for the best freestanding tub fillers is often daunting, as there are numerous models available in the market.
Out of all the bathroom accessories, a freestanding tub filler acquires the center stage. The tower-like design and sheeny elegant body rewards your bathroom with a chic appeal.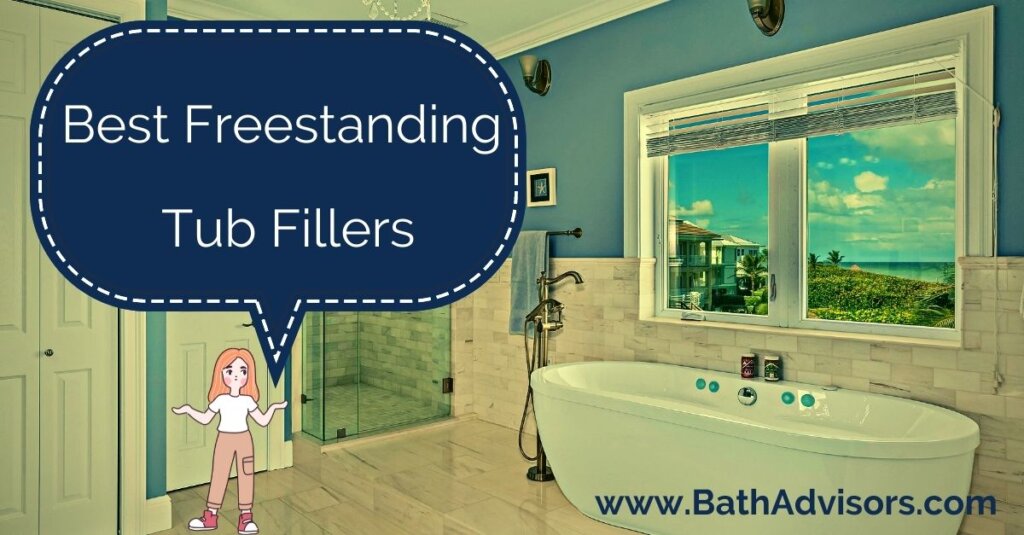 These tub fillers are there for years now, however, people still have a hard time choosing the best option. To make this painstaking job easy, I've picked and reviewed the top freestanding tub faucets in this post.
Read these best freestanding tub filler reviews, and get your hands on the most beautiful piece for your bathroom that makes bathing pleasurable. I have also covered a buying guide along with in-depth reviews that will help you make the right decision.
Quick Summary
Editor's Choice: Artiqua Freestanding Bathtub Faucet Tub Filler
"This best-rated freestanding tub filler that features a heightened spout makes it suitable for most freestanding bathtubs.Furthermore, the nickel finish requires lesser maintenance, and it is easy to clean the tub filler. The spout and the handheld sprayer both are swiveling, so you can expect unparalleled convenience".
Most Loved: Wowkk Freestanding Bathtub Faucet Waterfall Tub Filler
"This all-rounder floor-mounted faucet has a bronze finish, and a comfortable handheld shower head with a long hose.The waterfall design makes it stand apart, and you can easily switch between hot and cold water using the single handle".
The Budget Pick: Senlesen Brushed Nickel Single Handle Freestanding Bathtub Faucet
"The traditional design of this freestanding tub faucet combines with durable construction to offer you style and convenience.The two handles make it easier to operate the waterfall spout, and the handheld shower while bathing".
9 Best Freestanding Tub Filler Reviews for 2023
All the best tub fillers reviewed below belong to popular brands. Moreover, I skimmed through the customer ratings of all best rated freestanding tub fillers to ensure they were worth buying.
Some other factors that I took into consideration are spout height, spout reach, and finish, so you can choose any tub faucet with confidence.
1. Artiqua Freestanding Bathtub Faucet Tub Filler
– Editors Choice
If you are looking for an affordable freestanding tub filler that fits on the floor, go with this premium-looking tub filler from Artiqua. The whole-brass body makes the tub filler durable and assures longevity.
Furthermore, it comes with a nickel finish that keeps rust at bay and protects the faucet from mold and stains. Installing this tub filler won't be a challenge, and you can refer to the instruction manual where Artiqua has explained the steps to install it.
The tripod base includes a bracket and three bolts so the tub filler will remain secure in place after installation. The spout height is 32.68 inches, and the tub filler is suitable for all 30-inch or smaller freestanding tubs.
You can enjoy bathing with the handheld showerhead, and the hose is 59.06 inches long so that you can pull it into the tub. Further, the 360-degree swivel spout moves in either direction, and you can position the spout according to your requirements.
Adjusting the temperature is easy, and you will get a soothing bath with this attractive freestanding tub filler. The attached hand shower is big enough to hold comfortably, and you can wash the tub or bathe your kids with it.
Overall, if you have a limited budget but don't want to compromise on the quality and aesthetics, Artiqua Freestanding Bathtub Faucet Tub Filler should be your choice.
Pros
Stable tripod stand
Swivel spout moves easily in either direction
6GPM water flow rate
Sedal ceramic cartridge improves the longevity
Cons
Some users complained about missing accessories
The filler body can get pale with time
2. Kohler K-T97334-4-CP Refinia
– Best Kohler Tub Filler
Kohler is here with an elegant freestanding tub filler that will neither peel off nor rust due to its polished chrome body. The floor-mounted tub filler is easy to install, so you don't have to spend a lot of time setting it up.
The 60-inch shower hose makes this faucet compatible with almost all branded freestanding bathtubs. There will be no issues related to the flow of water as the spout dispenses 7 gallons of water per minute, and that's enough to fill the tub quickly.
You even get a handheld wand, so washing hair and bathing your kids will be as easy as a breeze. The Kohler tub filler comes with a single lever that allows you to control the temperature and pressure. Furthermore, Kohler has used a ceramic disc cartridge that assures decent longevity, and you won't face any problems with the tub filler.
The ergonomic design and aesthetic appeal make the tub filler a suitable option for your modern bathrooms. Not to mention, the handheld wand comes with three spray settings, and that enhances your bathing experience.
Lastly, Kohler K-T97334-4-CP bathtub filler coordinates with other bathing essentials that belong to the Refina series so that you can remodel your bathroom with the finest accessories.
Pros
Excellent longevity and comes with Kohler Lifetime Limited Warranty
Works well even at low water pressure
Customizable spray modes
Adjustable water temperature
Goes well with other Refina series bathing essentials
Cons
A bit pricey
Handheld spray drips sometimes
3. Delta Faucet Trinsic
– Best Delta Floor Mount Tub Filler
The reason why Delta Faucet Trinsic Tub Filler is perfect for every freestanding bathtub is the spout height. The spout is 41 inches high from the ground so that you can use this tub filler with a range of bathtubs.
The design will remind you of the vintage tub fillers and looks exquisite. The long and sleek body and the gooseneck spout together make this tub filler a must-have if you want your bathroom to look lavish.
The spout supports swivelling and even the handheld unit supports it. The hose length is around 60 inches, but you can stretch it up to 82 inches if required. The handheld wand features Touch-Clean spray holes, so you can quickly clean the mineral deposit on the sprayer.
The sleek chrome finish makes the bathtub filler faucet look good while protecting it from stains and corrosion. You can quickly fill the tub as the spout dispenses 6-9 gallons of water per minute.
Furthermore, the handheld sprayer sprays 2 gallons of water per minute that's perfect for washing hair and cleaning the tub. Delta offers a lifetime limited warranty so you can rest assured about the after-sales services.
In a nutshell, if you don't mind spending some more money to get quality, then go for Delta Floor Mount Tub Filler. The tub filler is compatible with almost all tubs due to its height, and it features easy temperature controls.
Pros
Smooth flow of water even at low pressure
Easy to clean and maintain
Stretchable handheld shower hose
Excellent design
Both sprayer and spout are swivelling
Cons
Pricey
The body gets hot sometimes due to the temperature of the water
4. WOODBRIDGE F-0002
– Floor Mount Freestanding Tub Filler
WOODBRIDGE F-0002 is one of the best-looking freestanding floor mount tub fillers on this list. The luxury gold finish makes the tub filler look like a piece of art, and it will establish a strong presence in your bathroom.
The entire body is made using high-quality 304-grade brass and that's durable and rust resistant material. You can use this tub filler with all standard freestanding tubs as the spout is 43 inches high from the ground.
The tripod base remains stable on almost all types of surfaces i.e., tiled and marble. You get all the accessories required to install the filler, so the task is easy, and you can follow the instruction manual to set it up.
The longer spout features 360-degree swivel support, and you can position it as per your needs. The bigger knob lets you adjust the water flow rate and temperature on the go.
Furthermore, the handheld wand has a long hose, and you can bathe with ultimate convenience. Another reason to go for WOODBRIDGE F-0002 is the clog-free spray holes. You can clean the holes in minutes by spraying the water, and it will automatically clean the mineral build-up.
The flow rate is decent, and the tub spout pumps 2.5 gallons, whereas the sprayer dispenses 1.8 gallons of water per minute.
Pros
Exquisite looks and long-lasting chrome finish
Easy to install and operate
Flexible spray hose
Comes with premium quality hot and cold water pipes
Cons
The sprayer drips water sometimes
The water supply lines are too long that you have to cut them before installation
5. Artiqua Freestanding Tub Filler
Artiqua Freestanding Tub Filler is here to offer you a combination of versatility and flexibility with its two-handle design. You can use the knobs to control the water flow and temperature, so you get the perfect mix and flow of water required for a soothing bath.
The swivel spout moves 360-degrees, and you can set it as per your bathing habits. Artiqua has used a Ø35mm Sedal Ceramic Cartridge to provide smooth and laminar water flow. The faucet is made using heavy-duty solid brass so you can rest assured about the durability.
Moreover, the brushed nickel finish keeps the tub filler away from corrosion and mineral deposits. The spout height is 41.71-inches, so the tub filler is compatible with almost all freestanding tubs. The spout reach is impressive, and the filler will pour water directly into the tub without spilling it on the floor.
You won't be complaining about the flow of water as the spout offers 6GPM, and the handheld spray offers 2.5GPM. The sophisticated and modern design makes this tub filler a perfect choice for traditional and modern bathrooms.
Furthermore, Artiqua has used Neoperl aerator, and Sedal ceramic cartridge to enhance the lifespan of the tub filler.
Overall, here is an affordable freestanding tub filler that will make your bathroom look good while offering superb convenience while bathing.
Pros
Long spray hose
Easy temperature control
Made using excellent quality materials
Easy to install
Reasonably priced
Cons
Rough-in valve sold separately
The finish can chip off if not maintained properly
6. Wowkk Freestanding Bathtub Faucet
This freestanding bathtub filler from Wowkk should be your choice if you need a good-looking faucet that falls into the affordable range. The premium design and the squarish faucet body give the filler a modern look.
Installing the tub filler is easy, and you can mount it on the ground using the brass tripod that's available in the package. The hot and cold tubes that you get are of high quality, so you can rest assured about their lifespan.
The spout features a waterfall design, and you should get this tub filler to make your bathroom look good while enjoying a mesmerizing bath. Furthermore, the spout and the sprayer features a 360-degree swivel for added convenience.
The handheld sprayer is perfect for cleaning the tub and bathing your pets, as the hose is 59-inches long. When talking about the spout height, then the tub filler is compatible with most premium category bathtubs, as the spout is 34 inches high from the ground.
Using the ergonomic handle, you can adjust the flow and temperature of the water as per your requirements. The maximum flow rate of the spout is 6 GPM, and the sprayer is 2.5 GPM. With this tub filler, you can fill a 55-gallons freestanding tub in around 10 minutes.
Pros
Beautiful design and made using durable material
Features a Sedal ceramic cartridge
Works well even at a low water pressure
Easy to clean and maintain
Cons
The open spout design results in water spillage
No auto-clean technology used in the handheld sprayer
7. Senlesen Floor Mounted Waterfall Tub Filler
– Best Budget Freestanding Tub Filler
Check out this affordable freestanding tub filler from Senlesen that's perfect for all types of bathrooms because of its appealing looks and ease of installation.
The tub filler features a waterfall spout that makes it look even better when working. You get two separate handles, so adjusting the temperature and flow of water will be easy, and even your kids can learn to use it.
The spout height is 34-inches, and you can use this faucet with all freestanding tubs that are 30-inches or less high from the floor. In terms of durability, Senlesen Tub Filler is an impressive option as it is made of brass and has a brushed nickel finish that safeguards it from corrosion.
The 360 degree swivel spout lets you position it on the go. Additionally, the flow rate of water is decent, and the spout offers 6GPM, whereas the sprayer offers 2.5GPM. You will get unmatched convenience while bathing with the 59-inches long hose.
Senlesen has used a Sedal ceramic cartridge to enhance the life of the tub faucet, and it requires less maintenance.
Overall, you should consider this option if you need the best cheap freestanding tub filler under $200. You can set it up using the accessories available in the package, and it will be ready to reward you with relaxing baths.
Pros
Excellent flow of water
Fills the tub quickly
Reasonably priced
Dual handles make adjusting water flow and temperature easy
Cons
After-sales service isn't impressive
Some users complained about the sturdiness
8. LLGG Freestanding Bathtub Faucet
– Best Freestanding Tub Filler For Large Tubs
There are many reasons that make LLGG Freestanding Bathtub Faucet a perfect choice for your home. Be it the elegant design and affordable price, this faucet scores full marks in every aspect. Entirely made using brass, this durable tub filler can easily withstand the test of time, just make sure to maintain it.
You get the ultimate convenience of bathing, thanks to the bigger handheld shower hose. Furthermore, the gooseneck lets you adjust the primary spout, and you can move it in any direction as you like.
With a maximum capacity of 11.9gal/minute, this faucet can easily refill any bathtub within minutes. The sleek hose improves the pressure, and you can even use the shower for bathing your pets or cleaning the bathtub.
The thing I loved the most was the availability of two handles that quickly lets you switch between the shower and the spout. In addition, the bigger handle lets you maintain the temperature making the bathing experience even more soothing.
The wide pedestal keeps this tub filler stable, and it does not wobble at all. Furthermore, it can be directly installed on a concrete floor and even at the center of the bathroom.
Installing this freestanding tub filler is a cakewalk, and you get a detailed instruction manual. LLGG has electroplated this faucet using a durable brushed nickel finish making it look good. Moreover, cleaning it is easy, and a damp cloth can do the job.
Overall, if budget is a thing, and you need a super-durable yet elegant tub filler, choose LLGG Freestanding Bathtub Faucet. It is available in a range of premium finishes, including brushed nickel, black, brushed gold, chrome, and more.
Pros
The water doesn't drip off the floor
The shower handle makes bathing convenient
Cleaning the shower nozzles is easy
The bigger pedestal improves stability on any type of floor
Cons
Supply lines are too long
Some finishes require frequent cleaning
9. Moen S3105 Doux
– Best Luxury Freestanding Tub Filler
For all the brand freaks, Moen is here with a freestanding bathtub filler you will love. The design makes it stand out, and you can easily achieve your dream of making a luxury bathroom after installing this masterpiece.
I found the tub filler to be extremely impressive, and the bigger metal body makes it ideal for tubs of all sizes. In addition, the gooseneck spout is bent at a perfect angle to dispense the water directly in the tub's center without splashing it on the sidewalls.
Moreover, the cute handheld shower comes accompanied by a long hose, and you can stretch it to full length. The pressure is certainly good and is perfect for enjoying a relaxing bath. There is just one handle, and you can conveniently control the flow as well as the temperature.
The max flow rate is 1.75 gallons per minute; thus, this filler may take some time to fill bigger tubs. Backed by Moen's Limited Lifetime Warranty, you get the assurance of excellent after-sales service and a wide service network across the pan USA.
As per a user, this freestanding bathtub filler is big, beautiful, and suitable for any bathroom. Moreover, the handheld shower sprays water with good pressure to wash hair easily.
Installing this faucet is easy, and you can mount it on any bathroom floor, be it tiled or concrete. Moen has electroplated it with a premium-quality chrome finish that asks for less maintenance and looks shiny at all times.
I love the matte black and brushed nickel finishes as well for an extraordinary bathroom appeal. In a nutshell, if you don't mind spending some more money on a premium faucet and a popular brand, there is no better choice than Moen S3105 Doux Freestanding Floor Mount Tub Filler.
Pros
Easy to install and use
The mirror-like finish makes it a perfect decorative element
Built to last and comes with a decent warranty
It saves a lot of water
Cons
It doesn't come with any certifications
It takes time to fill bigger tubs
Best Freestanding Tub Fillers Buying Guide
Choosing the best freestanding tub fillers isn't easy at all, as you have to select from a variety of materials and designs. Check this buying guide to know about the factors that you should consider while buying a tub filler.
What Is a Tub Filler?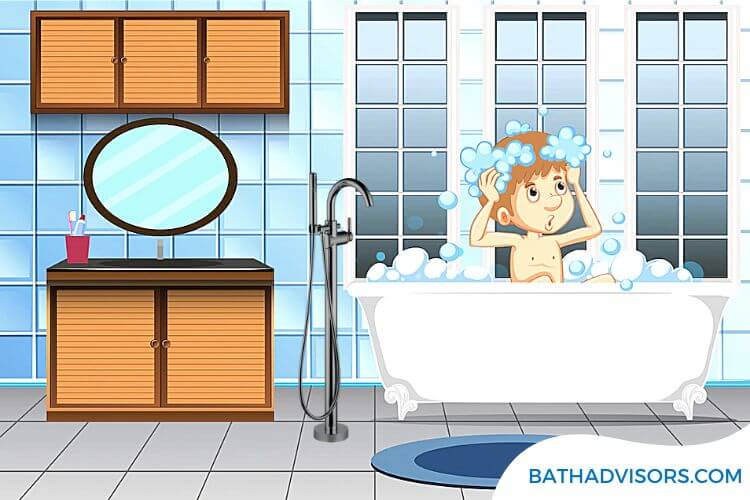 Tub fillers are often termed as faucets or spouts designed especially for freestanding tubs. The fillers look similar to the regular faucets when it comes to functionality. But there are some considerable differences like the size, features, and much more.
A standard freestanding filler features a lever or a knob (diverter) that helps you in adjusting the flow and temperature of the water. Some of them even have a handheld wand attached to the main body, which is beneficial for washing hair, bathing pets, and kids, and for washing the tub.
Different Types of Tub Faucets
When looking for a bathtub filler, you will come across three options. Each option has its respective pros and cons, so choose wisely.
1. Floor-mounted Freestanding Bathtub Fillers
If you need a bathtub filler that has an exposed design and a dramatic appearance, go for floor-mounted tub fillers. The filler's body is long as it comes right from the floor and connects with the tub so that you can fill the water quickly.
Most folks tend to go with floor-mounted tub fillers due to their classy looks. There is no deck at all, as the filler is installed away from the walls.
2. Wall-mount Freestanding Bathtub Fillers
As you can easily understand from the name, these wall mount bathtub fillers get installed on the wall to give a clean look after installation. If your bathtub is fitted along the wall and there is no space for a floor-mounted tub filler, they should be your choice.
You can choose from a range of spout lengths, and it is a benefit of this particular type. However, the installation is a bit tricky and takes more time as compared to other types.
3. Deck-mount Freestanding Bathtub Fillers
These bathtub fillers need a deck for installation. Just like the wall mount bathtub faucets, you will get a myriad of options in the configurations like varying spout length. I personally found deck-mounted tub fillers to be more attractive.
Furthermore, you get choices for installing the spout from the hole present on the deck. When installing deck mount faucets, more finishing is required on the wall after the installation. In short, getting this type of tub filler can cost more as compared to floor-mounted fillers.
How to Choose a Freestanding Tub Filler?
Here are some considerations to make while buying freestanding tub filler faucets. Compare the filler on the factors listed below to make sure that you settle down with the best option.
1. Style and Design
Start with choosing the style and design, as aesthetics is essential when selecting freestanding faucets. Modern tub fillers are available in single and double handle configuration.
If you need a filler that looks minimalistic, go for options with a single handle. With the handle, you can control the flow and temperature of the water. In short, it is similar to a diverter that you have in your bathroom.
Double handle faucets are easy to use, and your kids can even enjoy a bath when you aren't around.
2. Spout Reach
The spout should have good reach so that it hangs over the tub more than a few inches. The reach of the spout depends mainly on the bathtub rim's thickness. You need a longer faucet spout if the rim is thick.
3. Spout Height
The spout or tub filler height depends on the type of tub filler. If you want to purchase a floor-mount filler, then the height should be around 30 inches so that it reaches the tub.
The height depends on how high the bathtub is, so it would be great if you measured the height of your bathtub beforehand.
4. Swivel or Rigid Spout
The bathtub filler I am using has a swivel spout, and I find it better than rigid spouts. You can choose to adjust the spout if required. In short, a swivel spout serves you better.
But if you don't want a swivelling spout, then go for rigid spouts that are highly durable.
5. Handheld Wand
Not all brands offer a handheld wand with a freestanding tub filler, as there are some standalone models available as well. A hand shower will make it easier for you to wash the tub, bathe your kids, and enjoy a soothing bath.
6. Brand
Freestanding faucets aren't cheap, so it can be a blunder to buy a non-branded tub filler. When you choose a prominent brand, you get the assurance of quality and after-sales services.
All the nine tub fillers listed above belong to decent brands so you can select any of them as per your preference.
7. Finish
Choosing the right finish is essential to get excellent longevity and corrosion resistance from the tub filler.
The most common finish available in tub fillers is stainless steel because of its corrosion resistance and attractiveness. You will also find nickel, matte black, copper, polished chrome, and bronze.
8. Price
Lastly, don't forget to make your budget before selecting the best tub filler. They are available in a range of prices starting from $170-180, and the price goes up for the premium models that belong to high-end brands.
FAQs
Q1: Why do Freestanding Tub Fillers have Aerators?
A1: The purpose of the faucet aerators is to prevent the water from splashing out of the bathtub. Not all bathtub fillers have aerators, and you should check it beforehand if you have a small tub with less width.
Q2: What's the ideal Height of a Tub Filler Spout?
A2: The height of the tub filler depends on various factors, and the most significant one is the height of the tub. If you have a 35-inches high bathtub, there is no chance you can buy a filler with a 30-inches spout height.
To get the best freestanding faucet, measure the tub's height and its distance from the wall. This way, you can buy a tub filler that's of ideal height and is suitable for your freestanding bathtub.
Q3: How to Install a Freestanding Tub Faucet or Bathtub Filler?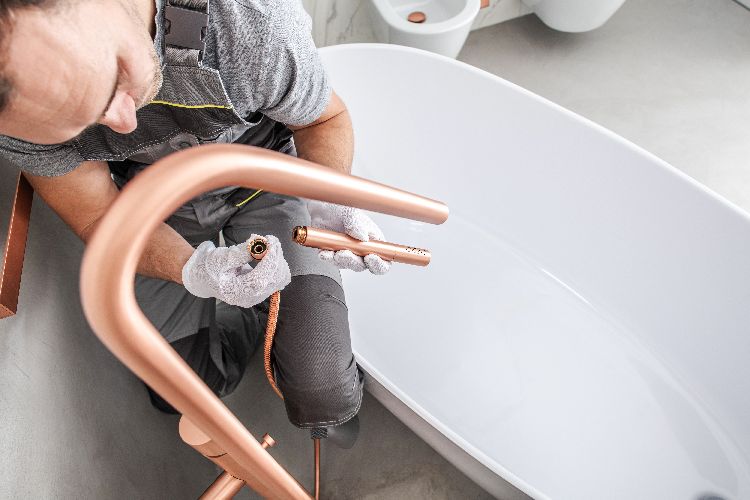 A3: Installing a freestanding bathtub filler isn't that hard, and you can do it without any professional assistance. Here's a quick process to do it.
Items you need for the installation are:
An adjustable wrench
A 6mm hex wrench
Safety glasses and gloves
A flashlight
Cleaning cloths
Before starting, turn off the main water supply and then go with the following steps.
Step 1: Assemble all the components of the tub filler altogether by referring to the instruction manual. Connect the tubes and other accessories that you have received in the box.
Step 2: Now install the valve on the water supply, which is located on the ground. The valve will ensure a smooth flow of water without any leakage.
Step 3: Now place the filler body on the valve, and screw the tripod on the floor.
Step 4: Get the freestanding tub filler ready by connecting the handheld hose to its dedicated slot, and rest the handheld shower on the dock.
Step 5: Now turn on the water supply, and turn the handles on to check if the tub filler is working or there are any leaks.
If you are finding it hard to install the bathtub filler, check out this video for more assistance
Q4: What's a good GPM for a Tub Filler?
A4: Most freestanding bathtub fillers offer 6 gallons per minute water flow, which is decent to quickly fill small and medium-sized tubs. But you can even look for models like Delta Faucet Trinsic that offer a high flow rate up to 9GPM.
Choose the tub filler flow rate according to the size of your bathtub.
Q5: What is the Best Wall-mounted Faucet for the Freestanding Tub?
A5: The best wall mount tub filler for the freestanding tub is Sumerain Clawfoot Tub Faucet. The tub filler has a long handheld spray hose, and it has got multiple knobs to control the flow and temperature.
Q6: How long does a Tub Filler Last?
A6: Best freestanding bathtub fillers are modern faucets that last for years without any issues. With proper maintenance and care, the tub filler will last for many years, provided that you have selected a branded option. All the tub fillers reviewed in this article belong to top brands and offer decent longevity.
Q7: Is Freestanding Tub Filler Suitable for All Types of Bathtubs?
A7: A freestanding tub faucet is perfect for any freestanding bathtub irrespective of the size and type. Furthermore, these tub fillers are available in a range of options including wall-mounted, deck-mounted, and floor-mounted, so you can use them with any tub.
Just choose the right option to ensure that it is compatible with the bathtub.
Q8: Can You Use a Sink Faucet Instead of a Bath Filler Faucet?
A8: No! Sink faucets aren't meant for bathtubs. Go through these best bathtub filler reviews, and choose a good quality freestanding faucet for your bathroom.
Final Thoughts
These are among the best freestanding tub fillers that you can buy. I've listed all the top options that are highly popular and are perfect for modern and traditional bathrooms.
Artiqua Freestanding Bathtub Faucet Tub Filler
Hot & Cold Waterlines: 1/2'' Hose Connection Design for better water flow(3/8'' hoses can be...
High and Stable Tripod Base Design: Includes Bracket and Bolts(3pcs) to bolted the faucet to the...
Going through the reviews and buying guide will help you in making a quick and rewarding choice. It is indispensable to invest your hard-earned money in the right product that returns you with ultimate convenience and ease of use.