Bath Advisors is supported by readers. If you buy through links on our site, we may earn an affiliate commission at no extra cost to you.

My friends always used to have a discussion on bath bombs, and it made me more obsessed with using one! But the thoughts of having sensitive skin always kept me away from using a bath bomb until the time I came across bath bombs that are perfect for sensitive skin.
Yes, you heard that right, even if you have sensitive skin, you can now use a bath bomb without fearing any irritation and allergies. These bath bombs are 100% vegan and are made using the best ingredients to nourish your skin.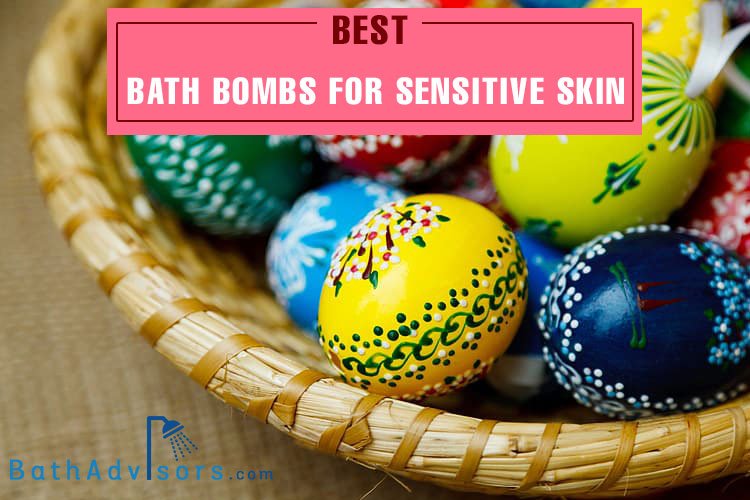 If you want to use a bath bomb but your skin is sensitive, then there is nothing better than getting one of these bath bombs for sensitive skin!
I am here with a list of the best bath bombs that I've used to date, and I am pretty satisfied with them.
Top Rated Bath Bombs for Sensitive Skin
1. Bombe La La La by Pure Sanctum
Here is a set of six bath bombs available at an affordable price. These organic bath bombs are made using vegan ingredients, which makes them perfectly suitable for sensitive skin. Also, these bath bombs are big enough to turn your regular-sized bathtub into a tub full of bubbles and colors.
All six bath bombs have different ingredients and fragrances so that you can enjoy an entirely different bath every time you put a bath bomb into your bathtub. I like the mix of essential oils with organic ingredients, which makes the water ideal for bathing.
There are no harmful chemicals included in the bath bomb, such as SLS, parabens, and phthalates, which can damage your skin. The bath bomb starts fizzing as soon as you add it to the water, which means that you have to wait for less time to indulge in a heavenly bath.
The packaging is something that can steal your heart away! These bath bombs can be a perfect gift if you need something for your loved one. Lastly, you can buy Bombe La La La bath bombs in two options i.e., a pack of 4 bombs, and a pack of 6 bombs.
Pros
All-natural ingredients
Paraben and phthalate-free
Affordable
Fantastic fragrance
Cons
The smell is a bit strong
2. Ocean Breeze Lavender Bath Bombs With Rings
Do you like hidden surprises? Well, with these bath bombs, you will get a ring as a hidden surprise. The bath bomb comes in a pack of two, so you can expect two rings with this bath treat. These are premium bath bombs so you will get a rich and luxurious bathing experience.
Both bath bombs have different fragrances, and you can use them on various occasions. The best part about these bath bombs is that there are no phthalates or parabens included. Moreover, these bath treats are 100% vegan and cruelty-free.
If you are lucky enough, then the value of the ring can go up to $5,000, which is not less than a jackpot.
You can choose between 5 different sizes based on your preference. After un-boxing this bath bomb, I was stunned to see its size. These bath bombs are more significant than regular bath bombs, and you can cut them into two halves if you have a small or medium-sized bathtub.
Overall, the quality is topnotch as these bath bombs are manufactured in the New York, USA factory. Also, bath bombs have moisturizing properties, and these will make your skin softer and smoother.
Pros
Hidden surprises
Bigger in size
Paraben and phthalate free
Smoothens the skin
Cons
Available only in two fragrances
A bit pricey
Also Read: 9 Best Bath Pillows for Straight Back Tubs
3. LifeAround2Angels Bath Bombs Gift Set
This set of bath bombs from LifeAround2Angels can turn your regular bath into a mesmerizing one. There are 12 bath bombs available in one package, and you will be glad to know about their fruity and citrus scents. Every bath bomb is perfect for a bath, and it will fill your bathtub with bubbles and dramatic colors.
I was surprised to see that these bath bombs leave no stain on the bathtub, and it eliminates the need for rinsing the bathtub after bathing. You can simply drain the water down, and your bathtub will be clean again.
All the bath bombs come individually wrapped, so there is no mixing of scents during shipping. If you are looking to present someone with an unforgettable gift, then this set of best bath bombs is a perfect deal.
The packaging was excellent, and there is nothing to complain about! Moreover, the moisturizing and therapeutic properties of the bath bombs will make your skin smoother and better.
In a nutshell, if you want to enjoy multiple scented baths without spending more money, then these bath bombs can be the right deal. All the ingredients are non-toxic, and the bath bombs are perfect for kids and adults.
Pros
Affordable
Superb packaging
All-natural ingredients
Fizzes quickly
Individually packed
Cons
Some bath bombs have an excessive fruity fragrance
4. Da Bomb Unicorn Bath Bomb
Here is another bath bomb that comes with a hidden surprise. You will surely love to see how this rainbow-colored bomb fizzles into the bathtub. Also, the bath bomb is of decent size and is enough for a medium or large-sized tub.
The fragrance is mind-blowing, and this bomb will fill your entire bathroom with an attractive smell! There are no harsh ingredients constituted in this bath bomb. It has a composition of simple elements that make it ideal for kids and adults.
If you are worried about cleaning the stains after bathing, then fear no more! This bath bomb will leave no blemishes at all, and a simple rinse is enough to clean the bathtub. Also, this product is made in the US so you can rest assured about the quality.
In short, if you want to try a single bath bomb before opting for a set, then this bath bomb is what you need! It fizzes easily, and you will love the rainbow composition inside your bathtub. Also, the soothing properties of this bath bomb will not harm the skin in any way, and thus you can let your kids enjoy themselves in the bathtub.
Pros
Comes with a hidden surprise
Pleasant fragrance
Vegan and cruelty-free
Cons
Creates lesser fizz as compared to other bath bombs
5. Sky Organics Kids Bath Bombs
If you need bath bombs for your kids, then there can't be a better choice than Sky Organics Kids Bath Bombs. These bath bombs have hidden surprises in them, so your kids will surely love to enjoy the bath. The package contains six different bath bombs with assorted fragrances.
Also, there are no sulfates and phthalates, and that is the reason why I picked it for my kids too! When you put the bath bomb into the water, it frizzles quickly and makes the water full of sparkles. Every bath bomb has different colored sparkles, and that is what makes it perfect for kids.
Kids have very sensitive skin, so it is ideal to choose bath essentials that are vegan. Fortunately, these bath bombs are 100% vegan and cruelty-free. Also, the packaging can attract your little one to have a bath using one of these bath bombs.
Lastly, if you hate cleaning the bathtub after using a bath bomb, then there's good news for you. These top-rated bath bombs will leave no stains behind, and you can clean the bathtub just by rinsing it. Moreover, the EPSOM salt and natural essential oils will keep the skin hydrated, which is a plus point.
Pros
Affordable
Natural ingredients
Contains sparkles
No gluten or phthalates
Cons
Not suitable for kids under three years
6. STENDERS Bath Bombs Gift Set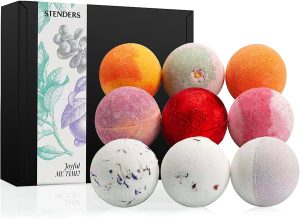 As someone who loves to indulge in self-care, I'm always on the lookout for bath bombs that not only smell amazing but also provide nourishing benefits for my skin. That's why I was thrilled to try out the Stenders Bath Bombs Gift Set, and let me tell you, it did not disappoint!
First off, I was blown away by the variety of scents and colors included in this set. With nine different fragrances ranging from fruity to floral, each bath bomb provides a unique and luxurious experience. And the vibrant colors made my bath feel even more fun and playful.
But what really impressed me was the premium quality of the ingredients. Each bath bomb is handmade with natural and organic essential oils, jojoba seed oil, and sea salt to provide a soothing and moisturizing effect on the skin. As someone with sensitive skin, I was pleased to find that these bath bombs did not irritate or dry out my skin like some other brands do.
In terms of the fizz effect, I was delighted by how quickly and intensely each bath bomb dissolved and released its fragrance. The aromatherapy benefits of each scent truly helped me to relax and unwind.
Overall, I highly recommend the Stenders Bath Bombs Gift Set for anyone looking to add a little luxury and self-care to their bath routine.
Pros
Made with natural and organic ingredients
Provides aromatherapy benefits
Moisturizing and soothing effect on skin
Suitable for sensitive skin
Cons
May be too fragrant for some people's preferences
7. Aofmee Bath Bombs
Are you searching for the most affordable bath bombs? Well, these bath bombs from Aofmee can be a great choice! You will get seven different bath bombs for an affordable price. All bath bombs have different ingredients. My personal favorite was Romance: Red One and Relax: Chamomile, but all the scents were satisfactory.
The packaging was excellent, and all the bath bombs come wrapped to avoid any intermixing of scents during shipping. Also, these bath bombs are cruelty-free and vegan. Moreover, using these will help you in making your skin soft due to the presence of skin-friendly ingredients.
There will be no residue leftover in your bathtub once you pull the drain plug, so there are fewer hassles of afterward cleaning. If you want your kids to have a bath, then you can use any of these bath bombs because there are no harsh chemicals involved.
Whether you need bath bombs for personal use or you want to gift them to your loved ones, these best bath bombs from Aofmee are perfect. Moreover, bath bombs can help you with a therapeutic experience while relieving your body from muscle pain and stress.
Pros
Super affordable
Leaves no stains in the bathtub
Ideal for people of all ages (not for kids under three years)
No dyes and harmful chemicals
Cons
Strong fragrance
Produces fewer bubbles
8. Natural Organic Bath Bomb Gift Set
This bath bomb set is perfect for you if you love natural ingredients. The fragrance is also soothing, and there is no irritating smell after fizzing. You will get six bath bombs in the packaging that includes three eucalyptus bath bombs, and three lavender bath bombs.
Also, these bath bombs are GMO-free and contain no animal products at all. You can rest assured that there will be no allergies or irritation on your skin after using the bath bombs. The box is also made up of decomposable material, so there is no waste generation.
The organic hemp and coconut oil contained in these bath bombs will nourish your skin. Moreover, if you need a bathtub full of foam, then one of these bath bombs can do the job. You will surely feel that your body is rejuvenating while using the bath bomb. The oils absorb in your skin, and what you get is soft and smooth skin that smells nice and warm.
Overall, these bath bombs from Dr. Hempster were pretty nice. Yes, there were a few stains left on the bathtub, but that is acceptable when you get such a refreshing and fantastic bath. There is no choice of scents, so you have to compromise with eucalyptus and lavender.
Pros
Attractive packaging
Inexpensive
All natural ingredients
No irritating smell
Cons
Leaves a few stains behind
Available only in eucalyptus and lavender scent
9. Bath Bombs Gift Set from Beauty by Earth
You can turn your bathtub into heaven with these bath bombs from "Beauty by Earth". This is a prominent brand in the US that manufactures the best bath bombs for women and men. These bath bombs have organic ingredients, and that's pretty amazing.
Also, these can help you in relaxing while bidding goodbye to stress and muscle pain. All the bath bombs contained in the package have different properties and ingredients. If you need something that is free from artificial fragrance, then you can shift your focus on these bath bombs.
The size of every bath bomb is enough to fill up the bathtub with the required fizz. Moreover, it is the best remedy to pamper yourself while bathing. The fragrance is not very strong, so you will not feel any kind of irritation.
Overall, these bath bombs are available in a friendly pack of 6 different bombs for everyday bathing. Every day will be a different one as these bath bombs have the capability to make your day good by relieving excess stress.
Pros
Soothing fragrance
No junk or fillers
XL sized balls
Cruelty-free
Buying Guide – Best Bath Bombs for Sensitive Skin
Here are a few tips that will assist you in shortlisting the best bath bombs for sensitive skin! Moreover, you can also find out some benefits of using bath bombs for your sensitive skin.
What is a Bath Bomb?
Oh, so you don't know what actually a bath bomb is? Here is an easy explanation that can help!
A bath bomb is a solid ball, or you can say that it is a hard-packed mixture of the best ingredients, including scent, essential oils, and non-harmful colors. When you add a bath bomb to your bathtub, it effervesces after coming in contact with water.
As a result, the bathtub becomes full of bubbles, colors, and other healthy elements that can nourish your skin while rewarding you with a refreshing bath.
How to Use a Bath Bomb?
It was a confusing situation for me when I was using a bath bomb for the first time! The product I used had rose petals, and I was anxious about whether it will block the drain hole or not.
Do you know how to use a bath bomb?
Well, if you have not used a bath bomb before, then you can follow these simple steps to use one for your next bath.
Find a Bath Bomb of Your Choice
First thing first, you have to choose a bath bomb of your choice! These lush bath bomb kits are available in a myriad of options, including multiple fragrances and ingredients.
Wrap It into a Piece of Fabric
Some bath bombs are enormous in size, and there is no need to use the whole bomb at once! You can wrap the bath bomb into a piece of fabric to cut it easily. Now add the half bath bomb into the bathtub after filling it with water.
Let the Bath Bomb Fizz Properly
As soon as you add the bath bomb to the water, it will start fizzing. You can also hop into your bathtub at the time the bomb is fizzing.
Enjoy Your Bath
You can enjoy a mesmerizing bath until you feel that the water is cooling down. If you have used a colored bath bomb, then you should take a shower.
Also, it would be best if you rinse the bathtub with regular water to make it spick and span.
Main Ingredients of Bath Bombs
If you are a curious fellow like me, then you will surely love to know about the ingredients used in the making of a bath bomb. Every bath bomb is different, so the variety of ingredients can vary! However, some generic ingredients remain the same.
The list of ingredients includes vibrant pigments, flower petals, finest essential oils, and plastic-free glitter that add color to the water. Also, some bath bombs are made using pure sweet almond oil and Epsom salts.
In short, the ingredients used in the making of bath bombs are 100% safe and are friendly to the skin.
Benefits of Bath Bombs for Sensitive Skin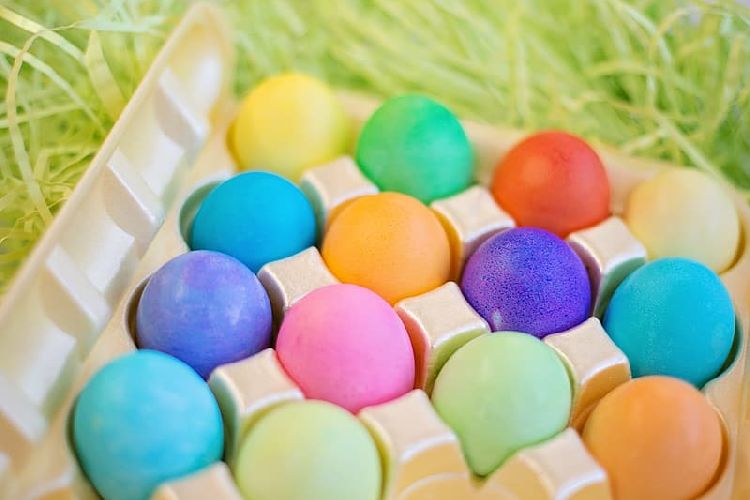 A bath bomb is not just a colored ball that will fill your bathtub with bubbles and colors. It has a lot of benefits, and personally, I felt these benefits after using these bath bombs for sensitive skin.
1. These are Good for the Skin
A bath bomb can soften the water by adding emollients and other moisturizers to the water. These ingredients can heal your skin by making it supple and soft. No matter if you have normal, dry, or sensitive skin, a bath bomb can reward you with smooth skin without causing any irritations and allergies.
2. Vegan-Friendly and All Natural
Unlike other bathing products, bath bombs are all-natural and vegan-friendly. These lush bath treatments have no harmful chemicals included, which means that there will be no damage to your skin. You can bid goodbye to skin issues with bath bombs.
3. Healing Properties
Most of the bath bombs available in the market have citric acid and bicarbonate. These two ingredients are responsible for creating a fizzing sensation inside the bathtub. Also, citric acid and bicarbonate together can heal your skin while deodorizing it.
Moreover, using a bath bomb will help you in strengthening your blood vessels, which comes as an added benefit.
4. It Creates a Heavenly Bathing Atmosphere
Bathing with regular water will seem boring after you indulge in a bath using a bath bomb. Bath bombs can create an opulent and luxurious bathing atmosphere, and you will be delighted to smell the pleasant fragrance it emits.
In short, a bath bomb can turn a regular bath into a special one while transforming the bathing experience entirely.
5. Aromatherapy Benefits
You will be stunned to know the aromatherapy benefits of using a bath bomb. Every bath bomb has a specialized scent in it that will help you with a particular purpose. I generally use citrus bath bombs in the morning, as it keeps me refreshed all day long. Similarly, every scent has its purpose, and you can enjoy aromatherapy benefits with different types of bath bombs.
Factors to Consider when Buying Bath Bombs for Sensitive Skin
Planning to buy a bath bomb? Have a look at these factors to make the best out of your purchase!
1. Skin Type
Before you start shopping for any beauty product, including a bath bomb, it is advised to check your skin type! There is a variety of bath bombs available for different skin types, and you cannot use just any bath bomb without knowing the suitable skin type.
All the bath bombs listed here are friendly for sensitive skin, and you can choose any of these if you have sensitive skin. However, you can buy a bath bomb based on your skin type.
2. Ingredients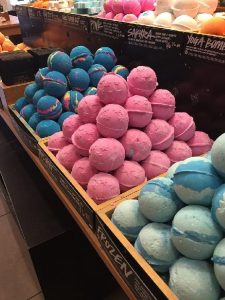 Checking the ingredients is another essential thing you should do at the time of shopping for bath bombs. Make sure that the ingredients are all-natural and are vegan-friendly. Some elements can be reactive on your skin, and you should definitely avoid these bath bombs at any cost.
If a bath bomb constitutes organic and natural ingredients, then you can consider it safe for use.
3. Fragrance
Do you like fruity smells? Or do you love a strong citrus punchy fragrance? Well, I like both!
You can choose a bath bomb based on the type of fragrance you adore! Bath bombs are available in a multitude of options when it comes to fragrance.
Either you can go for lavender, rosemary, or hibiscus based on your taste. Also, you can buy fragrance-free bath bombs if you are not a fan of any kind of fragrance!
4. Price
The last thing that needs your attention is the price of the bath bomb. Some luxury brands manufacture expensive bath bombs, and using them can turn out to be an expensive deal. Generally, bath bombs are inexpensive, and buying them will not shake your budget in any way.
Frequently Asked Questions (FAQs)
Q1: Do Bath Bombs have an Expiration Date?
Just like eatables, the ingredients used in bath bombs have a shelf life that ends after a specific period. So you cannot keep the bath bombs resting in the cabinet for a long time. Every bath bomb can have a different shelf life. You can refer to the instruction label to find out the exact expiration date of every bath bomb.
Q2: Which Bath Bomb is Perfect for Kids?
If you want a bath bomb for your kids, then I'd suggest you go with bath bombs for sensitive skin. Kids have sensitive skin that can react with chemicals, and bath bombs for sensitive skin have no chemicals at all.
The best bath bomb for kids is Sky Organics Kids Bath Bomb. These bath bombs have hidden toys and all-natural ingredients which make them ideal for kids.
Q3: Do Bath Bombs damage Hair?
It depends on the type of bath bomb you are using! All the bath bombs included in this list will not damage your hair due to the mild composition of ingredients. Also, if you rinse your hair after getting out of the bathtub, then there would be no damages to your hair.
The ingredients constituted in bath bombs are natural and are not harmful to your hair.
Q4: How to Clean my Bathtub after using a Bath Bomb?
Some bath bombs can leave stains inside your bathtub, especially if you have used a colored one with glitters inside. You can easily clean your bathtub by rinsing it with regular water. Also, use a piece of cloth to rub the areas with stains in order to eradicate them.
If you don't want to indulge in the hassles of cleaning your bathtub, then you can use a stain-free bath bomb like LifeAround2Angels Bath Bombs Gift Set.
Q5: Are homemade Bath Bombs better than the Factory-made?
Nowadays, most of the manufacturers are making bath bombs using vegan and all-natural ingredients, so you can say that these bath bombs are as good as homemade ones. But if you have very sensitive skin that is prone to allergies and irritations, then you can use a homemade bath bomb while using the only ingredients that suit your skin.
However, making a bath bomb at home is not an easy deal! You need a multitude of ingredients for it, which can cost you more money than buying a readymade bath bomb.
Q6: For how long should I wait to enter the Bathtub after putting a Bath Bomb in it?
A bath bomb can take some time to effervesce into the water, and you can check it by having a look at the color of the water. There is no specified time to enter your bathtub as you can hop in it right after putting in the bath bomb.
Usually, I wait for 2-3 minutes before entering into my freestanding bathtub after adding a bath bomb.
Final Thoughts
I enjoy using bath bombs as these are perfect for my sensitive skin. If you are also battling to find the best bath bombs for sensitive skin, then using any of these bath bombs can be a rewarding deal. Make sure to check the buying guide so that you can make the best out of your purchase.
In my opinion, the best bath bomb is LifeAround2Angels Bath Bombs Gift Set. You will get 12 different bath bombs, and also, these are perfect for a fizzy and fun bath.
If you are trying bath bombs for the first time, and you don't want to spend more bucks on them, then I'd suggest you go with STENDERS Bath Bombs.