Bath Advisors is supported by readers. If you buy through links on our site, we may earn an affiliate commission at no extra cost to you.

Freestanding tub fillers aren't just gorgeous, but they enhance the convenience, and that's what you need while relaxing in your freestanding bathtub. However, when it comes to choosing one, people often get overwhelmed due to the numerous choices available in the market.
When I was looking for a tub filler, I had multiple brands on my mind, but Delta impressed me the most. Their tub fillers look amazing, offer enhanced convenience, and are highly durable, so I started exploring their range to find the best options.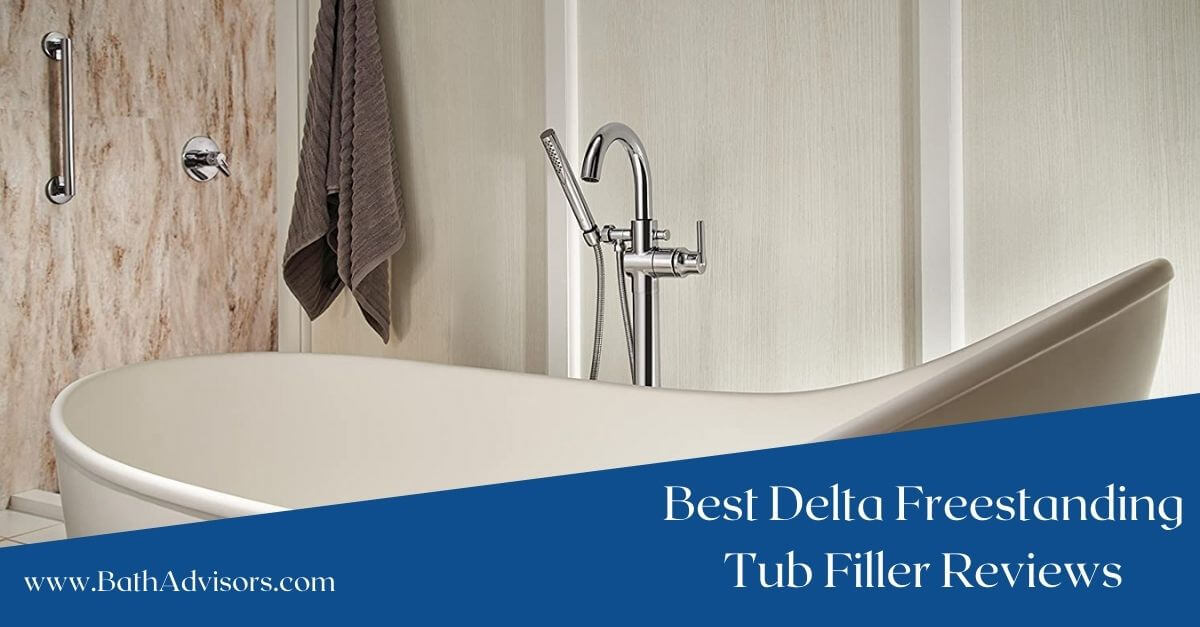 After extensive research, I was able to shortlist the top seven Delta tub faucets that I've reviewed in this article. Read these Delta freestanding tub filler reviews, and choose a fantastic tub filler for your bathroom.
Moreover, there's a detailed buying guide as well to help you make an informed choice.
Why Choose Delta Freestanding Tub Fillers?
There are many reasons why Delta was my first choice when looking for the best freestanding tub fillers. Their faucets go well in any type of bathroom, be it modern or contemporary, and are very durable.
Moreover, Delta has a superb service network in the United States, and their tub fillers satisfy the plumbing codes of almost every state. So if you need a set-up and forget tub filler, there is no better choice than Delta.
1. Water-Saving Properties
The faucets designed by Delta save a lot of water, and almost all models meet WaterSense certifications. All the bath fillers that I have reviewed in this article dispense 2 gallons of water per minute.
2. Designed to Withstand the Test of Time
Delta Faucet is popular for the high-quality material used to manufacture the faucets. Usually, the material is brass because it offers extreme protection against corrosion. Moreover, the finish plated over the faucets lasts longer and creates a barrier to safeguard the metal.
3. Require Less Care
When you get the best Delta freestanding tub filler installed in your bathroom, you don't have to worry about maintenance. These faucets require minimum care, apart from a few finishes, including champagne bronze and matte black.
4. Excellent Warranty
The brand offers a limited lifetime warranty on the faucets, and that comes as a big assurance. Also, the customer service of Delta is available in the pan U.S, and you can quickly contact them to get the filler repaired or replaced.
Best Delta Freestanding Tub Filler Reviews
1. Delta Faucet Trinsic Floor-Mount Freestanding Tub Filler
– Best Overall
Some people think that Delta only offers expensive tub faucets, but I found an affordable one, and that's Delta Faucet Trinsic Freestanding Tub Filler. Investing in it will do true justice with your choice since it lasts longer and looks good with the tub.
The gooseneck spout bents inwards and spray water directly inside the tub. Moreover, you can move the spout in any direction inside the tub to get it filled quickly.
Talking about the handheld shower, it has numerous small holes to spray water with good pressure. You can use it to rinse the tub, bathe your pets, and even clean the bathroom tiles. Though, the tiny holes can get clogged quickly if not cleaned regularly.
"James commented on Delta Faucet that this faucet is easy to install, and the service by Delta is exceptional."
Just get the Delta R4700 rough-in valve, and you can put this faucet on the floor securely.
The length of the hose is around 60-inches, and it's very flexible. The backflow prevention valve fitted inside the spray lets you control the pressure while it saves a lot of water.
I was pretty disappointed with the water flow since the spout only dispenses 1.75 gallons of water per minute. Though, the durability and style of this faucet overshadow the low flow and make it ideal for an everyday bath.
You can choose from a range of premium finishes, including chrome, stainless steel, and matte black, to complement the décor of your bathroom.
Pros
It comes with a limited lifetime warranty
The shower sprays water into a unique wave pattern for max pressure
It uses 20% less water than other tub fillers
It is ADA compliant and WaterSense certified
Cons
Some features may not be available in faucet designed for California
The main handle could be bigger
2. DELTA FAUCET T4767-BLFL Matte Black Tub Filler
– Premium Choice
If you prefer a tub filler with extraordinary looks, DELTA FAUCET T4767-BLFL is your way to go! What makes this tub faucet looks striking is the matte black color that goes well with any type of freestanding tub.
With a maximum flow rate of 2 gallons per minute, this faucet is ideal for small to medium-sized baths. The main spout is pretty big and swivels smoothly, so you can move it in any direction.
The aerator attached to the spout throws the water with good pressure while it prevents water from splashing outside the tub. In addition, the long hose attached to the handheld shower lets you utilize it for cleaning the bathtub and even the bathroom.
There are four tiny holes in the handheld shower that spray with decent pressure. Though there is no dedicated control available on the shower, you have to control it using the main handle.
Delta has designed it thoughtfully with an adjustable H2OKinetic spray, and you can control the pressure of the shower. The primary material is high-quality brass, so stop stressing about durability and enjoy using this filler.
However, it requires more cleaning than any other finish, and you cannot clean it with any hard object as it can cause scratches over the faucet. As per users, the installation process is simple, and Delta ships a detailed manual with it.
Lastly, this Delta Tub Filler in black color is ADA compliant and is certified to use in any state of the U.S because of its WaterSense characteristics.
Pros
The thick paint protects it from corrosion
The handheld shower prevents backflow
Longer hose for added convenience
Designed to save water and offer good pressure
Cons
You need to purchase the rough-in R4700-FL separately
The matte black finish requires care
3. Delta Faucet Cassidy Floor Mount Freestanding Tub Filler
– Also Great
The Cassidy model by Delta Faucet has a traditional look and is perfect for a modern bathroom with any type of freestanding bath. The main attractions here are the spout and the round handheld shower. In addition, the chrome plating over the entire faucet makes it look beautiful.
I recommend the Delta Cassidy tub filler to homeowners that need flexibility. The reason is the 60-82 inches long hose that lets you stretch it and use the shower conveniently. The maximum flow is around 2 gallons per second, and this is a WaterSense certified faucet.
However, the low water pressure does not affect the spray. This filler can spray water with three times more coverage by creating a unique wave pattern.
The main spout swivels and sculpts water directly into the tub without splashing it outside. There's a single handle to operate both the spout and the shower. Moreover, there is a rough-in installed in the shower for backflow prevention.
Installing this Delta floor mount tub filler is easier, and it only requires one hole, so your bathroom looks neat and clean. As per several users, Delta packed this faucet well, and it came with all required accessories except the handle and rough-in model R4700-FL. You need to purchase them separately and then install the filler.
In a nutshell, this freestanding tub faucet is perfect if you need something unique and eye-catchy. It is available in three finishes, including chrome, and bronze.
Pros
The spray has excellent pressure
It comes with a lifetime limited warranty
Longer hose for maximum convenience
You can rotate the spout and shower for a convenient bath
Cons
Handle sold separately
The base is small and may not cover bigger holes
4. Delta Faucet T4767-FL Floor Mount Tub Filler
The Delta Faucet T4767-FL is a very popular faucet among homeowners that want their bathroom to look lavish. The boxy design looks elegant, while it makes the tub filler highly durable and easy to clean.
Entirely made using brass, this tub filler can easily last multiple years. In addition, the chrome finish prevents corrosion, but make sure to clean it occasionally.
The main spout is big and is bent downwards to reduce the wastage of water while focusing the entire flow of water inside the bath. However, the max flow of water is around 2 gallons per minute, so bigger tubs may take some time to get filled.
There is a handheld shower as well, and you can enjoy rinsing out shampoo while using it to bathe your kids and pets. The length of the hose is 60″, and Delta does not offer any customization services for hose length.
Some users said that the pressure from the handheld wand is good and is enough to make the tub stain-free. What I loved about this faucet is the big handle that controls the main spout, as well as the handheld wand.
You can easily adjust the pressure while getting a mix of warm and cold water. Houses with people having special needs can also consider this tub filler since it is ADA compliant.
"The tub filler looks very stylish, and is easy to install, said Sean, a buyer of this Delta Faucet."
Pros
The big pedestal stand keeps it stable
Splash-proof spout preserves water
The flexible shower hose makes bathing convenient
The handheld shower features a double check valve for backflow prevention
Cons
Only available in one color finish
It does not have a waterfall tub spout
5. DELTA FAUCET T4777-FL Single Handle Tub Filler
Next on the list is a tub filler from Delta with a combination of conventional and modern look. The gooseneck spout makes it look conventional, while the elegant handheld shower brings in a modern touch.
You'll even love its straight and squarish body that comes with a big pedestal stand to cover the hole. Just like other Delta fillers, it also dispenses 2 gallons of water, but the pressure feels good.
Moreover, the handheld wand has multiple tiny holes to push water with the pressure required to bathe properly and clean the tub afterward. In addition, the spray settings include H2OKinetic spray that generates a unique pattern and strengthens the pressure.
"As per Amillz, a user of this bathtub faucet, the filler looks great, and the handheld shower works promisingly. He even added that the filler saves a lot of water without compromising the pressure."
Talking about the certifications, the DELTA FAUCET T4777-FL meets WaterSense requirements and is ADA compliant. In addition, you won't have a hard time installing this piece since the single-body assembly makes things easier.
Also, cleaning and maintaining the filler is a cakewalk, and you can keep it looking new for years just with regular cleaning. Delta Faucet offers this bath filler in a range of finishes, including chrome, stainless, and matte black.
To sum up, this tub filler should be your choice if you need something classy and different. It comes with a limited lifetime warranty, so you can use it for years without any worries.
Pros
The shower has a strong pressure
The filler saves a lot of water; thus, the utility bills
Requires low maintenance and cleaning
The long and flexible hose makes things convenient
Cons
You need to keep the rubber nozzles clean to get good pressure
The matte black finish model requires care
6. DELTA FAUCET T4776-FL Freestanding Tub Filler
DELTA FAUCET T4776-FL is for those looking for a tall freestanding tub filler. The long body gives it enough height that you can use it with any tub. Right above the body is the curved spout that dispenses water at 2 GPM.
The flow is decent and can refill any small to medium-sized bathtub within minutes. When you push the handle downwards, it activates the handheld shower, and the water flows through the five nozzles.
Furthermore, it has H2Okinetic in the shower that forms a wave-like pattern for maximum pressure. Delta Faucet ships a coordinating handle with this filler, but you have to purchase the rough-in separately.
A lot of users said that the chrome finish over the filler protects it from corrosion. They even added that the brass material feels solid, and the filler is very stable on the ground due to its weight.
Overall, the DELTA FAUCET T4776-FL is a bang for the buck, and you can have an elegant tub faucet in your bathroom. It is available in chrome finish only and requires minimum care over time.
Pros
A fully chrome-plated body looks amazing
The bigger handle makes it easier to operate
You have complete control over the pressure
The design looks very attractive
Cons
Only available in one color finish
It might be longer for smaller bathtubs
7. DELTA FAUCET T4774-CZFL Champagne Bronze Tub Filler
DELTA FAUCET T4774-CZFL is my favorite because of the champagne bronze finish that makes it look classy. The tub filler has a cylindrical body, and it easily blends in the bathroom with any type of décor.
The flat spout enhances the style statement while dispensing water with good pressure. In addition, the tub filler has an elegant handheld shower connected with a 60-80″ long hose. You can pull the flexible hose to clean the tub and rinse the bathroom floor.
The ergonomic handle lets you toggle the flow of water, and you can easily change the pressure. What I loved about this faucet were the rubberized nozzles. These are easier to clean, and you can rub them gently to get rid of the calcium contaminants.
The water flowing through the shower has a unique pattern that maximizes the pressure while saving water. As it is an ADA compliant tub filler, so people with special needs can also get it installed in their homes.
As per some homeowners, the finish looks very premium, but it needs moderate care. Soap scum, if left unattended, can lead to the formation of black spots over this faucet.
Get this freestanding tub filler from Delta and make your bathroom stand out. You get a coordinating handle inside the box, just make sure to purchase a compatible rough-in valve to complete the installation.
Pros
The tub dispenses water with good pressure
The convenient handle lets you control the flow of water
Durable design makes it last longer
Cleaning the rubber nozzles is easy
Cons
The filler body requires regular care and cleaning
No color options are available
Delta Freestanding Tub Fillers Buying Guide
The purpose of covering this buying guide is to help you choose the right freestanding faucet. Below-listed are some factors you need to look for to compare different faucets and make a rewarding decision.
Types of Delta Tub Filler Faucets
Delta has a range of premium tub filler faucets you can get to complement your bathtub. Here are the common types of tub filler faucets you can choose from.
1. Freestanding
These are the most popular types of bathtub fillers that Delta manufactures. Designed to fit on a concrete slab or tile, these faucets can make the entire bathroom look chic and lavish. In addition, these faucets don't need a wall or support; you can mount them on the floor near the tub and enjoy bathing.
2. Deck-mounted
Designed to install on the tub's rim, these fillers possess excellent aesthetics and are good for undermount and drop-in bathtubs. If you have a tub with broad rims or a wall near the bath, you can choose these faucets. Modern deck-mounted fillers come with a handheld shower to offer an enjoyable bath.
3. Wall-mounted
These faucets should be your choice if you want to put one on the wall. Homeowners that have their freestanding tub installed in the alcove or a corner can consider this type of tub fillers from Delta Faucets. These fillers are usually affordable and have a handheld wand.
4. Roman
These faucets are known for their luxuriousness. These are also designed to be fitted on the tub's rim and are ideal for tubs with pre-drilled holes. Furthermore, these fillers are versatile and can also be mounted on a wall depending on the model you have chosen.
How To Choose the Best Delta Freestanding Tub Filler?
1. Flow Rate
Start with choosing your faucet by looking at the flow rate of water. The higher the flow rate, the quicker it will refill the tub. Usually, tub fillers from Delta have around 2 gallons per minute of flow, which is decent for a small or medium-sized bath.
2. Material and Finish
You can never overlook the material when choosing a freestanding tub filler. Usually, Delta faucets are made with brass and are highly durable.
Talking about finishes, there are plenty of options available, from bronze to stainless steel and more.
3. Spout Style and Length of Hose
The spout style is up to you since it is a matter of personal preference. Delta Faucets offers these fillers with gooseneck, flat, and even round spouts. Also, the length of the hose is different but varies from 60-80 inches.
4. Ease of Installation
The bathtub filler should be easy to install so that you don't have to call professionals to install it. Delta designs these tub fillers to be installed on concrete slabs and tiles. Fortunately, all the faucets that I have reviewed in this article are easy to install and come with detailed manuals.
5. Certifications
It is important to buy tub fillers from Delta that come with certifications like WaterSense and ADA compliance. Also, the faucet should satisfy the plumbing codes of your area. All tub fillers from Delta can be installed anywhere in the United States because of their water-saving characteristics.
6. Warranty
Lastly, it would be great to consider the warranty when choosing a Delta freestanding tub filler. All the models that I have listed in this article come with a limited lifetime warranty.
FAQs
Q1: Which is the Best Delta Tub Filler Rough-In Valve?
A1: You can consider Delta Faucet Rough-In Valve R4700-FL since it is the best rough-in valve that's compatible with almost all models. It is crucial to ensure that the filler you have bought supports this rough-in valve, or you can buy their other valve model.
Q2: Why are Delta Tub Fillers so Expensive?
A2: The reason why these faucets from Delta cost more than other tub fillers is because of the quality of material and engineering that the brand offers. Moreover, you get a lifetime warranty on these fillers. All these factors contribute to the overall cost of Delta freestanding tub fillers.
Q3: What is a Good GPM for a Delta Tub Filler?
A3: Mostly, Delta tub fillers come with a flow rate of around 2 gallons per minute. The aerators fitted in these fillers increase the pressure, thus, you don't feel a lack of it. So, 2 GPM is a good flow rate for a Delta tub filler.
Q4: How to Repair A Leaking Delta Freestanding Tub Faucet?
A4: To repair the leaky faucet, you need to replace the cartridge. Open the handle using a wrench, and access the cartridge. Then, inspect the O-rings, and replace the assembly if required.
Watch the below video to know more about repairing a leaky Delta faucet.
Q5: How to Install Delta Freestanding Tub Filler Faucet?
A5: To install this tub filler on the floor, you need to first install the rough-in valve. After installing the valve, connect the water tubings, and put the freestanding tub filler body over it. Screw the body with the floor and put the flench to cover the hole.
Here's a detailed explanation of installing the freestanding tub filler on a concrete slab.
Final Thoughts
After reading these detailed Delta freestanding tub filler reviews, you can get the best bath faucet for your money. Go for a freestanding tub filler that compliments the decor of the bathroom, and pairs well with your bathtub.
If you ask me for a recommendation, choosing Delta Faucet Trinsic Floor-Mount Freestanding Tub Filler is the best choice. It is an affordable freestanding faucet that looks stylish and is very sturdy. Also, there is a range of colors available making the tub filler perfect for every bathroom.