Bath Advisors is supported by readers. If you buy through links on our site, we may earn an affiliate commission at no extra cost to you.
For those looking to spice up their bathrooms with aesthetic flair, a freestanding bathtub is all you need! These tubs are finished on all sides and can stand on their own. They often look like bathroom furniture; however, they function pretty much in the same manner as a built-in tub.
Freestanding tubs are available in various types, like pedestal tub, clawfoot tub, modern designed rectangular or oval-shaped tub. Thus, you can make an easy pick as per your requirement.
However, one often hears that freestanding bathtubs are now a passing fad. So, you may ask, are freestanding tubs out of style?
Unfortunately, there are quite a few myths around this. For instance, some say that these tubs are challenging to clean, while others opine that the installation process is tricky. But the freestanding tubs growing popularity shows that nothing of that is true!
So, if you are planning on ignoring the myths to look for one option ideal for your bathroom, we have all the information covered for you here and I have also discussed the pros and cons of freestanding bathtubs in the below sections.
What Made Freestanding Tubs Popular?
1. Diversity of Styles
Freestanding tubs have become popular due to their wide variety of styles. Unlike drop-in tubs, free-standing tubs are available in multiple shapes and sizes.
The various types include but are not limited to clawfoot, oval shape, modern, and rectangular. Besides, these are also available in multiple sizes and color options, making it easy to put these bathtubs in almost any bathroom.
2. Amazing Look & Feel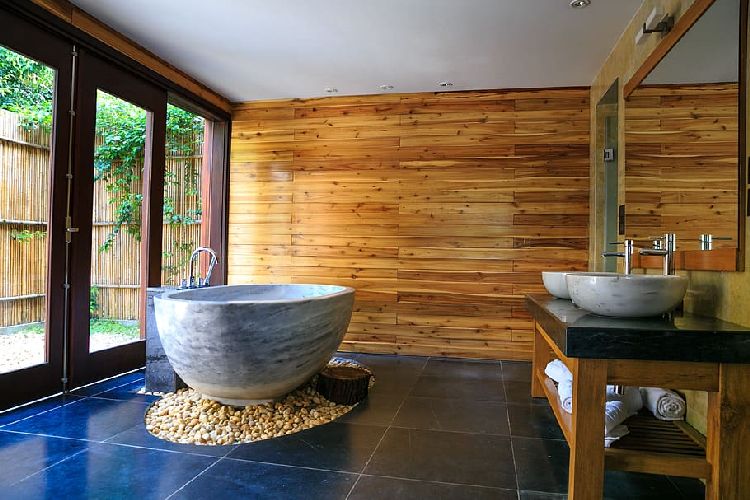 Most free-standing bathtubs are made from premium quality materials resulting in a luxurious aesthetic and feel. Thanks to these materials, users have a very relaxing bathing experience in a free-standing bathtub.
It is also a brilliant option for those planning to glam up their existing bathrooms. Since setting up a free-standing bathtub does not require much work, it's an easy option available at your disposal.
3. Easy to Install and Maintain
Installing a free-standing bathtub is a straightforward process, and you have the option to place one anywhere in your bathroom. There is no drilling and screwing required, and since it's one large piece, you can lift it and put it anywhere you deem fit.
All you need to do is make sure that the plumbing system aligns with your bathtub placement, and you are done!
The only thing to bear in mind is that some free-standing tubs can be heavy, depending on the material. So you may have to hire additional assistance to lift the tub.
Since a free-standing bathtub is a single piece, cleaning it is far easier than two-piece tubs. In addition, free-standing bathtubs have less chance of developing multiple cracks and crevices.
Besides, mold trapping is also not a significant occurrence. It's easy to move a free-standing bathtub to a cleaner place as well if you want, thereby saving yourself from a rigorous cleaning process.
Additionally, these tubs are made from premium quality materials like stone resin and copper; thus, they are resistant to staining and water damage.
4. Decent Resale Value
Unlike regular bathtubs, free-standing tubs retain much of their value, resulting in a better resale price of the property. This is mainly because free-standing bathtubs, even after regular use, look more attractive than their drop-in contemporaries, which lose their luster with use.
Besides, since free-standing tubs are made from higher quality material, they are incredibly durable, increasing their value with time.
5. Complete Freedom in Terms of Placement
While drop-in tubs need a recess prepared for placement, free-standing require no such things and can be placed anywhere. This results in greater flexibility for free-standing tubs as you can pick any size and shape to fit your bathroom.
What are the Problems with Freestanding Tubs?
While there are many benefits of free-standing tubs, there are some major freestanding bath problems you should know about. So if you are planning on installing one in your bathroom, knowing about the cons will be helpful.
1. Cost
Though the installation process of a free-standing bathtub is straightforward, these tubs are more expensive than built-in tubs. The hike in price is significant because these tubs are challenging to build and have many design options.
2. Difficult to Install in the Existing Bathroom
Even before you get in the installation process, getting a free-standing tub into your home may be a challenge. You will have to pick a size that can make it through your existing doors and hallways without causing any challenge on the way.
Plus, you will have to reinforce the floor on which the tub will be placed and change the required drain pattern.
3. Not Suitable for Elderly People
Bathing elderly and physically challenged individuals is difficult in a free-standing tub since they have high sides. Besides, the high sides make it difficult for individuals to get in and out of the tubs.
4. Not Suitable for Small Bathrooms
Free-standing tubs usually require space around them, making them a poor choice for small bathrooms. Since small bathrooms already have space constraints, it's important to utilize as much space as possible.
Thus having a built-in bathtub that stays tucked into the wall is a better option.
Freestanding Tub vs. Built-in Tubs: What to Pick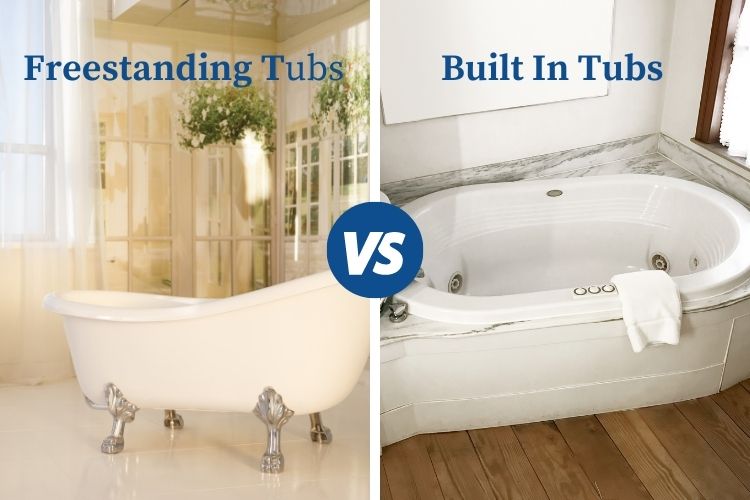 This greatly depends on you. A freestanding bathtub can be your ideal pick if you have the space and want to revamp your bathroom without much change. No wonder freestanding bathtubs are aesthetically more appealing and simple to install than built-in tubs; however, they lack the storage facilities required if you have a small home.
Besides, freestanding tubs are also more expensive than built-in tubs. But to make the ideal choice, it's imperative to consider the safety factor. Freestanding tubs, for instance, do not have sidebars.
Additionally, the side walls are quite high, making it difficult for kids and the elderly to get in and out of the tub. Both of these problems are addressed well in a built-in tub.
However, you can change the freestanding tubs (like installing separating sidebars) if you are in for it.
Final Thoughts
In this piece, I have highlighted all that you need to know if your mind is revolving around that question "are freestanding tubs out of style"?
No, they are not, they are becoming quite popular these days, and since they are available in a wide variety of colors, shapes, and sizes, more people are buying them for the aesthetic factor.
Plus, these tubs are also more durable compared to their built-in contemporaries.
So, if you are planning on installing one, we suggest you take your time to research your option and pick one suited to your needs.