Bath Advisors is supported by readers. If you buy through links on our site, we may earn an affiliate commission at no extra cost to you.
Simple tasks like taking a shower can become increasingly challenging as we age, and for the elderly, slipping in the bathroom is common and can lead to serious injuries. 
An astonishing report published in All About Seniors revealed that over 17,000 people die in the U.S. annually due to bathroom injuries. 
Most of these injuries are caused due to slips and falls, which calls for the best non-slip mat for elderly. These mats offer ample support especially when water and soap can make surfaces slippery.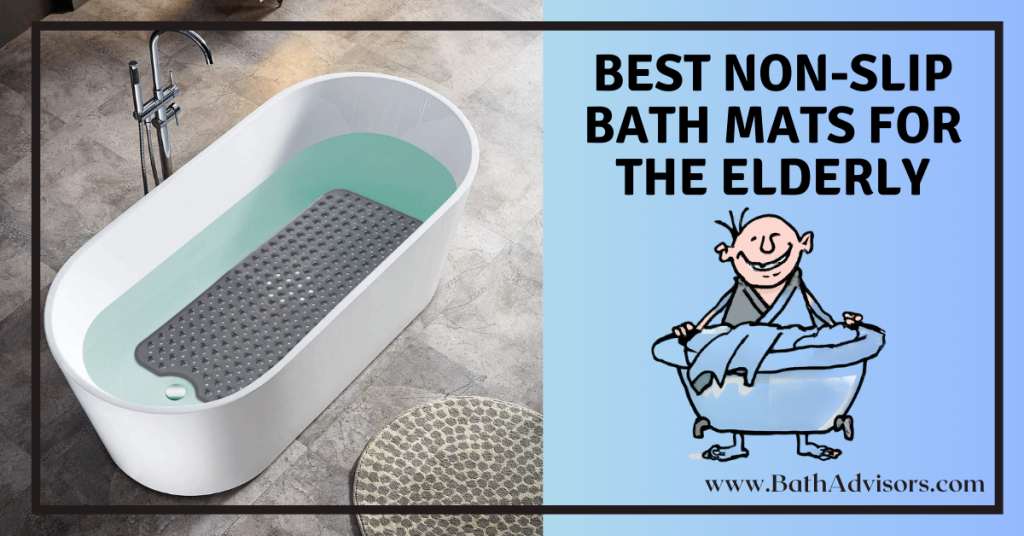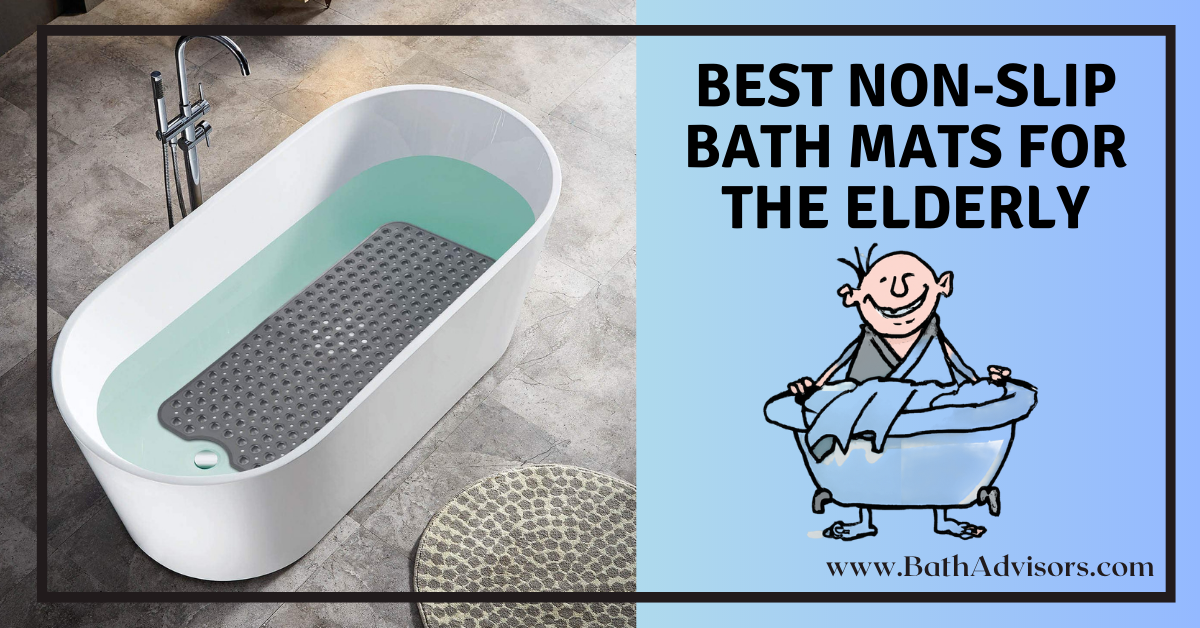 To help you decide on the best non-slip mat, I compared the top mats preferred by older adults. In this article, I've reviewed each mat in detail, eliminating the troubles of choosing one. You'll also find some steps to install the mat properly in your bathroom.
Why You Should Trust This Guide?
When my parents moved in with me, my biggest concern was their bathroom safety because of the floor tiles. I spent countless hours researching the best non-slip bath mats for the elderly and watched their video reviews.
Additionally, I spoke to several bathroom experts about the bath mats they recommend for the elderly. Combining all the accumulated data, finding a reliable mat for my home was a little easy. 
However, the process was daunting and took me a great amount of time, so to save you from that hassle, I've reviewed all the mats I wish-listed. Whether you have a tiled bathroom floor, or a marble one, you'll find a good bathroom mat in this article.
Comparison Table: Best Non Slip Bath Mats for Seniors
Product
Gorilla Grip Patented Square Bath Tub Mat
LuxStep Non-Slip Bath Mat
YINENN Non-Slip Bathtub Mat with Suction Cup
SlipX Solutions Extra Long Bath Tub & Shower Mat
Asvin Soft Textured Bath Tub Mat
Reviews of Best Non-slip Bath Mats for Elderly
Besides preventing slips, a good bath mat can improve your bath regimen. It offers comfort and gives you the confidence that you or your parents won't slip. Below you'll find a complete review of each mat including its pros and cons.
1. Gorilla Grip Patented Square Bath Tub Mat: Safest Bath Mat for the Elderly
This bath mat from Gorilla Grip is a perfect fit for every bathroom. The square shape makes it cover most of the showering area, reducing the risk of slips and falls. 
Designed with bubbles, the non-slip mat for seniors provides a decent grip even if there's soap on the floor. Since older adults have sensitive feet, the air bubbles provide the required comfort, and that's enough to rank it as the top choice.
There are hundreds of suction cups at the bottom to keep the mat from sliding, hence, it sticks to the floor well, and you won't need Velcro or adhesive.
I loved the concept of numerous holes, as it prevents water from pooling up inside the bathroom, giving you hygienic bathing conditions. Usually, plastic mats are flimsy, but this one is highly durable and can easily last for years.
When looking for a bath mat for my parents, I wanted one that's washable, and Gorilla Grip Patented Square Bath Tub Mat fulfills the criteria. 
Whether you've a minimalist bathroom theme or a bathroom that stands out, the range of colors available in this bath mat will complement your needs. I opted for dark colors, as they are easy to maintain.
Pros
It's a big mat to offer more coverage
Anti-skid grip reduces the risk of slip and fall
Water doesn't pool up over the mat
The bubbles provided adds comfort
Cons
Light colors can turn yellow over time
Doesn't stick well to the tub
Verdict 
If you need a durable and comfortable bathtub mat to cover up the slippery shower area, Gorilla Grip Bath Tub Mat should be your choice. Just put it over the floor, and the suction cups will keep the mat securely in place.
2. LuxStep Non-Slip Bath Mat: Value for Money Option
If you are looking for an affordable yet sturdy mat that feels soft on your feet, the LuxStep Non-Slip Bath Mat is a good option. The mat comes with a non-slip layer on the bottom, so there are no struggles with the suction cups.
In fact, the non-skid layer does an even better job when wet, and you can forget the worries of slipping or falling. Unlike Gorilla Grip Patented Square Bath Tub Mat, this mat has smaller drain holes, so drainage is slightly slower. 
Speaking of comfort, you'll love the soft loofah-like feeling, and the mat doesn't leave marks on your feet. Another reason I chose this mat is the material. While it's durable, the hypoallergenic properties make it perfect for seniors and kids. 
Cleaning this bath mat might take a few minutes since it's not machine washable. Lastly, the mat goes well with most bathroom floors and is available in plenty of color options.
Pros
Easy to install
Dries quickly and requires less maintenance
The loofah-like top offers grip and comfort
Free from phthalates and toxic materials
Cons
Quite heavy
If not cleaned, the mat may stink
Verdict
If you are a no-fuss person looking for a mat that protects you from falling and feels comfortable, you can consider LuxStep Non-Slip Bath Mat. It's perfect for showering areas and doesn't require an adhesive for installation.

3. YINENN Non-Slip Bathtub Mat with Suction Cup
What really impressed me about YINENN Non-Slip Bath Mat was its size and quality. The mat is 40 inches by 16 inches, which provides excellent coverage for any standard bathtub. It is made of high-quality vinyl material and the rectangle shape, makes it lay flat in any smooth bathtub floor. 
This mat has 200 suction cups that hold in place on smooth surfaces, providing 360-degree safety protection for the elderly. The mat also comes with small holes throughout to allow water to circulate, and it features necessary anti-slip function, making it a multifunctional and utility.
Another great feature of the YINENN bath mat is that it is machine washable and durable. Its 176 drain holes make it easy to clean and maintain without any hassle. Plus, it air dries quickly, ensuring years of safe and healthy use.
Pros
Extra-large bath mat (40 inches by 16 inches)
High quality vinyl material
200 suction cups provide 360-degree safety protection
Machine washable
Easy maintenance
Cons
Initial smell when unpackaged
It's not suitable for textured or non-smooth surfaces
Verdict
Overall, the YINENN Non-Slip Bath Mat is an excellent investment for anyone looking for a high-quality, durable, and safe bath mat. At its affordable price, there's no reason why anyone shouldn't invest in one of these.
4. SlipX Solutions Extra Long Bath Tub & Shower Mat: Best Versatile Option
Having a separate mat for the tub and showering area doesn't make sense, so I found this versatile mat from SlipX Solutions. The super-sleek mat feels like you're standing on bubbles, making it an ideal option for seniors with tender feet. 
The best thing about this mat is the size. It can easily cover a standard bathtub eliminating the need to use multiple mats. Below the mat there are multiple power grip suction cups that are almost 30% larger and stronger to keep the mat from skidding. 
On the top, there are several small air-filled bubbles to offer comfort while bathing. Alongside every bubble, there is a small drain hole that keeps the water flushing out properly. However, soap scum may block the holes, and you have to clean it manually. 
The mat offers superior foldability, and you can toss it into the machine for a quick spin. When not using it in the tub, you can put it over the showering area. The flat-surface design doesn't restrict the flow of water; hence, the mat dries within minutes. 
SlipX Solutions offers this extra-long mat in multiple colors- tan, black, and blue to name a few.
Pros
Sticks well to the tub and floor
The bubbles provide outstanding bathing comfort
Bigger than regular bath mats to provide more coverage
The material has anti-bacterial properties
Cons
A new mat might smell like chemicals
Holes are too small for soap scum
Verdict 
SlipX Solutions Extra Long Bath Tub & Shower Mat has every quality of a reliable bath mat for seniors. The strong suction cups eliminate the need for Velcro, and you can enjoy a safe bath every day.
5. SUTERA Stone Bath Mat
If you're looking for a natural and eco-friendly alternative to traditional fabric bath mats, the Stone Bath Mat may just be your perfect solution. Made from diatomaceous earth, this bath mat has unique properties that make it a superior choice for any bathroom. 
Unlike fabric bath mats that can become saturated with moisture and take a while to dry, the Stone Bath Mat absorbs water quickly and evaporates it even faster. 
The SUTERA Stone Bath Mat has exceptional absorbency due to its natural diatomaceous earth composition. This is particularly useful in bathrooms where water spills and splashes are common.
The Stone Bath Mat is durable and requires minimal maintenance to keep it in excellent condition. Its absorbency can even be restored using a simple sanding tool, so you can enjoy its benefits for a long time.
The elegant, simple design of the Stone Bath Mat makes it a great addition to any bathroom.
Pros
Natural and eco-friendly
Great absorbency and quick drying
Minimal maintenance required
Durable and long-lasting
Versatile design
Cons
Not as soft as fabric bath mats
Expensive than other bath mats
Verdict
This bath mat from SUTERA is an innovative and sustainable product that offers superior absorbency and quick-drying properties. While it may not be as soft as traditional fabric bath mats, its durability and low maintenance needs make it a practical and eco-friendly choice for any modern bathroom.
6. Asvin Soft Textured Bath Tub Mat
Older adults usually complain about comfort, as most non-slip mats for elderly have a hard surface. But this mat from Asvin Soft solves the problem. It's a PVC mat with a soft top that's gentle on the feet while reducing the risks of slips. 
Under the mat, there is a non-slip base suitable for wet surfaces such as bathtubs. I've used plenty of bath mats, and the Asvin Soft Textured Bath Tub Mat is relatively thicker to offer more comfort. 
Another amazing thing about the material is the soap-scum resistance, and you can clean it quickly with water. The mat features several small holes for efficient water drainage. Also, it dries quickly, but make sure to put it in the shade to protect the color from UV rays. 
The mat isn't huge like SlipX Solutions Extra Long Bath Tub & Shower Mat, and you can easily place it inside tubs and showering area. However, despite its compact size, it's still not portable and doesn't fold well. The mat isn't machine washable, but you can clean it using a handheld shower head for excellent results. 
Whether you've a tiled bathroom floor or an acrylic tub, this mat is an excellent option. You can even use it in a big bathtub for maximum slip resistance.
Pros
The mat is comfortable for the feet
The cup-free base lasts longer
Easily washable in warm water
The material does not leave stains on the tub
Cons
It isn't resistant to mold
Cleaning trapped hair is a task
Verdict 
This bath mat from Asvin Soft is a safe option for homes with kids and older adults. The mat sticks to clean surfaces and offers great protection against slips. The soft top is very comfortable making this mat ideal for long showers.
7. Gorilla Grip Microfiber Bath Rug

While looking for a rug-like soft bath mat with anti-slip properties, I bumped into Gorilla Grip Microfiber Bath Rug. It's a microfiber mat that's exceptionally soft on the feet and takes comfort to another level.
With its water-absorbing properties, the mat retains the water and feels softer. Furthermore, the absorbed water makes the rug heavy, hence, it remains in place and protects you from slips and falls. 
Unlike other bath mats for the elderly, it isn't designed to be used in the showering area. Rather, you can place this mat outside to prevent slips caused due to wet feet. Once you step on this mat, it absorbs the water from your feet, and you can easily walk on the floor. 
The bottom has no suction cups, and there's a textured rubber layer suitable for dry floors. You should get this mat along with Gorilla Grip Patented Square Bath Tub Mat to get protection from slips inside and outside the showering area. 
Cleaning this rug is easy, and you can wash and dry it inside a washing machine (make sure to wash it alone, as the microfiber layer may leave lint residues). Lastly, to enhance the beauty of your bathroom, Gorilla Grip offers this mat in multiple colors. 
Pros
It absorbs water quickly, reducing the chances of fall
Fade-resistant and dries quickly
Feels soft and can be used by seniors with tender feet
Easy to wash and maintain
Cons
Not suitable for showering area and bathtub
The rubber backing is flimsy
Verdict 
A regular mat protects you from slips inside the showering area, and this soft rug from Gorilla Grip offers protection when you are out of the shower. The rug is perfect for wiping off your wet feet, reducing the hazard of slipping and falling.
8. AmazerBath Non-Slip Bath Tub Mat
When durability and slip resistance are priorities, I recommend AmazerBath Non-Slip Bath Tub Mat. The sleek mat works well in showering areas and even bathtubs, so irrespective of where you want to take a bath, you're protected from slip-related accidents. 
The strategically designed suction cups quickly hold the surface, even when it's wet to keep the mat sturdy in one place. You'll enjoy standing on the soft bubbles as they offer comfort while providing you with an anti-slip grip.
The 176 drain holes on this mat might appear small, but they drain the water quickly without any blockages. Once you are done bathing, put the mat into a washing machine, and clean it thoroughly. 
Senior citizens also prefer the AmazerBath Non-Slip Bath Tub Mat because of its hypo-allergenic properties. Though, it's not fully anti-bacteria. The mat is 40 inches long and easily covers a regular bathtub or showering area. 
If you're a frequent traveler, you can fold and pack this 1.87 pounds in your bag to get protection from slips wherever you go. After using it for some time, you'll see the material turning pale, and it's a problem with clear colors. Rest, the bath mat is an exemplary choice for any house with the elderly.
Pros
It has 200 powerful suction cups
Machine washable
The bubbles enhance bathing comfort
Doesn't require adhesive for installation
Cons
It may get wrinkled over time
Hard water turns the mat hazy
Verdict 
Overall, the AmazerBath Non-Slip Bath Tub Mat is a bang for the buck considering its slip resistance. The base sticks well on all smooth surfaces, and the raised bubbles protect you from falling. Thanks to the suction cups, the mat even performs well on soapy surfaces.
9. ToiletTree Products Bamboo Shower Floor and Bath Mat
As someone who appreciates eco-friendly and functional products, I am thoroughly impressed by this 100% natural bamboo anti-slip mat. 
Firstly, the design is simply stunning, making it a stylish addition to any bathroom or home. The slatted vented design not only looks great, but it also allows for quick drying and water drainage, avoiding any unsightly water stains. 
 I found it to be a great addition to my bathroom, as it adds a luxury feel while also providing a safe and slip-resistant surface especially for the elderly to stand on while showering. 
 The thickness of the mat feels soft and comfortable, yet resilient enough to be durable and long-lasting. I also like the anti-slip feet, which help prevent any unwanted slips or falls. It is one of the safest bath mats for seniors.
Pros
Stylish and modern design
100% natural eco-friendly bamboo
Vented slatted design for quick drying and water drainage
Soft and comfortable yet durable and resilient
Anti-slip feet for added safety
Cons
May not fit in certain sized bathrooms
Slightly more expensive compared to other bath mats
Verdict
Overall, if you are interested in a stylish, eco-friendly, and functional mat, this ToiletTree Products bamboo anti-slip bath mat is certainly worth the investment. Its durability, versatility, and safety features make it a standout choice for those in search of a high-quality bath mat.
Buying Guide: Non-Slip Mats for Elderly
Finding the ideal bathtub can be difficult if you're tall. This buying guide is created to assist you in selecting the perfect bathtub for your requirements. I've covered everything from varied bathtub designs to the advantages of more enormous baths.
Types of Bathtubs for Tall People
In this section, I've highlighted the need for the best bath mat for seniors, the benefits of installing one in your bathroom, and important features to consider when buying it. Go through every section for a thorough explanation.
Why is there a Need for the Best Non-slip Shower Mats for the Elderly?
How many times have you slipped in the bathroom? While your agile body is able to handle a slip or even a fall, older adults cannot withstand it. Here are some solid reasons why every home with the elderly must have non-slip mats.
1. No Doubt, Bathrooms are Slippery
Bathrooms can be slippery especially when wet. It's because the surface of the floor, such as tiles or linoleum, is hard and smooth, making it prone to being slippery. Furthermore, soap and water combine together to create a layer, increasing the risk of slipping.
2. There's No Additional Support
Spacious bathrooms often have less support, because the walls are far away from the tub. When there is a lack of support the risk of slipping and falling doubles.  
You can minimize the risk by installing grab bars in your bathroom.
3. Bathroom Injuries are Fatal
From bruises to fractures, some bathroom injuries can even lead to death. While I don't want to scare you, but it's the reality, and statistics also show how hazardous bathroom injuries can be. 
All these reasons make it indispensable to have a non-slip bath mat for the elderly. And not just the older adults, you and your kids can also use the mat to keep the risk of falls to a minimum. 
Benefits of the Non-slip Bath Mats for the Elderly
There are plenty of benefits of having a non-slip bath mat for the elderly, and below I've explained a few of them.
1. Reduces the Risk of Slips and Falls
Bath mats provide a secure and stable surface for the elderly to stand on while showering or bathing, minimizing the risks of slipping and falling. It is especially important for senior citizens or those with mobility issues who may be more prone to falling.
2. Promotes Independence and Privacy
With the assurance of safety from a non-slip mat, older people can maintain their independence and privacy by continuing to shower or bathe without needing assistance.
3. Offers Bathing Comfort
While a non-slip mat bath mat for seniors ensures safety, it improves comfort as well. Most mats are made using materials that provide cushioning and comfort for the feet, making it easier for older adults to stand for long periods.
Moreover, these mats can reduce muscle fatigue and discomfort, making showering a more enjoyable experience.
4. Maintains Bathroom Hygiene
Besides providing a grip while bathing, non-slip mats can actually make your bathroom more hygienic. With a mat sticking to the floor, there are fewer chances of water pooling on the floor which curtails the risk of mold and mildew. It'll also make your bathroom look spick and span.
5. They are Highly Durable
Usually, bath mats are highly durable, making them last longer for several months or even years. Make sure to clean the mat properly to eliminate mold formation and other problems.
What to Look for When Buying Non-Slip Shower Mats for the Elderly
You aren't buying a regular bath mat used to wipe off the feet after bathing, you are buying something you'll install in the showering area. And that's why you must consider a few things before getting a non-slip mat. Here are the factors I took into account to buy the best non-slip mat for older people. 
1. Size
Starting with deciding a size funnels down the options and you can easily choose materials and other things. I measured my showering space to reckon the perfect size, and I recommend you should do it too. 
Take a measuring tape, and note down the length and width of the space. Go for a mat that covers more floor space so there is less risk of slipping or losing balance. 
2. Slip-resistance
This is the primary feature to look for in a non-slip shower mat. Look for mats that have a high level of slip resistance and are designed to provide a secure and stable surface for the feet.
3. Material
Non-slip bath mats are available in a myriad of materials. Most of these mats are PVC, which is hypoallergenic, durable, and offers a decent grip. However, it lacks in softness, and you can consider latex mats if you prefer more comfort for older people. The thickness of the material also matters as it affects the washability of the mat. 
4. Suction Cups
These small cups do a big job by keeping the mat stable on the floor. Choose a bath mat with multiple suction cups, as it'll offer more stability. On average, most non-slip mats have 100 to 500 cups based on size and other factors.
5. Drain Holes
One of my friends had a bath mat with bigger holes, and it was good at draining water, but the holes weren't too comfortable to stand on. When choosing a non-slip mat, make sure it has several small to medium-sized holes to drain water, soap scum, and other elements.
6. Anti-bacterial Properties
Bactria can foster anywhere, especially in wet areas. Since it's not viable to wash the bath mat every day, you must choose one with anti-bacterial properties.
7. Foldability
If you need a portable bath mat, your parents can take it everywhere, it's important to consider foldability. Some brands offer lightweight mats you can easily pack in your bag and travel without any discomfort.
How to Install Bath Mats and Make Sure They Stay in Place
Installing a bath mat is easy, but the biggest problem is they slip. Below I've explained the steps to install the mat and ensure it stays secure in place.
Things you'll need:
Clean the Floor
Before installing the bath mat, make sure the bathroom floor is clean and free of any dust or debris. A clean surface will help the mat stick more securely to the floor. Take a rug and a dustpan to clean off the area. Next, rinse it with water for better cleaning. 
Cut Velcro Strips and Stick them to the Mat and Floor 
The suction cups on the mat do a good job, but they fail to hold it on a wet floor. Cut multiple pieces from the Velcro strip and stick them to the mat. Next, stick some strips on the floor and ensure they align with the position of the strips attached to the mat. 
Put the Mat in Place 
Carefully put the mat so that the Velcro strips stick well with each other. Stand on the mat to press it firmly and stick the suction cups to the floor. 
Rinse the Floor 
It's time to test the installation. Rinse the floor with water and try to move the mat using your feet. Don't try hard, the movement of your feet should be natural just like you are taking a bath. If the mat still slides, use more Velcro to keep it in place. 
FAQs
Q1: What Material is Best for a Non-slip Shower Mat?
A1:  I've used several bath mats made using different materials, and PVC mats with a rubber base offer the best slip resistance. However, the choice of material depends on several factors like the type of floor and your personal preference.
Q2: How to Clean Non-Slip Bath Mats?
A2: Most non-slip bath mats for older adults are machine washable. You can clean your mat using a handheld shower if it is not machine-safe.
Q3: How do you keep bath mats from getting moldy?
A3:  Cleaning the bath mat frequently and letting it dry protects it from mold. Dry the mat on the tub's rim or out in the shade to prevent mold formation.
Q4: Is Polyester or Nylon Bath Rugs Better?
A4: Nylon is a better material for a bath rug considering its durability. Choose a mat with a rubber bottom to prevent slipping in the bathroom.
Q5: Do Non-Slip Bath Mats Damage Tubs or Flooring?
A5: Not at all! If you install the bath mat properly it won't stain or damage the tub or floor. Using adhesives and other sticking materials can potentially damage the tub.
Q6: How often do you need to replace a Non Slip Bath Mat?
A6: If you haven`t had to replace the bath mat in at least three years, it probably needs replacement. 
Bathroom mats can be used until they become torn, generally after about three years of use. Also, baths mats lose their anti slip properties with time. Whenever you notice a slippery surface, it means it's time to replace the bath mat.
Q7: Can you wash a Non Slip Bath Mat in the Washing Machine?
A7:  Bath mats have a thin layer of rubbery material on them that helps them grip the floor. You can machine wash this type of mat without any problems. But never put bath mats with rubber backing in the dryer or they might crack.
Final Thoughts
Having the best bath mat for the elderly is essential to maintain safety inside the bathroom. Besides protecting us from slips, these mats offer the bathing comfort we all deserve. I hope these detailed non-slip bath mat reviews have helped you decide which mat to choose.
According to my research, Gorilla Grip Patented Square Bath Tub Mat is the best choice because of its excellent grip on any floor.
Sale
If you are looking for a budget-friendly option, you can go with LuxStep Non-Slip Bath Mat.