Bath Advisors is supported by readers. If you buy through links on our site, we may earn an affiliate commission at no extra cost to you.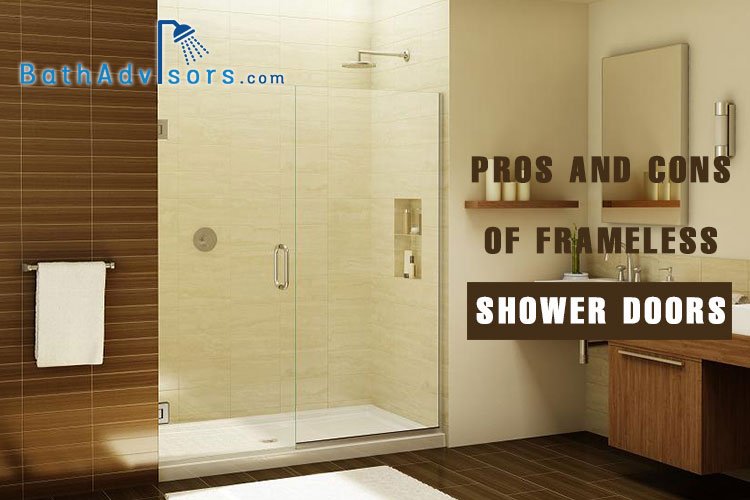 Minimalistic has become the new modern, as nowadays people have started installing frameless shower doors in their bathrooms. Not only these frameless shower doors look exquisite, but they can also reward your bathroom with a modern appeal.
If you are also planning to invest in a frameless shower door, then it is vital to go through its pros and cons!
Here in this article, you will get detailed information about frameless shower doors, including the pros and cons of frameless shower doors.
What's a Frameless Shower Door?
So you are unsure about what is a frameless shower door? Well, you have probably seen one in the movies or in the hotel bathroom.
There are two types of shower doors:
• Framed Shower Doors
• Frameless Shower Doors
Frameless shower doors have no thick silver or golden frame like framed shower doors. These shower doors are made using thick panels of glass. They are installed using wall hinges to get a minimalistic appeal.
These shower doors are probably heavier and are more delicate then shower doors with a frame.
Pros and Cons of Frameless Shower Doors
Here is the list of pros and cons of installing a frameless shower door:
Pros of Frameless Shower Doors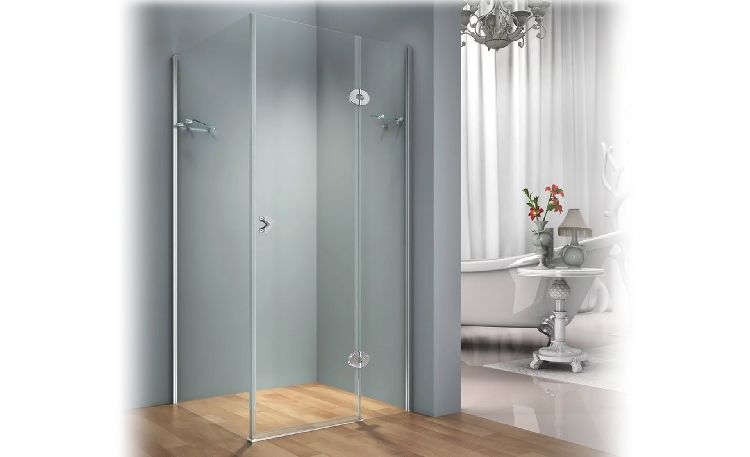 Image Credit: italtile
1. Your Bathroom Looks More Spacious
As there is no frame attached to these shower doors; thus, you get a better line of sight without any interruptions. The transparent glass panes will reward you with an airy feel, and therefore your bathroom will look more expansive and spacious.
If you want to make your bathroom appear big and aesthetic, then there is nothing better than going for a frameless shower door system.
2. Enhanced Aesthetics
How many of you are trying hard to make your bathroom look even beautiful and modern? With a frameless shower door system, you can actually make your bathroom look stylish and elegant. The frameless door looks very attractive and goes well with almost all types of bathrooms.
These days frameless shower doors are available in a myriad of designs that are super attractive and are best suited for bathrooms that are minimalistic and modern.
3. Fully Customizable
There are no sizing restrictions with frameless shower doors. When you opt for a framed shower door, then you have to settle down with the limited options available in the market. Yes, you can request a specific size for a framed shower door, but that will take a lot of time, and still, there is no assurance that the customized size will fit in your bathroom.
On the other hand, when you choose a frameless shower door, then there are no such hassles. These shower doors are fully customizable, and you can order a size based on the dimensions of your bathroom.
Moreover, there are a lot of options available in the customization, including specialized glass frames that have intricate art designs printed on them.
4. No Corrosion at All
Your shower door will remain in contact with water and moisture most of the time, so there is a possibility that it gets corroded if you use a shower door with a frame. In the case of frameless shower doors, there are no chances of corrosion. There are no or fewer metal pieces involved in frameless doors, so there are no worries of corrosion.
As a result, the shower door will look new and will carry its aesthetic value for a long time.
5. Less Mold Formation
With framed shower doors, there are more chances of mold formation, as these doors have thick seals to prevent water leaks. But with a frameless shower door, there are no thick seals, so there is less moisture accumulation inside the cabin.
When there is less moisture, then there is less mold formation!
6. Easy to Clean
Frameless shower doors are easy to clean when compared to framed shower doors. There are no hardware or metal parts involved in a frameless door, so all you have to clean is the glass panel and the wall hinges.
You can use a standard window cleaning solution to clean the frameless shower door system.
Also Read: 9 Best Fiberglass Shower Cleaner Reviews for 2021
Cons of Frameless Shower Doors
There are some cons of using frameless shower doors as well, and it is essential for you to know the downsides of selecting a shower door for your bathroom.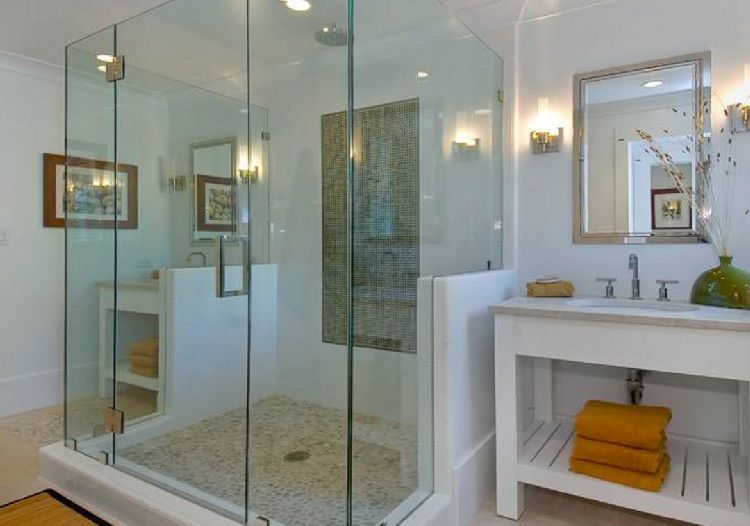 Image Credit: sebringdesignbuild
1. These are Exorbitant
The price of getting a frameless shower door installed in your bathroom can break the bank if you have a limited budget. The glass and other accessories used in the frameless shower door are of high-quality. They are much thicker than the standard materials used in framed shower doors.
In short, frameless shower doors can cost you hundreds of dollars more than a regular framed shower door.
2. Leaks Can Happen
When compared to framed shower doors, frameless shower doors have more chances of leaking. There are no seals or rubberized elements used in frameless doors, so there are higher possibilities that the water will leak in your bathroom.
The best way to avoid any frameless shower door leaks is by hiring a reliable and renowned frameless shower door manufacturing company. It all depends on the fit and the installation. With frameless shower doors, you have to be more cautious about water leaks.
3. Extra Care and Maintenance Is Mandatory
With a frameless shower door, you have to become extra cautious about the maintenance and the care. These doors have no frames attached, and the hinges can get loose or damaged over time. You have to check the door frequently to ensure that everything is secure in its place.
Just like any other shower door, these doors also require timely maintenance and care.
4. The Glass is not Shatter-Proof
This is one of the biggest downsides of the frameless shower doors. The glass used in these doors is not shatter-proof, and it can temper or break. The leading causes of why the glass breaks or cracks are improper installations, frequent temperature changes in water, and other hardware malfunctions.
If you accidentally put more pressure on these shower doors, then also they can shatter in seconds. Getting these doors repaired or replaced will again burn a hole in your pocket as the glass comes with an expensive price tag.
Should You Opt for a Frameless Shower Door?
After considering the pros and cons of frameless shower doors, you might be thinking that getting a frameless shower door is an expensive deal! But it is not if you take care of it correctly!
These shower doors don't break easily as the glass is thick. Also, there are no hassles of leaks if you choose a professional company for the frameless shower door installation.
Overall, if you are looking to enhance the aesthetics of your bathrooms while making them look more expansive. Then investing in a frameless shower door is a fair deal. Most of the modern homeowners are choosing frameless shower doors to make their bathrooms worth-adoring.
Final Thoughts
Everything has some pros and cons, and frameless shower doors are no exception! There are only a few cases of glass shattering and breaking and that too due to the owner's carelessness. If you decide to take care of your shower system, then it will last longer and will remain in its best shape.
There is nothing better than a stylish and trendy bathroom, and a frameless shower door is the best way to make it happen!