Bath Advisors is supported by readers. If you buy through links on our site, we may earn an affiliate commission at no extra cost to you.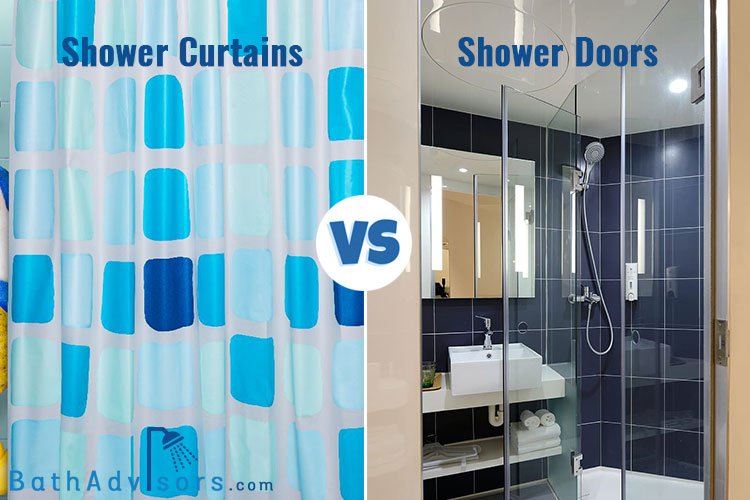 Choosing one between shower doors or shower curtains can be a mind-boggling task!
If you are also planning to get one of these installed inside your bathroom, then we can understand the state of confusion you are in.
Shower doors and shower curtains may have similar functionality, but both have some distinct properties and we can't deny that!
We are here with an in-depth comparison so that you can make a quick and wise decision to choose the best from shower doors or shower curtains.
Let's get started with Shower curtains vs Shower doors comparison.
What are Shower Curtains?
Do you know what exactly a shower curtain is?
A shower curtain is something that keeps the water from splashing out of the bathing area. Modern shower curtains are made using plastic, fiber, vinyl, and even cotton. Shower curtains are easy to install and let you enter the bathing area with ease.
Also, these are less expensive and can deliver a decent lifespan in your bathroom.
Types of Shower Curtains
If you want to make your bathroom look ravishing and elegant, then you need the right shower curtain for it. Here are the types of shower curtains explained in detail.
1. Cotton Shower Curtains
Cotton shower curtain remains at the frontrunner position when it comes to rewarding your bathroom with a chic appeal. These curtains are soft and are much easy to clean! Also, you will get a plethora of colors and styles available in cotton shower curtains.
The only downside with this type of shower curtains is the mildew formation. Cotton absorbs water, and it can lead to the formation of mildew if not cleaned regularly. Here are a few ways by which you can prevent mildew on a shower curtain.
2. Decorative Shower Curtains
If you prefer the bathtub over the shower, then decorative shower curtains can be a superb choice. These shower curtains are way more appealing and the beautiful prints will make your plain bathroom look stunning.
Moreover, decorative shower curtains have hand-stitched embellishments and are made using rayon or faux silk. Generally, these curtains are perfect for the bathrooms that are bigger and have enough room available.
However, the curtains can get easily damaged if exposed to water for a long time. In short, these curtains are ideal for decorative purposes.
3. Vinyl Shower Curtains
Vinyl shower curtains are something that requires lower maintenance and can match the aesthetics of your bathroom. These shower curtains can repel water, and you can rest assured that there will be no mildew formation on them.
Generally, vinyl shower curtains are entirely transparent, just like shower doors. You can see through them, and also it will make your bathroom look even roomier.
You can also go for vinyl curtains that have a synthetic liner attached to them if you want to keep your privacy intact.
4. Hookless Shower Curtains
Hookless shower curtains are the easiest to install! All you need is a ceiling-track curtain rod, and then you are good to go. These curtains have built-in grommets, and you can slide them over the curtain rod easily.
Moreover, hook-less curtains look appealing and are perfect for modern bathrooms. You can choose from a plethora of designs and colors available to add a punch of style to your bathroom.
5. Microfiber Shower Curtains
Microfiber shower curtains are gaining popularity among the buyers due to their stylishness and advantages over plastic curtains. These shower curtains are soft and touchable. Also, there is no need to worry about the moisture as the microfiber cloth can wick it away.
There will be no mildew formation as the water evaporates quickly, making the curtain clean and free from mold.
What are Shower Doors?
Unlike shower curtains, shower doors have a solid composition and have a definite shape. Usually, shower doors are made using toughened glass, which makes them durable and long-lasting. Shower doors look sophisticated and graceful, and that is the reason why people across the globe are shifting their focus on shower doors.
With a shower door, your bathroom will look neat and tidy. Also, these don't fly in the air like shower curtains when you turn on the fan. However, the installation can take more time, and these are pricey as compared to other options.
Types of Shower Doors
Just like shower curtains, there is a multitude of options available in shower doors as well! Have a look at the types of shower doors you can buy.
1. Frameless Shower Doors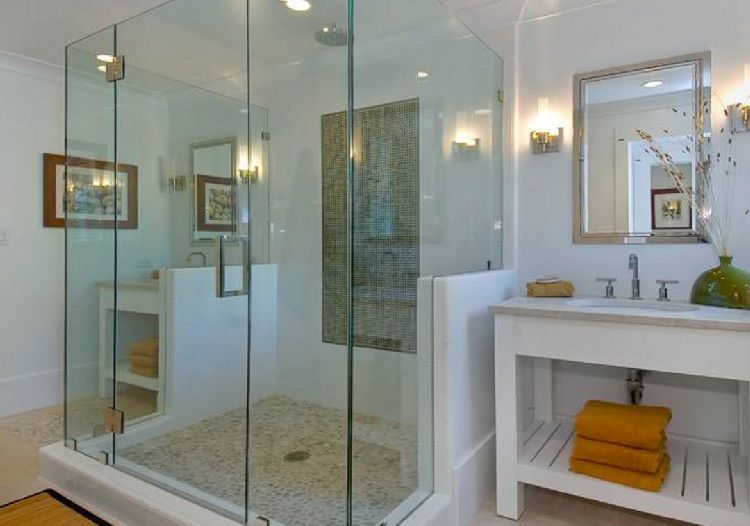 If you are a fan of minimalism, then a frameless shower door can be an excellent choice. These doors have no frame attached, and it makes them look good and clean. Frameless shower doors are made using a single pane of toughened glass. Also, there are no hassles of corrosion because there is no metal frame involved. Here are the pros and cons of frameless shower doors.
2. Bi-Fold Shower Doors
Bi-fold shower doors are perfect for bathrooms that are struggling with the scarcity of space. These shower doors fold in the inside, so you get more space inside your bathroom.
Moreover, bi-fold doors are more affordable and are ideal for packed bathrooms.
3. Curved Glass Shower Doors
Curved glass shower doors like ELEGANT Sliding Corner Glass Round Shower Enclosure can create a walk-in shower experience for you. These shower doors are perfect for installing in the corners. Moreover, the door takes less space, and you get more room inside due to the curved shape.
4. Framed Shower Doors
You can easily guess what a framed shower door is as it is evident by its name! These types of shower doors have a frame attached to the toughened glass for extra support. You can also say that framed shower doors are just like bathing cabins.
You have to shell out more money to buy a framed shower door. Plus, these doors are prone to corrosion but are durable at the same time.
Shower Curtains vs Shower Doors
Pros of Shower Curtains
1. Available in Innumerable Designs and Patterns
It is one of the most significant advantages of why a shower curtain is a great choice. If you need to play with different colors while experimenting with your bathroom, then you should go with shower curtains. These curtains are available in a multitude of colors and enormous patterns and designs that will make your bathroom look good.
2. Affordable
No matter whether you have a packed budget or you want to splurge money, shower curtains can be an excellent investment! Yes, you have to buy the curtain rod and other essential elements to install the shower curtains, but that is a one-time expenditure.
You can get some quirky and appealing shower curtains for as low as $25. Also, you can change the shower curtains frequently to reward your bathroom with a new makeover without breaking the bank!
3. Ease of Installation
Installing a shower curtain is as easy as a breeze. There is no need to hire any professional as you can do the task on your own without any tools. Some shower curtains like hook-less curtains come designed with grommets, and you can slide them on the ceiling rod easily.
Cons of Shower Curtains
1. Hard to Clean
Cleaning a shower curtain can be challenging than you think it will be. From washing the curtain appropriately to drying it and installing it again, the overall process can take a lot of time and care. Also, there is a possibility that the curtain can get damaged while washing, as these are delicate things.
2. Makes Bathroom Look Darker/Smaller
With a shower curtain, your bathroom will look darker and smaller. The reason behind this is that most curtains are opaque, and they don't allow the light to pass through them. As a result, your bathroom appears to be smaller than it is.
Moreover, if the curtains are not extended to full length, then they look messy and uneven.
3. Timely Replacement
If you need something that can last for many years, then shower curtains are not an option for you! You need to replace the curtain occasionally after they are worn out. Regular washing and cleaning can damage the fabric of the curtain, so there's no option left rather than replacing it.
Pros of Shower Doors
1. Adds Aesthetic Value to the Property
You will be surprised to know that shower doors can add aesthetic value to your home. Bathrooms with glass shower doors look alluring, and it positively impacts their price. In short, a shower door is a sure-shot solution to increase the value of your property.
2. Makes Bathroom Feel Roomier and Brighter
Unlike shower curtains, a shower door can make your bathroom appear roomier and brighter. Most of the shower doors are manufactured using toughened glass, which allows the light to pass through it. No matter if you have a small bathroom, the right shower door will make it look bigger.
3. Prevents Water from Splashing Out
Taking a shower means spilling a lot of water out of the bathing area, but a shower door is the right solution. Shower doors can keep the water inside the cabin, which will prevent a big mess. If you have used a shower curtain before, then you must know how hard it is to clean the mess after taking a bath.
Cons of Shower Doors
1. Expensive
A shower door can cost you huge money, and if you go for an aesthetic one, then it can cost you an arm and a leg. Just like shower curtains, shower doors aren't available at low prices. You have to make a budget based on the style of the door and the brand.
Overall, shower doors are way more expensive than shower curtains.
2. Prone to Damages
Shower doors are prone to damages and cracks. Sometimes, the steam accumulated inside can even lead to a small explosion resulting in the breakage of the glass. You have to be extra sure while setting up a shower door as there should be enough area for ventilation.
Also, shower doors are delicate, and you have to be sure while cleaning them.
3. Tedious Installation
You need an expert to get the shower door installed in your bathroom. Yes, there are some DIY installation guides as well, but the process is tedious and full of complexities. When you are installing a glass door, every inch matters, and that is why the process is exhausting.
Final Thoughts
Both shower doors and shower curtains have some pros and cons, and the ultimate decision is up to you. If you are a fan of luxury and opulence and money is not an obstacle for you, then a shower door is what you need.
On the other hand, if you are just experimenting with something with your bathroom and you need to remodel it in the budget, then a shower curtain can be a game-changer for you.
We are sure that this shower curtains vs shower doors comparison will assist you in making a wise decision to pick the right thing.