What Size Tub for a 6-Foot Person?
For tall people, selecting the proper bathtub size is essential because it can significantly affect how comfortable they are when bathing. A 6-foot individual would typically need a bathtub at least 72 inches long on the inside to stretch out and fully submerge themselves.
It's vital to remember that, for tall people, the bathtub's interior length—rather than its overall size—is what matters most—measuring the internal length before purchasing is crucial because a bathtub advertised as 72 inches long may only have an inside measurement of 60 to 65 inches.
It's necessary to think about the bathtub's breadth and depth in addition to its interior length. Tall people will have more room to move about and be comfortable in a more comprehensive, deeper bathtub. Look for a bathtub with a minimum 32-inch width and 15-inch depth.
The bathtub's shape is another thing to take into account. An oval or rectangular bathtub offers more space than a round or square bathtub for tall people. A standalone bathtub may also give tall people more flexibility in placement and positioning.
Doing your homework and weighing your options before purchasing a bathtub for a 6-foot person is crucial. Asking for advice from a salesman or a licensed plumber will help you choose the size and design of the bathtub that will best suit your needs.
Tall people can have a soothing bathing experience without feeling crowded or uncomfortable by following these suggestions and finding the correct bathtub.
Best Bathtubs For Tall People Reviewed
8. Carver SKC5555 Soaking Acrylic Corner Bathtub: Best Budget
A distinctive and fashionable bathtub that may be installed in the bathroom corner is the Carver SKC5555 Corner Bathtub. This tub is a fantastic option for anyone trying to make the most of their bathroom space thanks to its convenient design and comfortable soaking experience.
The bathtub's space-saving design is what impressed me. The tub will neatly occupy your bathroom's corner, leaving room for other fixtures or furniture. The bathtub is a fantastic investment for any bathroom because it is manufactured with premium acrylic materials that are strong and simple to maintain.
There are comfy armrests and a backrest, and the surface is slip-resistant (which is a big plus for me) for enhanced security while being used. The tub's drain's corner placement also makes access and upkeep convenient.
9. Empava 72″ 2-Person Whirlpool Bathtub
The Empava 72″ 2-Person Whirlpool Bathtub is an exquisite and roomy tub created to give two people a calming and revitalizing experience, and guess what? I say this after testing and trying it out! Anyone wishing to relax after a long day will love this bathtub's strong whirlpool jets and cozy design.
The tub is roomy enough for two people to fit in without feeling suffocated, and the whirlpool jets provide a calm and quiet massage. Because it is made of high-quality, durable, and easy-to-maintain materials, the bathtub is an excellent long-term option for my bathroom.
It has a solid 2-speed motor that offers a personalized massage experience and movable water jets that can be directed at particular body parts. Additionally, the tub has an integrated computerized control panel that lets you customize each user's experience by adjusting the water temperature and jet intensity.
Buying Guide: Best Bathtub for Tall Person
Finding the ideal bathtub can be difficult if you're tall. This buying guide is created to assist you in selecting the perfect bathtub for your requirements. I've covered everything from varied bathtub designs to the advantages of more enormous baths.
Types of Bathtubs for Tall People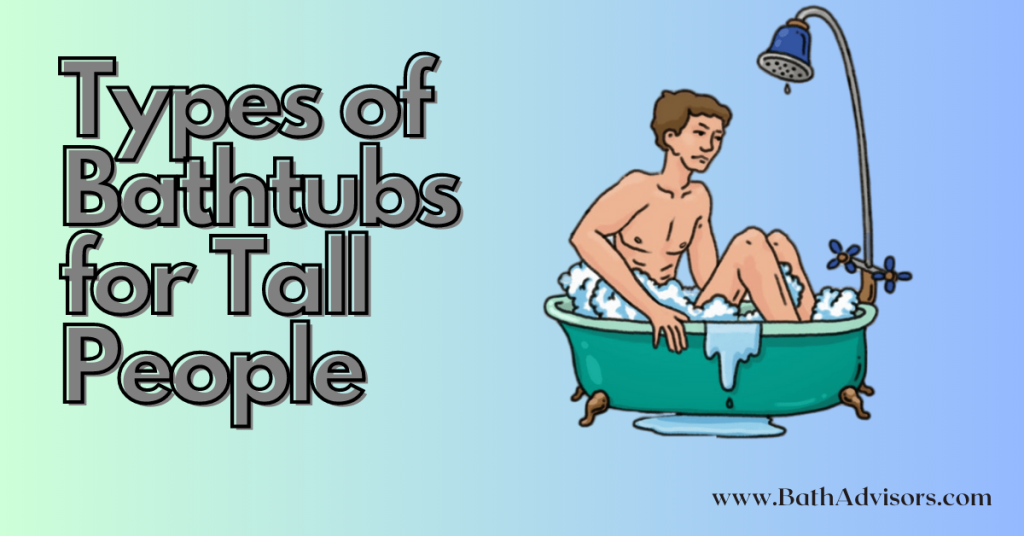 There are various types of tubs to consider while looking for the finest bathtub for tall persons.
1. Freestanding Bathtub
The freestanding bathtub is one of the most well-liked alternatives. These bathtubs come in several sizes, including enormous models ideal for tall people. Their unique construction allows them to be put wherever in the bathroom.
2. Drop-in Bathtub
The drop-in tub is another well-liked design of a bathtub for tall people. These bathtubs are set up by being lowered into a deck or platform into the bathroom floor. The vast variants are ideal for tall people and come in many different sizes. Drop-in bathtubs have the advantage of being able to be customized with extras like heated surfaces or whirlpool jets.
3. Alcove bathtub
Another choice to take into account is alcove bathtubs. These bathtubs typically come in standard sizes and are positioned against three walls. Nonetheless, specific bigger models on the market could be helpful for tall people.
4. Walk-in bathtub
There are walk-in bathtubs that are made to be simple to get into and out of. They can be an excellent choice for tall people struggling with movement, but ensuring the bathtub is big enough for your height is crucial.
5. Corner Bathtub
Finally, consider corner bathtubs. These bathtubs are made to fit in the bathroom's corner, freeing up space. Although they are typically smaller than other bathtubs, some wider varieties are available and may be suitable for taller people.
Benefits of Oversized Bathtubs
Users of oversized bathtubs can benefit from various advantages, especially tall people who frequently have trouble finding bathtubs that match their needs. These bathtubs are made to be bigger than regular bathtubs, giving you more room for a more relaxing and opulent bathing experience. These are a few advantages of having a large bathtub:
1. Comfort
Oversized bathtubs offer more room, making bathing more pleasant for everyone, exceptionally tall persons who might feel confined in smaller tubs. It is simpler to unwind and take more extended baths when there is more space to spread out.
2. Relaxation
The ideal setting for relaxing is an oversized bathtub. As it is more extensive, you can fully submerge yourself in the water, which can help reduce stress and relax sore muscles.
3. Improved property value
Adding a large bathtub can increase the value of your house, mainly if you pick a model with extra amenities like jets or a whirlpool system.
4. Versatility
There are many different forms and types of oversized bathtubs, making it simple to pick one that complements your bathroom decor and personal taste. You can choose the finest one for your space by having them built-in or freestanding.
5. Accessibility
Those with impairments or restricted mobility may find that oversized baths are a helpful solution. It may be simpler for people to enter and exit the bathtub securely due to its larger size and ease of access.
6. Better for couples
Oversized bathtubs might be a terrific alternative for couples looking to take a romantic dip together. The additional room makes for a cozier, more intimate experience, making it the ideal way to unwind after a demanding day.
How to Choose the Best Bathtubs for Tall People?
If you're tall, picking the ideal bathtub might be a daunting task. Because there are so many alternatives, knowing where to begin can be challenging. You want a bathtub that is cozy and suits your body perfectly. Choosing the finest bathtubs for tall people requires considering several essential variables, which we'll review in this guide.
1. Bathtub Size
The most crucial consideration when selecting a bathtub for a tall person is size. The average bathtub is around 60 inches long and 30 inches wide. However, taller people might need more room. Look for bathtubs at least 72 inches long and 32 inches wide to provide the most significant comfort level.
2. Soaking Depth
Another critical aspect for tall people is the bathtub's depth for soaking. Bathing in a tiny bathtub may be uncomfortable since there may not be enough water depth to immerse the body completely. To accommodate taller people, consider bathtubs with a depth of at least 14 inches.
3. Material
Acrylic and fiberglass are the most preferred materials for tall people; however, each has its benefits. They offer a smooth, comfortable surface, are lightweight, and are simple to install.
4. Shape
Another feature to consider when selecting a bathtub for tall persons is the tub's shape. Although alcoves and corner bathtubs are excellent choices for tiny areas, taller people may need more legroom. Choose bathtubs with plenty of legroom and comfort, such as freestanding or drop-in models.
5. Additional Features
The comfort level of a bathtub can be increased by adding extra features like built-in armrests, lumbar support, and tilting backrests. If you experience back discomfort or other physical illnesses, consider these aspects when shopping for bathtubs.
6. Budget
Price is another important consideration when selecting the best bathtub for tall persons. The most comfortable and feature-rich bathtubs cost a lot of money. Consider your spending limit and search for bathtubs that offer the amenities and comfort you desire at a reasonable cost.
FAQs
Q1: Are walk-in tubs suitable for tall people?
A1: Walk-in tubs are a popular solution for elders or persons with mobility challenges who find it difficult to step over the high sides of regular bathtubs. However, there may be better options than walk-in tubs for tall persons. Most walk-in tubs are lower in height than standard bathtubs, making sitting in them uncomfortable for tall persons.
Furthermore, the built-in seat in a walk-in tub may need to give adequate legroom for tall persons, making getting in and out of the tub problematic. If you're a tall person looking for a walk-in tub, check for models that provide extra depth and height options to fit your demands.
Q2: How long should a bathtub be for tall people?
A2: Their height and body shape determines the appropriate bathtub length for tall persons. To ensure that they can comfortably stretch their legs while bathing, tall persons are typically advised to use bathtubs at least 6 feet long.
Some people may need even longer tubs to offer a comfortable and soothing bathing experience. Before making a purchase, measuring your body length and contrasting it with the size of several bathtub types is advised.
Q3: How to fit yourself in a small bathtub?
A3: It can be challenging to fit yourself in a small bathtub, especially a tall one. There are several tricks you can do to improve the experience, though. You can first try bending your knees to make space for your legs.
Alternately, you may sit in the tub with your back against one edge and your legs crossed over the other. To make the experience more comfortable, consider getting a bath cushion or pillow.
Q4: Are freestanding bathtubs suitable for tall people?
A4: Freestanding bathtubs might be perfect for tall persons because they provide more space than conventional built-in bathtubs. 
It's crucial to pick a model that fits your height and body shape. Searching for models with adjustable feet is also advised, enabling you to alter the tub's height to provide a comfortable and soothing bathing moment.
Q5: Do tall people need specific installation for freestanding tubs?
A5: Freestanding bathtubs do not need to be installed differently for tall individuals. However, it's crucial to consider the tub's proportions and ensure it can properly fit the user's height.
Q6: Are there specific bathtub brands that cater to tall people?
A6: While only some bathtub manufacturers specialize in serving tall people, some models come with extra depth and height variations. Popular companies like Kohler, American Standard, and Jacuzzi provide models appropriate for tall persons.
To discover a model that best fits your needs and budget, it's crucial to conduct research and comparisons of various makes and models.
Q7: Can a bathtub be customized for tall people?
A7: Yes, certain bathtub manufacturers provide unique alternatives to meet the requirements of tall persons. More comprehensive models offering more legroom and additional depth and height options are also possible. It will help if you speak with the manufacturer or a bathtub expert to discuss your unique requirements and find out what modification possibilities are available.
Q8: Can a bathtub extender make a traditional bathtub more comfortable for tall people?
A8: A bathtub extender can lengthen a conventional bathtub, giving tall persons greater space to sit in the bathtub. Installing bathtub extenders over an existing tub is simple, and they come in various sizes. Ensure the extender is firmly fastened to the tub and does not jeopardize the user's safety.
Q9: Are soaking tubs suitable for tall people?
A9: Soaking tubs can be an excellent option for tall persons because they are made for a long, soothing soak. However, it's crucial to pick a roomy style for your height and body type. For models that will provide a pleasant and relaxing experience, looking for ones at least 6 feet long and 14 inches deep is advised.
Q10: Are jetted tubs suitable for tall people?
A10: Jetted tubs can be an excellent alternative for tall persons because they provide a spa-like experience. It's crucial to pick a model that can accommodate your height and body shape. Additionally, it is advised to opt for models with movable jets so that you may target particular regions of your body by adjusting the water's pressure and direction.
Q11: How can I determine whether a bathtub fits my height?
A11: Checking the tub's size and depth before purchase is the best way to determine if it is appropriate for your height. To accommodate taller people, look for bathtubs at least 60 inches long and 20 inches deep.
Q12: For a tall individual, can a bathtub be too large?
A12: Yes, if a bathtub is too broad or deep for a tall individual, reaching the water or maintaining good posture may be difficult. It's critical to pick a bathtub that offers the user's height enough support and comfort.
Final Thoughts
Finding the right bathtub for a tall person can be a challenging task, but with the right information and guidance, it doesn't have to be. After thorough research and analysis, I have compiled this list of the best bathtubs for tall people. These bathtubs are not only spacious and comfortable but also come with additional features that enhance the overall bathing experience.
If you ask me for a recommendation, I'd suggest Kohler K-1949-0 ExoCrylic 66″ Drop-In Whirlpool Bathtub.
It is the largest of the nine products discussed in the article, is the most incredible option for tall individuals because of its roomy size and adjustable massage settings. However, for individuals with a limited budget, the Carver SKC5555 Soaking Acrylic Corner Bathtub is a great choice, thanks to its small but comfy design.
Overall, it's critical to consider essential factors like size, depth, and material while choosing the best bathtub for tall person.