Bath Advisors is supported by readers. If you buy through links on our site, we may earn an affiliate commission at no extra cost to you.
Brushed nickel bathroom faucets can add a timeless touch to your bathroom, as they look very modern. Moreover, they appear perfect in almost every bathroom, thus, homeowners prefer them over other finishes.
While brushed nickel bathroom fixtures require minimal maintenance, it does not mean you don't have to clean them. From mineral deposits to hard water stains, there are plenty of things that can make the faucet look bad.
How to clean brushed nickel bathroom faucets, then? To clean these faucets, you need to rinse them with soap water. Next, rub the solution over the faucet using a soft sponge, and rinse again. Lastly, use a quality wax and buff it properly to make the bathroom fixture look shiny.
Just rinsing may not be enough to clean all types of stains, so read on to know the best way to clean these faucets.
What are Brushed Nickel Bathroom Faucets?
People often confuse brushed nickel faucets with other finishes that look almost similar. The reason why it is known as a brushed nickel finish is that the shine is taken off using a brush. There is no lacquer, thus, the brushed nickel finish lasts longer.
As compared to satin nickel and polished nickel faucets, the brushed nickel bathroom faucets require less cleaning and are easy to maintain. But you need to protect them from hard water stains for obvious reasons.
How To Clean Brushed Nickel Bathroom Faucets?
As brushed nickel bathroom faucets have a matte surface, you cannot just use any cleaning solution or chemicals. Here is the best way to clean your faucets and protect them from any stubborn stains.
Get All Cleaning Supplies in One Place
Step 1: Prepare a Cleaning Solution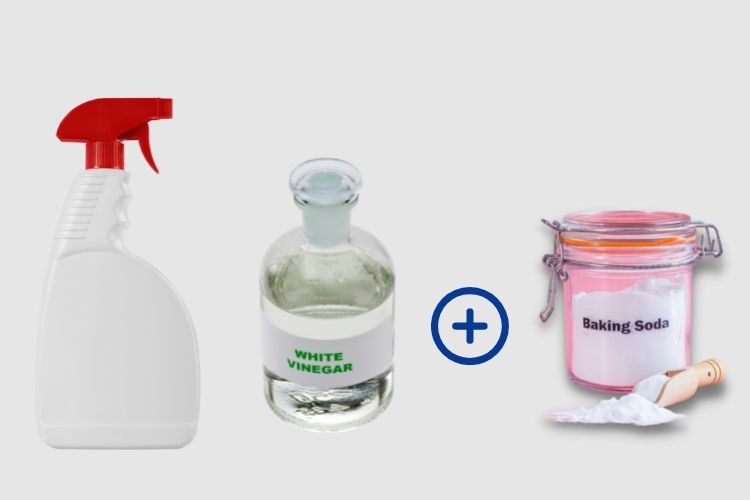 Start the cleaning brushed nickel bathroom faucet process by prepping a cleaning solution. The baking soda and vinegar may take some time to dissolve completely, so the solution will become more effective. Take a spray bottle and add some lukewarm water to it. Now add equal parts of vinegar and baking soda.
If you want to clean multiple faucets, you can add around 3-4 TBSPs of baking soda and white vinegar. Also, add a few drops of mild liquid soap so that the solution becomes foamy and helps clean the faucet.
Step 2: Rinse the Faucet
Now rinse the faucet with lukewarm water, and make sure to cover all nooks and crannies. Next, gently scrub the faucet with your hands so that you can get rid of most of the stains. What I recommend is taking off the aerator for better cleaning.
If you have a soft-bristle toothbrush, you can use it to get rid of the bigger stains and soap scum. Dry the faucet using a soft cloth, and follow the next step.
Step 3: Apply the Cleaning Solution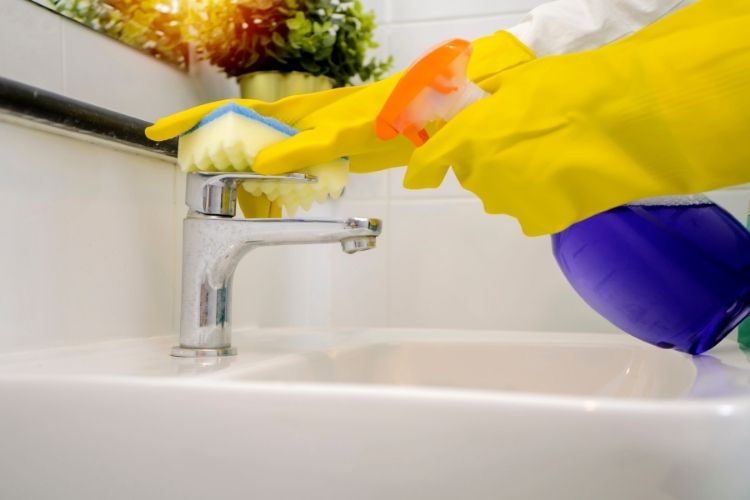 Spray some cleaning solution over the faucet, and make sure it stays there. As the solution has a watery consistency, you may have to spray it multiple times. Target the areas with the stains, and you can even add a pinch of baking soda from above if required.
Use a soft sponge to remove the stains. You can even dip a soft cloth in the cleaning solution and wrap it around the faucet for some time.
Note: Do not leave the cloth wrapped around the faucet for more than 30 minutes since it also contains soap. Leaving it overnight can result in more stains on the faucet, and you have to spend more time cleaning it.
Step 4: Rinse the Faucet Using Lukewarm Water
After you have thoroughly cleaned the entire brushed nickel faucet and removed the stains, you can rinse it. Either rinsing can be done by pouring water over the faucet, or you can use a damp rag.
Make sure to remove all the soap solution from the faucet so that it does not dry and cause more stains. Rinse the faucet multiple times, and you are good to go.
Step 5: Dry the Faucet
Now dry the faucet using a soft cloth. Do not rub the cloth, but dab the faucet gently so that the cloth absorbs the moisture quickly. I recommend using a microfiber cloth for its superb absorbing properties and smooth texture.
Step 6: Apply Polish and Buff Gently
Homeowners usually don't prefer applying polish on the brushed nickel faucets because they have a matt finish. However, you can still use an invisible polish that just creates a layer over the faucet and protects it from stains.
I recommend using Flitz Faucet Wax, as it dries quickly and does not leave any residues behind. Apply this brushed nickel wax over the brushed nickel bathroom faucet, and spread it using a soft sponge. Let the polish dry, and you can use the faucet.
Tips for Keeping Your Brushed Nickel Faucets Clean
Now your faucet looks neat and clean, but it may get dirty again. Here are some helpful tips you can follow to keep the brushed nickel faucet clean.
1. Rinse it Everyday
Rinsing the faucet every day is essential to get rid of sediments like soap scum. You can rinse the fixture during the night, as no one will use it after that. If possible, use hot water for rinsing, and rub the faucet gently with your fingers for effective cleaning.
2. Clean the Aerator Every Few Days
The aerator is an essential component of the faucet, and it also requires cleaning. Not cleaning the aerator can lead to stains all over the faucet since the sediments built up inside this plastic net can disrupt the stream of water.
Just rotate the aerator anticlockwise, remove it, rinse thoroughly, and install it back in place. Some Delta brushed nickel faucets may have a hidden aerator, watch this video to know how to remove it.
3. Get a Water Softener
The reason why the faucet catches a lot of stains is because of hard water. There are several impurities in hard water, such as calcium, which are not good for the brushed nickel bathroom faucet.
By getting a water softener, you can remove these impurities, and it will help reduce the accumulation of hard water stains on the faucet.
4. Dry the Faucet Always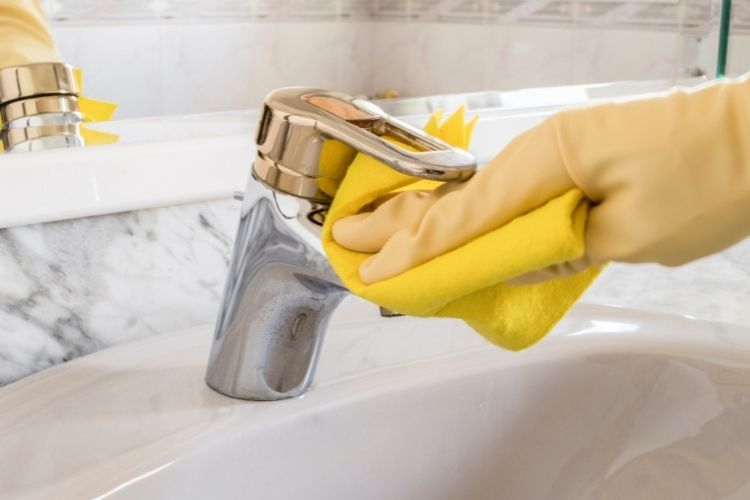 Faucets get damp easily, and that is a reason why they require frequent cleaning. Keep a soft cloth in the bathroom vanity so that you can clean the damp faucet and make it dry quickly.
Things You Should Never Do to a Brushed Nickel Faucet
There are plenty of DIY videos out there claiming that they offer the best cleaning solutions for brushed nickel faucets. But I saw some videos that were recommending things that can do worse to the faucet rather than any good.
Below I have listed some mistakes you need to avoid at all costs to prevent the faucet from looking dull.
1. Do Not Use Bleach
Never bleach a brushed nickel bathroom faucet or get ready to see it becoming pale over time. Bleach can damage the finish, and it may even chip off sometimes. The brand will also not entertain the warranty if it finds out you have bleached the fixture.
2. Don't Use Alcohol-containing Cleaners
Alcohol-based cleaners may work effectively for other faucet finishes, but they are not good for brushed nickel bathroom faucets. Alcohol has some compounds that can damage the finish, and the faucet will gradually lose its charm.
3. Don't Use Abrasive Sponge Pads
Abrasive sponge pads are a strict no for every type of bathroom faucet finish, be it brushed nickel, brass, gold, or more. Also, always do a quick spot test on the faucet before rubbing it entirely using any sponge pad.
4. Don't Use Cleaners with High PH
Even vinegar has acidic properties, but the reason it is ideal for cleaning brushed nickel bathroom faucets is because of its low PH value. Don't use any chemical-containing cleaners; instead, prepare one at home for effective and safe cleaning.
FAQs
Q1: Can I use Stainless Steel Cleaner on the Brushed Nickel?
Well, it depends on the type of cleaner you are using. Since stainless-steel finish is more durable than brushed nickel, it can even withstand exposure to acidic cleaners. I won't recommend using a stainless-steel cleaner on a brushed nickel faucet.
Q2: Is Brushed Nickel Hard to Keep Clean?
Brushed nickel finish is not hard to clean, as you may think. There are several bathroom faucet finishes, such as matte black, that require more care, and cleaning them is a complex process.
Q3: How to Remove Tarnish from Brushed Nickel Faucets?
Getting the tarnish off from any surface be it brushed nickel faucet can be challenging. Follow the series of steps listed below to make the faucet look new again:
Start with preparing a cleaning solution of ½ cup of water and equal parts of white vinegar. Spray it over the faucet and let the solution sit for 30 minutes.
Dampen a soft cloth with water, and start wiping off the faucet so that the tarnish gets off. Repeat the process multiple times until you see the faucet look completely clean.
Dry the bathroom faucet using a soft cloth, and you are good to go.
You can even use an ammonia solution, but the white vinegar one is more effective and offers quicker results.
Q4: Can you use Clorox Wipes on the Brushed Nickel?
Using Clorox wipes is not the best way to clean brushed nickel faucets, since these wipes are suitable for disinfecting purposes. If the faucet has soap scum or sediment build-up, you cannot clean it using these wipes, so it's better to avoid using them.
Final Thoughts
Maintaining and cleaning a brushed nickel bathroom faucet has now got easier, as you know the right way to do it. Always do a spot test before spraying any solution over the faucet to see its after-effects.
Moreover, follow the tips to keep the faucet clean so that you don't have to spend time cleaning it. Lastly, avoid using chemical-based cleaners, and do not bleach the faucet if you want its finish to last longer.