Bath Advisors is supported by readers. If you buy through links on our site, we may earn an affiliate commission at no extra cost to you.

After recently moving into a new space, I experienced something not too unfamiliar – water that left behind a metallic taste, ugly stains on my porcelain, and soap scum that kept reappearing every few weeks. After some intense research, I learned that the best bathroom faucets for hard water reduce several issues like mineral buildup, and help prevent water contamination.
But the question remained the same – what kind of bathroom faucet would be perfect for my needs? The options were plentiful and I did feel overwhelmed at first but I decided to get a water conditioner and a durable bathroom faucet specifically to deal with all kinds of hard water problems.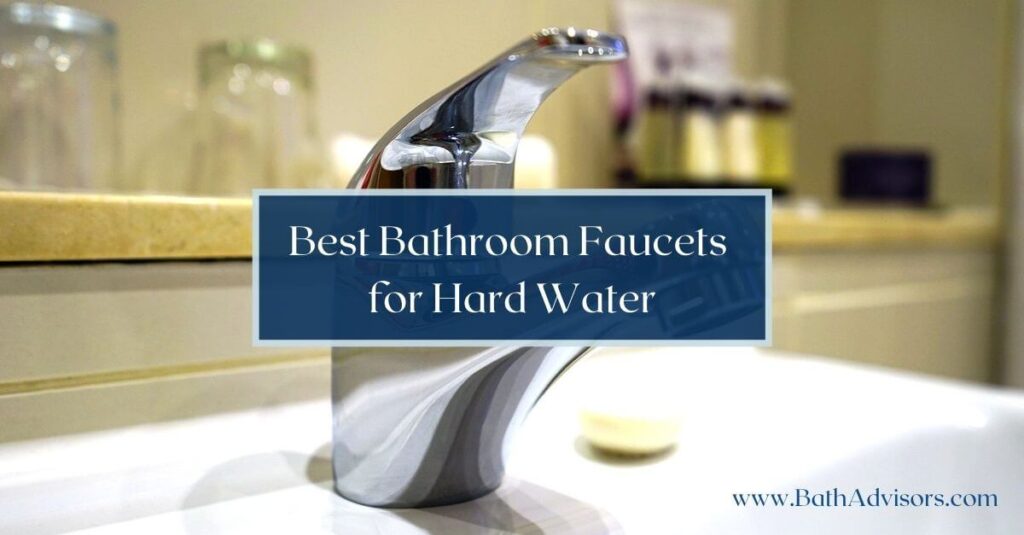 If you're like me and prefer bathroom faucets made from anti-corrosive material with sustainable functionalities then here's a comprehensive list of the best corrosion resistant bathroom faucets for hard water management.
Why Do You Need Hard Water Resistant Bathroom Faucets?
If you've recently come across mineral stains on apparel or noticed reduced water flow, the likely culprit is hard water buildup. While most homeowners use a water conditioner to soften hard water, another quick remedy is replacing your plumbing interiors with a corrosion resistant bathroom faucet.
Here's why you need hard water resistant bathroom faucets:
1. Permanent Solution To Prevent Buildup
If you want a permanent solution to get rid of hard water residue, a bathroom faucet is the right way to go. You will also end up spending more money if you keep installing water filters or conditioners thereby damaging infrastructure. Replacing the old faucets with hard water resistant faucet completely stops mineral deposits.
2. Easy to Clean & Maintain
The best bathroom faucets for hard water are immune to corrosion, easy to install, and require little to no maintenance. Quality bathroom faucets are the easiest to tend to as time goes by. This also reduces any overhead repair costs or the time spent trying to remove hard water residue from your pipelines.
3. Prevents Water Clogging in Pipes
Hard water leads to clogged pipes that reduce water pressure because of the high concentration of magnesium and calcium deposits inside the pipelines. You can try a more permanent solution – bathroom faucets built to resist hard water buildup thereby protecting the sanctity of your housing lines.
4. Helps to Conserve Water
Bathroom faucets feature drain assembly to avoid water overflow and consist of WaterSense technology to control water flow and temperature. In fact, some of the best hard water resistant bathroom faucets like Moen come with an aerator that checks the water pressure to minimize drip or leakage.
Reviews of Best Bathroom Faucets for Hard Water
Leading manufacturers today are smitten with brushed hardware since it helps eliminate hard water buildup. Bear in mind that the best bathroom faucets in the market today feature gorgeous designs, help regulate temperature and control water flow for minimum wastage.
1. Moen Eva Two-Handle Centerset Bathroom Faucet
– Editor's Choice
Moen's sophisticated assembly of lavatory faucets explores timeless designs suitable for the contemporary world. One of my top picks from the Eva Collection, this two-handle spout is a vintage styled centerset faucet that promises sustainability and adds glamor to your bathroom interiors.
Out of the many Moen bathroom faucets, this elegant spout embraces a warm metallic surface owing to its brushed nickel composition. Not only does it provide everyday comfort with its aerated flow, but the bathroom faucet also resists rust, scratches, and corrosion. You can also experiment with double handle levers to control the water temperature and water flow.
The bathroom faucet's transitional framework includes a spout height of 6.19 inches giving consumers ample space and clearance for a smooth experience. The 4-inch centerset also features a WaterSense technology that minimizes water wastage since it uses less than 30% water than a standard GPM faucet.
Moen's sink faucet also features a laminar stream to control water pressure and a frame that includes an advanced 1/4 valve system for maximum performance. The pop-up drain assembly is another environment-friendly aspect to limit reckless overflow.
Pros
LifeShine non-tarnish finish ensures durability and wearability
Low lead compliance that meets federal and state regulations
ADA compliant bathroom faucet for consumer versatility
Cons
Oil rubbed bronze faucets are incredibly expensive compared to chrome finish
Not suitable for eclectic or modern bathroom interiors
Final Verdict
Moen Centerset Bathroom Faucet is an eco-friendly spigot that's incredibly easy to install. The brushed nickel faucet comes with a lifetime warranty that emphasizes both quality and safety. Lastly, it requires minimal maintenance and doesn't catch hard stains easily.
2. Delta Single Handle Bathroom Faucet
I included the Delta single handle bathroom faucet to this list because it's budget friendly and features striking aesthetics.
Out of the many Delta bathroom faucets, this one's my favorite since it perfectly complements bathroom decor even though it is commonly found in kitchen interiors.
Designed with a chrome finish, this bathroom faucet allows you to control water flow and temperature. Because of its metallic frame, the faucet is a durable addition to your bathroom interiors since it's easy to install and maintain. The pull-out and pull-down function allow easy draining; it controls the water flow while you're brushing.
Featuring a stunning lustrous appearance, this bathroom faucet for hard water is an excellent choice for studio spaces or service styled apartments. I believe the pop-up drain assembly gives it a competitive edge since it includes a stopper and a plated flat rim for extra coverage.
The only additional expense is that you'll have to find a suitable deck plate since the faucet is engineered with a 3-in-1 hole configuration. But just like any superior class bathroom faucet, it uses WaterSense technology which means it uses less than 20% water with a well positioned spout that allows for a sturdy grip.
Pros
Incredibly affordable for small homes or single roomed apartments
Ensures hard water residue is effectively filtered out
ADA compliant bathroom faucet for consumer versatility
Cons
As per few users, the pop up drain assembly doesn't run smoothly
Supply line of the faucet falls short
Final Verdict
Choose this bathroom faucet if you have a small bathroom with limited space. Featuring a budget-friendly price, the Delta single-handle bathroom faucet is a sustainable choice that ensures minimum water usage and is easy to clean and maintain.
3. KOHLER Devonshire Widespread Faucet
If you're thinking of redoing your bathroom interiors to create a classic look and feel, KOHLER Devonshire's widespread bathroom faucet is an excellent choice. Polished to the hilt, this bathroom faucet features a chrome finish adding both luxury and quality to its appeal.
KOHLER bathroom faucets are a favorite among interior designers today owing to their fine collection of bathroom essentials. The Devonshire widespread faucet is embedded with a framework that prevents tarnish and resists corrosion. The longevity of this bathroom faucet is guaranteed with a lifetime warranty and since it's easy to maintain, you'll have very little to worry about.
Since it is a widespread faucet, the design includes distinct hot and cold handles that function independently. The faucet is lined with ceramic valves that help reduce leakage. This is where homeowners can enjoy the luxury of controlling water flow and temperature. It also includes an aerator so you can regulate the water pressure as necessary without wasting any water.
This widespread faucet is detailed with uplifted handles that are easy to turn, gentle ridges that shine brightly, and a curved drain stopper that allows ample space to wash your hands. The handles reserve well rounded bottoms and the stopper features an upside-down glob for a sturdy grip.
Pros
Ensures a sustainable flow rate that uses 1.5 gallons of water per minute
Easy installation that requires minimum tools
ADA compliant bathroom faucet for consumer versatility
Cons
It comes at a steep price and hence is more suitable for luxury homes
Can only be used on sinks and countertops that have three holes
Final Verdict
Available in brushed nickel, oil rubbed bronze, and polished chrome, this is a stylish pick for any bathroom. The faucet has a combination of traditional elegance coupled with modern durability. Perhaps one of the best bathroom faucets to consider if you have a flexible budget.
4. Enzo Rodi Chrome Widespread Bathroom Faucet
Some of the best bathroom taps for hard water aren't necessarily pricey so this is where Enzo Rodi Chrome makes for a budget friendly buy. This two-handle bathroom faucet is quite the popular choice featuring a classic design and a widespread assembly. This bathroom faucet combines modern technology into a sleek design that boasts durability.
Enzo Rodi bathroom faucet has a high sealing ceramic valve that ensures long term use and minimum leakage. Homeowners can accurately control the water flow and temperature as per their needs.
The handles are easy to move and offer a sturdy grip so you don't have to worry about your hands slipping away. The brushed nickel finish prevents bathroom faucet corrosion and gives a metallic edge to its appeal.
One of the best features of the Enzo Rodi widespread faucet is the surface treatment technology that straps in a premium look and feel. Most importantly this bathroom faucet evades corrosion and withstands wear and tear.
The widespread assembly features a Neoperl aerator that helps control the water pressure. The three hole mount is perfect for a modern bathroom making it compatible with various kinds of sinks and countertops.
Not only is it easy to clean and maintain, but this bathroom faucet also ensures maximum durability since its body is fabricated using solid brass and zinc alloy.
It comes with a three-year warranty so it's a perfect choice if you're often shifting homes. The two-handle lever allows you to control water flow and temperature independently and it features a pop-up drain assembly to avoid overflow.
Pros
Budget friendly bathroom faucet for small homes
Low lead compliance that meets federal and state regulations
ADA compliant bathroom faucet for consumer versatility
Cons
As per few users, the plunger is harshly set and not very smooth
Can only be used on sinks and countertops that have three holes
Final Verdict
Enzo Rodi Chrome's widespread faucet is perfect for folks looking for a budget-friendly option. Loaded with quality features, this brass-bodied faucet is an all-rounder that ensures smooth performance. It comes with user-friendly functions, and cleaning hard water stains is hassle-free.
5. Delta 2-Handle Widespread Bathroom Faucet for Hard Water
I have already talked about Delta's single handle faucet that delivers quality and durability to homeowners. But the Delta Lahara 2-handle spout is a class apart with a luxurious widespread assembly. Turn it up a notch and this bathroom faucet for hard water is a premium edition that's featured in a classic champagne bronze shade.
This bathroom faucet gives a vintage appearance with a polished chrome finish that complements its surroundings. The high sealing ceramic disc cartridge ensures a leak-free experience. Delta's two handle spout allows you to control water temperature and flow independently through its widespread assembly. The Neopearl aerator is integrated to ensure hard water particles don't accumulate or leave behind residue.
One of the best Delta bathroom faucets to consider, it is engineered with a high performance feature – DIAMOND Seal Technology that reduces water leakage and increases water productivity. This patented design is further boosted with WaterSense technology that helps regulate water pressure. The drain assembly prevents overflow and further safeguards your water supply.
The metallic handles offer a sturdy grip with a polished framework that resists corrosion while the faucet body is made from solid brass to improve durability.
The bathroom faucet comes with InnoFlex PEX supply lines that limit potential leaks and enhance performance by a tenth fold. Since the faucet requires no lubrication, it is simple to use and maintain with flexible handles that can be turned easily.
Pros
Easiest installation process since it includes everything in a box
Backed by the Delta Lifetime Limited Warranty
ADA compliant faucet for consumer versatility
Cons
Water supply lines are short handed in length limiting water flow
Extremely high priced bathroom faucet
Final Verdict
Delta Lahara's widespread bathroom faucet brings forth luxury and style in a model that withstands oxidation and has a robust framework. The faucet is engineered with technology, so you don't need to worry about water spills. This classic sink faucet is perfect for large homes with many occupants.
6. BWE Waterfall Spout Single Handle Bathroom Faucet
I have many friends residing in studio apartments who wanted a bathroom faucet that was affordable, and chic. I recommended the BWE Waterfall bathroom spout since it is ideal for both residential and commercial spaces. Featuring an oil-rubbed bronze finish, this faucet gives your bathroom a retro look and feel.
The perfect addition to your bathroom interiors, this bathroom faucet offers a sustainable flow of up to 1.2 gallons per minute despite its size. The ceramic cartridge is a reliable feature that reduces water wastage and drip.
Even though it comes with a single handle it allows easy adjustment of water temperature and flow. It can easily be integrated with single or 3-hole countertop configurations.
The most outstanding asset of the BWE waterfall sink faucet is the sleek construct featuring a retro bronzed frame that sits on a deck mount. Unlike most faucets mentioned so far, here's a change of pace – a waterfall spout that brings forth a unique handwashing experience.
The design resembles a matte black finish that compliments warm undertones in your bathroom interiors. While it looks great in a modern setup, it can easily be paired with antique decor if you want some vintage flair.
While many single handle faucets will cost you a fortune, this bathroom faucet fits consumers' pockets easily. It is one of the best bathroom faucets to consider if you're having hard water issues since it prevents buildup.
The lever handle is outstretched such that you can get a steady grip with water gushing out in a flat line. While the main body is fabricated using solid brass, other parts are furnished with quality material to prevent corrosion over time.
Pros
Easy installation process
Budget friendly bathroom faucet
ADA compliant faucet
Cons
Lacks pop-up drain assembly
Lacks hands-free functionality
Final Verdict
It is one of the best bathroom faucets for hard water featuring antique vibes, durable functionality, and low cost. It is an ideal choice for service-based apartments owing to its easy maintenance. Just note the BWE Waterfall single-handle bathroom faucet can only be used with a vessel sink.
7. PARLOS 2-Handle Bathroom Faucet
If you're looking for something affordable and durable, the PARLOS 2 handle bathroom faucet is a popular choice. I've added this elegant faucet to this list since it's a favorite among homeowners who simply want a one-time solution for hard water issues. The transitional design coupled with a push and seal drain assembly definitely makes it unique.
When it comes to the framework, the faucet head features a slender and swan like neck that is incredibly thin. This prevents corrosion and resists tarnish despite consistent wear and tear. The two handle assembly gives you effective control of the water temperature and flow.
I would recommend this bathroom faucet for DIY experts or homeowners who wish to install it on their own without professional help. PARLOS two handle bathroom faucet comes with a drain assembly, unlike the BWE Waterfall faucet which lacks this facility.
As per a few users, the hot and cold levers work smoothly and help prevent water wastage.
Another important feature to consider is the under-sink drainage system and the toggle stopper that functions well. This bathroom faucet is the easiest to maintain since homeowners can clean the exteriors and interiors without a hassle. The faucet also features a thin plastic plate that keeps water from dripping inside the mounts.
Pros
Easy installation process
Budget friendly bathroom faucet
cUPC and NSF 61 certified
Cons
Lacks WaterSense technology
Sink drain hole is extremely thin
Final Verdict
In short, the PARLOS two-handle bathroom faucet is quite the affordable choice that prevents hard water buildup and features an elegant design. It isn't as durable as some Delta faucets, but homeowners have found this bathroom faucet the easiest to install and maintain.
8. Delta Windemere 2-Handle Widespread Bathroom Faucet
If you're thinking of high performance and coherent sustainability, think Delta Windemere which is a spectacular two handle bathroom faucet. Accompanied with a widespread assembly, this beautifully designed faucet is one of the best in the market and I highly recommend it.
Ideal for contemporary homes, the bathroom faucet focuses on luxury without compromising performance.
In-built with a high arc extension, this Delta bathroom faucet is easy to use with ample space for washing your hands. Unfortunately despite the steep price, it doesn't come with a brushed nickel finish so you might want to cross this off your list if you're specifically looking for such hardware.
Boasting a deck thickness of 1⅛ inch, you'll realize it compliments wide spaced sinks with independent handles that have a sturdy grip.
In terms of design, I consider it a deluxe edition with its simple and elegant lines that complement traditional bathroom decor. Engineered to fit 3-hole countertops, this bathroom faucet is available in three distinct colors – stainless steel, oil rubbed bronze, and chrome.
With a coordinated pop-up drain assembly, it is relatively easy to control water flow, reduce drip and regulate temperature.
Delta Windemere widespread bathroom faucet comes with extra secure mounting making the installation process hassle-free.
It is a unique blend of old world charm with modern functionalities that offers a washerless stem cartridge for minimum water wastage. This faucet comes with WaterSense technology as well further contributing to water conservation.
Pros
Diamond Seal technology helps prevent corrosion and scratches
Low lead compliance that meets federal and state regulations
ADA compliant bathroom faucet for consumer versatility
Cons
One of the most expensive bathroom faucets in the market
Aerator can often result in restricted water flow
Final Verdict
Delta Windemere's all brass construct allows easy cleaning and resists hard water stains. So even though this bathroom faucet lacks a brushed nickel finish, it more than makes up for this deficiency with a lifetime warranty.
9. Phiestina Nickel Widespread Bathroom Faucet
Out of the many heavily used bathroom fixtures for hard water, Phiestina is a fierce competitor with its brushed nickel finish that counters mineral buildup with ease.
This mind blowing sink faucet bags a contemporary look, comes with the most durable construct and is economically feasible for many homeowners who yearn for quality.
Phiestina bathroom faucet has a widespread assembly that features a pop-up drain assembly to minimize overflow. The drain is built using copper for long lasting resilience and has a laminar stream for efficient hand washing.
It doesn't include a water hose but you can't complain much since the faucet is lead compliant and absolutely safe to use. While the design isn't so sleek, it certainly sits well in modern homes especially when you're comparing the price.
At such a low cost you're getting more than what you can expect! The entire framework of this bathroom faucet has been engineered using raw materials that are cUPC and NSF 16 certified.
Featuring a 3-hole mount, its 8-inch widespread assembly gives ample space to clean your hands with ease. The quick connect technology is a unique asset that ensures the installation process is easy, simple, and fast.
Pros
Anti-clogging basket helps drain out the water without causing overflow
Low lead compliance that meets federal and state regulations
Budget friendly bathroom faucet with free installation
Cons
Water pressure isn't satisfactory for consumers
Doesn't come with a WaterSense technology or a deck plate
Final Verdict
Phiestina two-handle hard water-resistant bathroom faucet is a gentle blend of curves with a durable brushed nickel finish that makes it corrosion and scratch-resistant. The features make it a popular choice among new-age homeowners looking for a faucet with a sustainable flow rate.
Best Bathroom Faucets for Hard Water Buying Guide
If you're investing a lot into crafting your bathroom space with exquisite decor, don't compromise on your indoor plumbing system. This means getting a bathroom faucet that deals specifically with hard water buildup and remains durable over time. The best hard water resistant bathroom faucets focus on superior performance and glorify your interiors in style.
So if you're replacing a rackety old faucet – here's all the information you need to make the right choice.
Things To Consider While Buying Bathroom Faucet for Hard Water
Homeowners primarily look into bathroom fixtures while designing the interiors but there are many things to consider. For e.g. the best faucet finish for hard water determines the performance, and durability of the product. Many brass bodied faucets preserve the interiors and resist oxidation all the while improving the utility span of the faucet.
To keep things simple for you, here's what I recommend while looking for a bathroom faucet:
Type of Faucet
1. Centreset Faucet
Perfect for miniature countertops or small spaces, a centerset faucet is an 'all-in-one' design that requires three holes for mounting. It is characterized by a unified assembly of interconnected handles and the spout.
2. Widespread Faucet
Commonly popular for larger sinks, a widespread assembly provides generous spacing for water flow. It is characterized by separate hot and cold handles that remain independent from the spout.
3. Single Knob Faucet
Usually, the easiest to install and maintain, a single knob spout consumes the least bit of space. It has one handle that controls both hot/cold water temperature usually requiring one or two holes for installation.
4. Double Knob Faucet
Double handle faucets are traditional options used primarily on kitchen countertops. They come with two separate handles, each responsible for hot/cold water flow, and require a minimum of three holes for installation.
5. Sensor Based Faucet
This modern assembly is a water efficient investment that turns on the flow of water as soon as it senses your hands. It is also known as the automatic faucet that is equipped with proximity sensors for minimum contamination.
Faucet Ergonomics
1. Metal Alloys
Though zinc alloy construction is a better option compared to plastic, it still isn't quite as durable. If you're on a very tight budget you can consider such bathroom fixtures but they do require regular maintenance and cleaning.
2. Brass Bodied
The best bathroom faucets are made from solid brass although don't confuse this with brass plated fixtures. It might cost you more but it is long lasting and resilient to tarnish and corrosion.
3. Stainless Steel
A stainless steel bathroom faucet is the only lead free option available in the market that happens to be scratch and corrosion resistant. Make note however that you're using only 304 stainless steel which is of the highest quality.
Modern Features
1. Durable Finish
Bathroom faucets are secured with protective glaze like polished brass finishing over nickel plating which is the best metal for hard water leaving behind a corrosion resistant surface. Chrome plating is also another popular veneer on faucets for a shiny and lustrous appeal.
2. Ceramic Disc Cartridge
To ensure superior performance, the best bathroom faucets feature a ceramic disc valve to control water flow and temperature. They are the easiest to operate, resist mineral buildup, and have outstanding durability.
3. Pop-up Drain Assembly
A better option compared to drain gates, a pop-up drain assembly ensures there's no overflow and limits wastage. Since it prevents unwanted debris from accumulating, it also prevents clogging.
4. WaterSense Technology
This smart technology is a sustainable EPA program aimed at reducing water waste. Bathroom faucets with this technology have a flow rate of 1.5 gallons per minute approx.
5. Lead Compliance
Some bathroom faucets come with lead compliance which means all raw materials used don't leave behind toxic residue. It is one of the best features to prevent water contamination or lead poisoning.
6. Scald Protection
Another effective feature you'll find in bathroom faucets is the Scald Protection technology. This is ideal in homes where there are children and old seniors who cannot discern water temperature quickly.
7. ADA Compliance
One of the necessary certifications to consider is ADA compliance which means the bathroom faucet is accessible for disabled individuals. This makes for a versatile faucet that improves consumer usability.
FAQs
Q1: How do I Protect my Taps from Hard Water?
A1: The easiest way to protect the taps from hard water is by cleaning them regularly. Also, you can use a water softener to get rid of the elements from water that cause stains. Moreover, choose the best bathroom faucet for hard water since they are easy to clean.
Q2: Does Hard Water Damage Faucets?
A2: Hard water does not damage faucets, but it leaves ugly stains behind. In the long run, hard water can cause corrosion, so some parts of the faucet, like the cartridge, may need replacement.
Q3: How to Remove Hard Water Stains?
A3: The quickest home remedy to remove hard water stains is by using vinegar which helps loosen the buildup. However, if you use harsh chemicals, your bathroom fixtures will lose their sheen so ensure you gently soak and rub the mixture on the surface before cleaning.
Here is a detailed guide on removing hard water stains from bathroom faucets.
Q4: What is the Difference Between Soft and Hard Water?
A4: While soft water is free of chemicals and minerals since it is treated, hard water has a concentrated composition. It leaves behind calcium and magnesium deposits that are harmful to the body and also your piping.
Q5: How to Detect Hard Water in your Plumbing System?
A5: Sure signs of hard water buildup in your plumbing system: scaling on your bathroom faucet, increased hair fall, clogged pipes, faded clothing, itchy and dry skin, and reduced water pressure.
Q6: Are Black Bathroom Fixtures Hard to Keep Clean?
A5: Cleaning black bathroom fixtures takes more time compared to normal finishes such as chrome or bronze. Here is a detailed guide to cleaning matte black bathroom faucets easily.
Q7: Is Hard Water Acidic in Nature?
A7: Hard water in its chemical composition is alkaline that comes from the minerals dissolved in the water.
Q8: How can you Soften Hard Water?
A8: Though I prefer using a water conditioner, you can definitely boil the water before consuming or bathing. You can make use of an ion-exchange water filter by attaching it to the inner lining of the main water pipe.
Q9: Can Vinegar Damage the Finish of the Bathroom Faucet?
A9: Vinegar reduces the sheen of the bathroom faucet so yes it does affect the finish if you use it regularly.
Final Thoughts
After going through some of the best bathroom faucets for hard water, the Moen Two-Handle Centerset Bathroom Sink Faucet is my top choice which isn't as expensive as KOHLER or Delta but packs in all the best features of hard water resistant faucet. Featuring a WaterSense technology, and a brushed nickel construct for high durability, it is an excellent blend of modern engineering and a universal design.