Bath Advisors is supported by readers. If you buy through links on our site, we may earn an affiliate commission at no extra cost to you.

It's hard to imagine that the very place where you start and end your day, the very place that gives you relaxation can be so damn hard to clean. For some people, time seems to be the challenging factor while for the majority it's finding the best fiberglass shower cleaner that proves to be a challenge.
If the latter is your concern, I got you covered in this article. I will make it easy for you by recommending some of the best tried and tested fiberglass shower cleaners in the market today.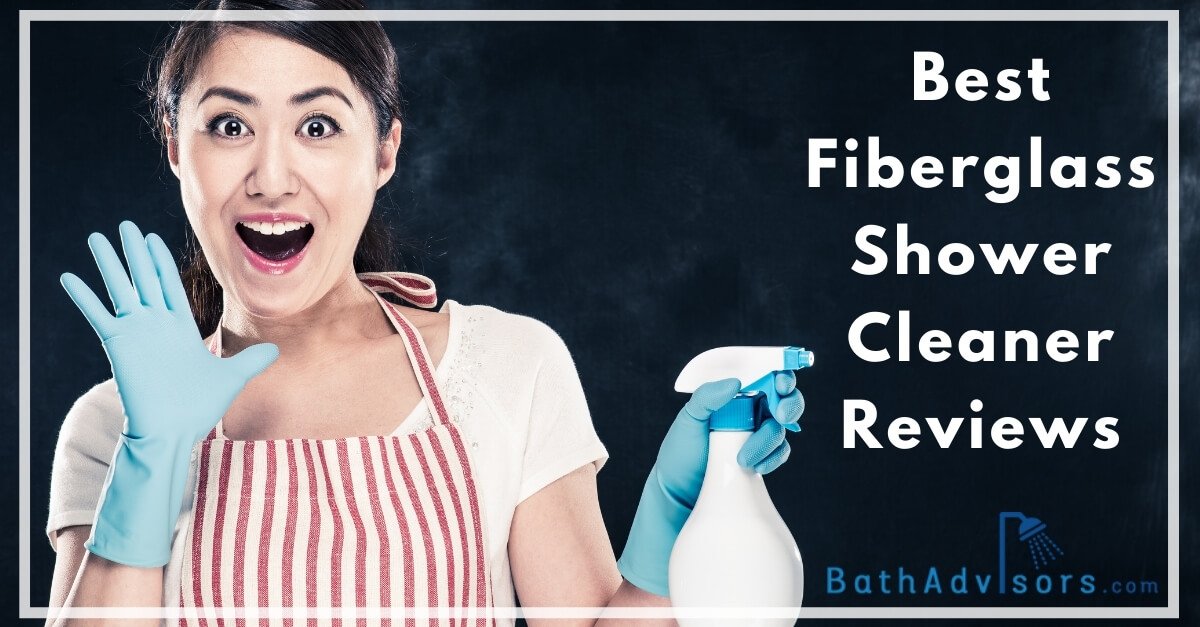 I will also take you through a detailed buying guide to help you decide which cleaner is the best for your bathroom. Hopefully, that will motivate you to finally clean out all that grime, dirt, hard water spots, and stains in your bathroom.
List of Best Fiberglass Shower Cleaners for 2023
In a hurry? Here is the list of the best fiberglass shower cleaners:
Best Fiberglass Shower Cleaner Reviews 2023
Here's our in-depth overview of the best fiberglass shower cleaners available in the market.
1. Rain-X 630035 Shower Door Cleaner
If you can't remember the last time your shower had a real "bath" then top on your list should be the Rain-X 630035 Shower Door Cleaner. It's a specially formulated fiberglass cleaner for super stubborn stains, grime, and soap scum.
It comes in a 12-ounce bottle that can last you for quite a long time as you only need a dime size to get your bathroom door sparkling clean. However, be generous with the amounts the first two times to get your bathroom stain-free, from there a small amount is all you need to maintain the cleanliness.
If you plan on using shower door water repellant, I would highly suggest that you first use this cleaner for prepping the glass door. You will love the results after that.
I must mention that you can only use this cleaner for glass surfaces otherwise you risk damaging your non-glass surfaces. Contains no ammonia, so if you are worried about the terrible smell or it being corrosive, don't be.
One more thing, using a cloth to clean won't cut it, you may need to use an abrasive sponge and a hard brush to clean out the glass if your stains are super stubborn. Once done with the scrubbing, rinse, then wipe dry with either a clean paper towel or cotton cloth for that sparkle.
Pros
Removes stubborn stains, dirt, and buildup
Lasts long
Non-corrosive
No irritating smell
Cons
May cause slight chemical burns, make sure you wear gloves
The product is a bit thick and may be challenging to get it out after a couple of uses
2. Better Life Natural Tub and Tile Cleaner
If you are very particular about using an all-natural product, Better Life Natural Tub and Tile Cleaner is your best pick. It contains no biodegradable or toxic ingredients making it very safe to use around kids and pets.
A plus for this product is the antibacterial, antifungal, and antimicrobial properties it contains. These properties are super beneficial for your skin and health in general.
It works by dissolving hard water stains, rust, mold, mildew, soap scum, and all dirt. Simply spray on the surface, leave to soak for a while then rinse off with plenty of water. It creates a lot of foam that may take time to rinse off but once it does, you will be grateful for it. Your bathroom is left spotlessly clean and smelling fresh.
Pros
Non-toxic formula
Removes stains, soap scum, mildew, and rust
Leaves a refreshing eucalyptus scent
Eco-friendly
Cons
Not effective for deep stains
Hard to rinse off due to the thick foamy consistency
3. Star Brite Ultimate Fiberglass Stain Remover
I can bet Star Brite is not a new brand name to you, and if you've used some of their household products then you know how exceptionally they get the job done.
Their fiberglass cleaner is no different; it works effectively to remove stains, mold, mildew, rust, and all manner of dirt in the shower room.
It takes rather longer to clean off all the dirt after application as it works by lifting up the dirt from the surface and then absorbing it all. Albeit its duration, it gets the job done pretty well. You are only left to rinse off and your bathroom will be looking as good as new.
It is a versatile cleaner that you can use on almost all surfaces not only in the bathroom but kitchen too. You can spray on plastic, wood, rubber as well as vinyl surfaces. You can even use it on your upholstery without causing any damage.
And if you are a Rver, you can tag it along for your RV cleaning during your road trips.
Pros
Multi-purpose cleaner
Very effective
Easy to use
Affordable
Non-toxic
Cons
Not very effective on dark stubborn stains
4. Wet & Forget Shower Cleaner
Wet and Forget shower cleaner is pretty effective and you can use it on multiple surfaces in your shower room from your fixtures, and tubs, all the way to your shower curtain. You can use it basically for any spot in your shower room that has a build-up of limescale, hard water stains, mold, mildew, rust, and soap scum.
It comes with a very efficient sprayer and all you have to do is spray and go on with your business to allow it to soak and dissolve all the stains. Come back the next day and rinse. No scrubbing, no wiping, no nothing.
Wet and Forget contains no toxic chemicals that can harm your kids and pets, you can safely use it around them.
The only downside though is that you have to use it weekly to see great results. This can be daunting for someone who barely has time for cleaning that often.
Pros
Lasts longer, up to 3 months
Requires no scrubbing or wiping
Cleans and prevents the build-up of dirt and grime
Has a pleasant vanilla scent
Cons
You have to use weekly for best results
5. RMR-86 Instant Mold and Mildew Stain Remover
RMR-86 works instantly just as the name suggests. It removes all the mold, mildew, stubborn stains, and dirt in a record of 15 seconds.
And guess what? You don't have to get your arm and wrist sore scrubbing for hours; you only need to spray to the surface and all the grime is lifted out. Every stain even the ones that have penetrated under the surfaces to leave a super clean surface.
You can use this RMR-86 formula on most bathroom surfaces – wood, floor, concrete, tiles, grout, and fiberglass. However, it may not work effectively on some surfaces; I would recommend that you first do a spot test to be sure.
Due to the strong smell of the product, it's best that you use it in a well-ventilated area. However, the product itself does not contain any toxic substances and is safe to use around kids and pets.
Pros
Works instantly
Deeply cleanses to remove all stubborn dirt
No scrubbing needed
Can be used on multiple surfaces
Removes bathroom odors
Cons
Has a strong smell that is almost chocking
6. Oh Yuk Jetted Tub System Cleaner
If you've been particularly looking for a jetted cleaner, your search may just have come to a stop. Oh Yuk Jetted Cleaner is so far the most effective jetted cleaner. It cleans fast and cleans effectively leaving a fresh scent in your shower room.
It is designed to remove stubborn stains, dirt, and buildup in just 15 minutes. Yes, 15 minutes is all it takes for your bathroom to look "new" again. And for the price, I would say it's a steal.
It uses no harmful chemicals to get the job done and is safe to be used around kids and pets. It is also great for removing bath oils, soap remnants, and body oil buildup in a Jacuzzi, bathtub, and whirlpool.
Next time you are in your favorite hotel, you may just spot a bottle of Oh Yuk Cleaner. That's how effective and trusted it is.
Pros
Perfect for getting rid of soap scum
Cleans in just 15 minutes
Contains no toxic chemicals
Effective jetted cleaner
Cons
May leave some residue if not rinsed well
7. Rejuvenate Scrub Free Soap Scum Remover
If you want to conveniently clean your shower glass every few weeks, the Rejuvenate Scrub Free Soap Scum Remover is the best choice. The spray bottle lets you target the particular areas with stains while preventing the solution from splashing on you.
While the formulation is powerful enough to dissolve stubborn elements like soap scum and stains, it's gentle on the glass. Furthermore, it does not contain bleach, so there won't be streaks on the glass after you clean it with this scum remover.
I loved how quickly it acts and does not require you to scrub the glass vigorously. Just spray the solution over the glass, let it sit for some time, and rinse with a powerful spray of water.
Unlike other fiberglass shower cleaners, the Rejuvenate Scrub Free Soap Scum Remover does not contain any fragrance, so your bathroom remains free from chemical odors.
Made in the United States, this fiberglass shower cleaner from Rejuvenate is designed to work well in American households.
Pros
Instantly dissolves the soap scum
Does not smell like chemicals
You can use it for target cleaning
Comes in a spill-free spray bottle
Cons
Stubborn scum might require you to spray more solution
It may leave a slippery film on the door if not cleaned properly
8. Bring It On Cleaner Hard Water Stain Remover
Another great fiberglass cleaner option is the Bring it on Cleaner. It combines the power of oxygen bleach and jeweler's abrasive for perfect results. I loved that it is so versatile; you can use it on different surfaces, even on regular showers and glass showers.
This cleaner works so effectively well on all surfaces to remove stubborn hard water spots, mineral build-up, stains, and rust among others. You can use it on shower doors, bathtubs, showerheads, shower drains, tile, and grout.
Cleaning with it is pretty easy and if you are patient and thorough the first time, you will get everything out so that you don't have to keep cleaning every so often.
To clean, apply a small amount of cleaner on a damp cloth or sponge and apply on the surface. Leave it on for some minutes to allow the oxygen bleach to work. Rinse and check out how spotlessly clean your surface is. You will also notice how clean and fresh your bathroom smells.
What's more, it is safe to be used around kids and pets as it contains no harmful chemicals.
Pros
Eco-friendly
Removes mineral build-up
Non-toxic
Leaves a clean fresh scent
Cons
It may be too abrasive on glass surfaces
Tends to leave a chalky residue if not rinsed extremely well
9. Bio Clean Eco Friendly Shower Cleaner
Bio Clean Eco-Friendly Shower Cleaner is a heavy-duty cleaning agent that removes even the most stubborn hard water stains leaving your fiberglass spotless.
This is a cleaner you are sure to find in most homes, hospitals, hotels, schools, and other institutions. This goes to tell you how trusted it is by so many people because of its consistent effectiveness.
If you have mineral and scum build-up from over the years, this is your best solution. It also removes mold, mildew, dirt, rust, soap spots, and stains.
I liked that even though it is heavy-duty, it is safe (made from non-chemical compounds) to use around the house. It is not abrasive and has no chemical scent or fumes that most cleaners have; instead, it leaves your shower smelling minty-fresh.
Pros
No toxic smell
Perfect for hard water stains
Eco-friendly
Heavy-duty cleaner
No harsh chemicals
Cons
You will need plenty of water to rinse off the product
Fiberglass Shower Cleaner Buying Guide
For most folks, cleaning their shower room would be so much easier if they knew how to find the right cleaner. Finding the right cleaner starts with being armed with information on what a fiberglass shower cleaner is and how to use it. In this section, I let you in all the info you need.
What is a Fiberglass Shower Cleaner?
A fiberglass shower cleaner is a cleaning agent that is used to clean the frame (metal) which allows for the flow of water to the showerhead.
It removes all the dirt, soap scum, mold, mildew, hard water stains, and all the grime that comes with overtime use of the shower. This ensures that your shower performs in its optimum capacity for you to enjoy your showers. It also ensures that you shower in a clean and hygienic environment.
How to Use Fiberglass Shower Cleaners?
Fiberglass shower cleaners come in a wide variety – gels, liquids, or powder. They can also either be diluted or concentrated. For diluted cleaners, you use it directly as-is. For the concentrated cleaners, you have to dilute them with water following the ratios given by the manufacturer.
Concentrated cleaners allow you to dilute to the desired strength needed depending on the amount of stains and dirt you have. They may be a bit pricey but are super cost-effective in the end as you determine how much you need.
Most diluted solutions come in a spray bottle which makes them easy to use. You just spray on the surface, give it a few minutes and wipe it off. If the stains don't come off immediately you can use a cloth or sponge to scrub.
For gels, the application tends to be a little challenging but you can use a pad to spread out the gel across the surface. Depending on the instructions given you may need to leave it on for some minutes, hours, or even a day to dissolve or lift up the dirt. Thereafter, rinse thoroughly to ensure there are no residues or dirt left behind.
It's pretty easy to use a fiberglass cleaner, read and understand the instructions and you are good to go. You can also check out videos on YouTube or seller websites. The cleaning process shouldn't intimidate you at all.
Factors to Consider When Buying the Best Fiberglass Shower Cleaner
To cut back on the time spent hopping from one product to the other trying to find what will work for your fiberglass shower, consider these factors:
1. Ease of Use
A good fiberglass cleaner should be easy to use. If you have to scrub, It should reduce significantly the amount of time and energy needed. Otherwise, pick one that only requires wiping and works in a short time. There are cleaners that work in 15 seconds; this is pretty effective for someone who hardly has time for cleaning.
I find that cleaners with a spraying nozzle are easy to use and regulate the amount of product needed. They are also easy for spot cleaning.
Also, products with less foam and a lighter consistency won't give you a hell of a time with multiple rinses. Neither do they leave any residue.
2. Surface
While most fiberglass cleaners are multi-surface cleaners, you still have to consider what other surfaces you would want to clean aside from your fiberglass shower. Find out how well the cleaner works on the surfaces. Some cleaners may be damaging to wood and stone and some will be abrasive to glass and tiles. Others may not be so effective on some surfaces.
3. Cost
Well, cost should not really be a strong determinant especially because it directly indicates the effectiveness of a cleaner. However, the price should be affordable. And considering that you will be using it once in a while, you must be able to buy it when you need it. Most cleaners though will last you for quite some time before needing a replacement.
4. Scent
Cleaners with bleaching agents tend to have a very strong scent that may be hard to work with. And if you are an allergy sufferer, it may worsen your allergy. It's best to go for a cleaner with a mild scent and one that does not produce fumes. Most cleaners have a minty or citrusy scent that leaves bathrooms smelling fresh.
5. Eco-friendly
Be an environment saver by getting an eco-friendly cleaner. Not only is it safe for the environment but for you, your kids, and your pets as well. There are plenty of all-natural cleaners made from plant-based and organic ingredients that you can choose from.
6. Amount of Grime and Dirt
If you have made it a habit to regularly clean your fiberglass, chances are you won't have so many accumulated stains and dirt. And a mild cleaner will do the job just fine.
However, if you have 10 years worth of stains and grime, do your bathroom a favor and get a commercial-grade fiberglass cleaner.
7. Type of Water
If you live in an area with hard water, unless you get a cleaner that is specially designed to remove the hard water stains and removing the mineral build-up caused by hard water, you are better off not buying it in the first place. It will not be effective and you will be forced to spend again on another cleaner. To save on time and money just buy a cleaner that can deal with hard water stains.
Maintenance Tips for Fiberglass Shower Stall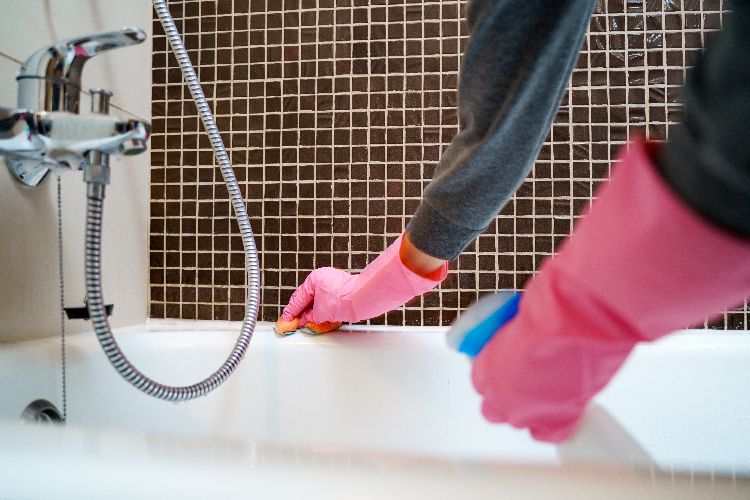 Here are a few maintenance tips for your fiberglass shower stall:
1. Establish a monthly cleaning routine for your shower room and stick to it. This will greatly reduce the amount of dirt and build-up as well as save you time and money. Getting off years worth of dirt and stain takes time and costs more.
2. Make it a habit to rinse off your shower after every use and to keep it dry using a squeegee. Leaving it wet encourages mold and mildew to breed.
3. Always put your bathing products and toiletries on cabinets or shower caddies, leaving them on the floor encourages dirt and debris to collect around them. Also, a ring of grime forms underneath the base of the product. And when cleaning, remember to also throw in the shower curtain in a mixture of warm water and vinegar. The same goes for all bathing toys and accessories to get rid of the bacteria, mold, and mildew in them.
4. For oils and greasy dirt, it's best that you clean your fiberglass when it's still warm, preferably right after you've had a hot shower. This softens the dirt making it easy to come off. Alternatively, run hot water for several minutes to warm up the bathroom before you start cleaning.
5. Never use harsh chemicals to clean your fiberglass; this will cause scratches that can further be holding places for dirt and stains. The same goes for rough scrubbers, steel wool, and abrasive cleaning pads. Get some clothes and sponges instead. They still do a great job at scrubbing off dirt, scum, and grease.
6. It's important that you always leave the door of your shower open after you take a shower to prevent fog from forming on the walls. Also, it prevents any hard water coating from building up over time from condensation.
FAQs
Q1: How to Clean Fiberglass Tubs with Oven Cleaner?
A1: Spray it on your fiberglass evenly and leave it on for about an hour, wipe off and rinse after that and watch all the grime melt off. Remember to open all windows before application and wear your gloves. The most effective oven cleaner is the Easy-Off oven cleaner in a blue can. It works magic.
Q2: What causes Fiberglass Tubs to Crack?
A2: Fiberglass is a lightweight and flexible material, any extra weight put on them or lack of proper support causes them to crack. Another common cause is using harsh chemical-based cleaners. This weakens the tubs gradually and eventually leads to a crack.
Q3: What is the Best Shower Cleaner for Tiles?
A3: Best shower cleaner for tiles is Rain-X 630035.
Q4: What is the Best Shower Cleaner for Mold?
A4: RMR-86 Instant Mold and Mildew Stain Remover is hands down the best cleaner for getting rid of mold.
Q5: What is the Best Shower Cleaner for Soap Scum?
A5: This has got to be Rejuvenate Scrub Free Soap Scum Remover.
Q6: How Frequently Should I Use Shower Cleaners?
A6: Regular weekly cleaning is the most recommended, however, this also depends on the cleaner you have chosen. Some specify how long it should take between each cleaning.
Q7: Is Vinegar effective in Cleaning Shower Rooms?
A7: Very much effective. In fact, vinegar is the best natural cleaner for surfaces all around the house.
Q8: Why do Fiberglass Tubs turn Yellow?
A8: The yellowing is caused by the accumulation of stains from hard water deposits and soap scum. These yellow stains can be hard to get rid of; you need a commercial-grade cleaner to restore your fiberglass.
Q9: Can you Safely use Muriatic Acid on Fiberglass?
A9: Yes, you can. However, with some precautions otherwise, you risk damaging your fiberglass and hurting yourself. Always use it diluted with 15 parts of water to every one part of the acid. When using the solution, ensure the room is well ventilated and you have your goggles and gloves on.
Q10: Can one use Bleach on Fiberglass Shower?
A10: Of course, yes. However, be cautious as it can be too harsh on fiberglass. The fumes are also too toxic when breathed.
Final Thoughts
Cleaning a fiberglass shower is one of those tasks you are likely to postpone all year. And I totally get you. It takes several trials and errors for one to get the right cleaner. But once you do, establishing a routine and following through becomes easy after that.
Here's how you can get the right product, go through our buying guide to know what to look for in a cleaner then head over to our review section to select the best cleaner.
If you are undecided on what to pick, I suggest you try out the Bring It On Cleaner Hard Water Stain Remover. This is by far the best fiberglass shower cleaner, cost notwithstanding. However, if you are on a tight budget or not willing to spend so much on cleaner Star Brite Ultimate Fiberglass Stain Remover will still get the job done effectively.