Bath Advisors is supported by readers. If you buy through links on our site, we may earn an affiliate commission at no extra cost to you.

Do you also feel that the floor tiles in your bathroom's showering area look dull and boring? Well, getting the best shower base for your bath space will be an excellent decision.
Whether you want to remodel your bathroom, or making a new one, installing the right shower pan is essential. As per interior designers, a basic shower base can elevate the bathroom's entire look. So why not invest in one?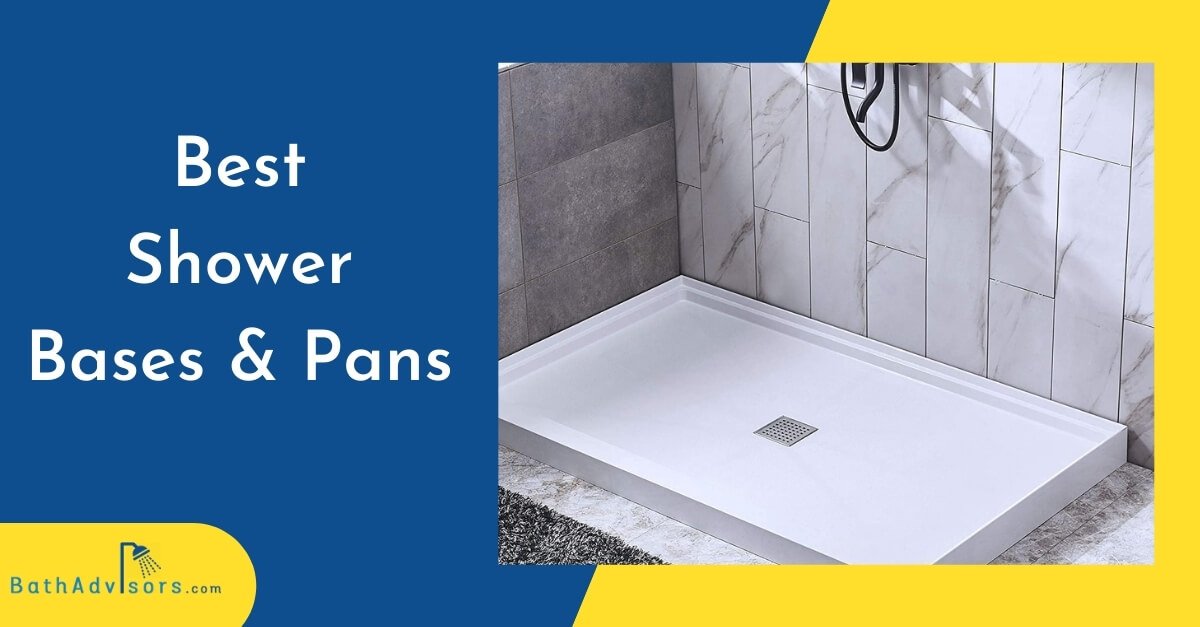 When remodeling a bathroom, people often pay significant importance to the shower door and other such components, but overlook the shower base in all the hassle.
So, to help you make an informed decision, we are here with this post. The article covers some shower bases and pans that are perfect for every bathroom out there.
Just go through these best shower base reviews, and choose a phenomenal base for your bathroom.
Best Shower Base and Pans – Comparison Table
Product Name
DreamLine SlimLine Center Drain Shower Base
DreamLine SlimLine Corner Drain Shower Base
PROFLO Morenci 34" x 34" Square Shower Base
Best Shower Base and Pan Reviews
1. DreamLine SlimLine Center Drain Shower Base
DreamLine is here with a high-gloss acrylic shower base that can make any bathroom look good. With its 3-Wall Alcove design, the base prevents the water from seeping outside the showering area, thus your bathroom remains dry and clean.
Furthermore, the modern base eliminates the hassles of slipping, all thanks to the Anti-Slip grip. There's no need to worry even when your kids and parents are there for a shower, as they won't slip.
The shower base has an anti-stain coating, and that's what I liked about it. Cleaning the DreamLine Slimline shower base is an easy task that requires around 5-minutes.
There are some other features as well that make SlimLime an excellent option. It has got an attractive boxy design that fits in almost all bathrooms.
Installing the shower base is easy. However, the manufacturer recommends getting it installed by professionals. The big drain at the center attracts all the water like a magnet.
Moreover, the tray is designed to put all the water into the drain quickly, so there will be no water logging even if you take a shower for a long time.
Many plumbers recommend this shower base from DreamLine because of the non-porous acrylic material. The base requires less maintenance and looks like new for years.
In a nutshell, the DreamLine SlimLine shower base should be your choice if you need a durable and good-looking base. It is easy to install and aligns properly with the floor for ultimate water-resistance.
Make sure to use mortar under the base to install it properly. Watch this video to learn how to install the shower base properly.
Pros
No chances of mold formation due to the non-porous surface
cUPC certified
Low-profile design with guaranteed durability
AntiSlip grip
Cons
The drain isn't exactly in the center
It's heavy
Final Verdict
If you need a highly-durable, stylish, and waterproof shower base, DreamLine SlimLine should be your choice. The base has a low-profile design, so it looks minimalistic.
Make sure to check out the three attractive color options before buying.
2. KOHLER K-9054-0 Right Hand Shower Base
Kohler delivers quality and luxury with its K-90540-0, which is a popular shower base among homeowners. The spacious base looks flat, but it is basically slanted to the right side so that the water seeps into the drain quickly.
Now you get ample room while bathing so bid goodbye to the hassle of stepping on the edges of a shower base. Fits well with all types of shower doors and enclosures, Kohler Shower Base K-9054-0 is an amazing option.
Made using qualitative cast iron material, the shower base resists cracks and doesn't get damaged easily. Kohler has used a thick stain and scratch-resistant coating, so the shower base looks neat and clean all the time.
Now you won't slip while taking a shower, all thanks to the slip-resistant surface. Furthermore, the grid pattern gets you a better grip, while it doesn't let the dust settle on the shower base.
The custom-tiled shower base will remain beautiful provided you invest some time in cleaning and maintaining it. The versatile design by Kohler can complement any bathroom from traditional to modern.
The smartly-engineered drain of the shower base eliminates the problems like standing water. You can enjoy a soothing shower to get rid of all the stress and tension from your life with Kohler K-9054-0.
However, installing it isn't that easy due to the right-sided drain, so calling the professionals will be a great idea.
Cons
It's pricey
Installing it is a bit challenging
Final Verdict
Kohler K-9054-0 is an elegant shower base for any bathroom. It gives you an excellent grip to reduce the risks of slips. Also, the base feels solid and is highly durable and strong.
If you want your bathroom to look good, I'd recommend Kohler K-9054-0 Shower Base.
3. Tile Redi USA P3048L Single Curb Shower Pan with Left Drain
While searching for a shower pan that fits with a tile, I bumped into Tile Redi USA P3048L. It comes ready-to-install, and you can use any type of tile with it to make your bathroom look fancy.
Be rest assured about the durability, as the pan is made using polyurethane that doesn't crack or damage easily. The material is 100% waterproof, and there will be no leaks at all.
The spacious shower pan gives you more area to enjoy the bath. Also, the raised edges keep the water inside, and it doesn't splash out of the showering area.
This shower pan from Tile Redi USA is pre-pitched, so you don't have to assemble it like a jigsaw puzzle before installation. The detailed installation guide available in the box tells you everything about how to put it in your bathroom.
Furthermore, it is a fantastic walk-in shower pan due to its low-profile design. It won't hurt your kids' toes while they are stepping in for a shower.
The drain is on the left side and comes covered with a stainless-steel drain plate. The pan's design pushes the water directly into the drain, and that's the biggest advantage of using this shower pan.
You'll get multiple flashy metallic bars inside the package to make the shower pan leak-proof. Moreover, the product meets ANSI and UL certifications that make it a great choice for people, especially in areas with restricted water usage.
Lastly, the shower pan is available in a range of attractive colors, and you get a 3-year warranty on it.
Pros
Includes flashings and drain plate
It fits with most of the tiles
Easy to install
It comes with multiple certifications
Cons
After-sales services aren't that good
The water may flow out if you don't use the threshold
Final Verdict
If you want to use a colorful and unique tile on the floor, go with this shower pan from Tile Redi USA. Its rectangular shape lets you use any tile with it. Furthermore, it's a walk-in base that can be used in bathrooms without shower doors.
4. PROFLO PFSB3434WH Single Curb Slip Resistant Shower Pan
After testing Proflo shower bases and pans, I must say that I am impressed with their quality. The fact that they are factory tested before selling gives consumers the confidence that they are acquiring a product that is guaranteed to work perfectly. 
The drain's central location in the shower pan makes it easy to connect the plumbing system without needing to shift the pan around. 
The shower base has a slip-resistant bottom that ensures safety during showering, which is a critical feature for those with physical limitations.
However, the limited color and size options and the need for professional installation may make it less accessible for some buyers.
Pros
Factory tested for quality assurance
Central drain location for easy plumbing
Slip-resistant bottom for safety during showering
High-quality construction materials
Affordable pricing, providing high value for money
Cons
Limited color options
Limited size options
May require professional installation expertise for some buyers
Final Verdict
Overall, Proflo PFSB3434WH is an excellent investment for anyone seeking quality, affordable shower solutions. The features provided, such as slip-resistant bottoms, central drainage, and the ability to customize or combine with other shower systems, offer convenience and safety during use.
5. DreamLine SlimLine Corner Drain Shower Base
This shower base from DreamLine fits well with most of the corner shower door enclosures. The Neo-Angle base has an amazing design that occupies less space and gives you enough room to enjoy a shower every day.
Furthermore, the base has a 34-inch wide opening, so getting in and out won't be a task. It's made using durable materials that don't get stained or scratched easily.
Installing this shower base is easy, just make sure that you use the right amount of mortar under it. The non-porous surface prevents scum build-up. Also, there will be no mold formation on this shower base.
DreamLine has made sure that you don't slip while taking a shower, and that's why the base comes with a slip-resistant textured pattern. You get a good grip that curtails the chances of any accidents, and even kids can use it.
The shower base can fit any 2-inch drain, so make sure to purchase it separately. The water flows directly into the drain and doesn't splash out of the threshold.
When it comes to durability, the shower base doesn't disappoint you. It's made using acrylic capped ABS, which is tough and doesn't get damaged easily. Also, the fiberglass reinforcement makes it even more durable and enhances its longevity.
With this shower base, you get a limited lifetime warranty from the manufacturer. To sum up, DreamLine SlimLine Neo-Angle is a great choice if you use a corner shower door enclosure. It has a smart design, so the water gets flushed out of the drain quickly.
Pros
It's a bang for the buck
It gives you ample room for bathing
It comes in a range of colors
cUPC certified
Cons
It's compatible with corner shower door enclosures only
No drain plate included in the box
Final Verdict
DreamLine SlimLine is an attractive shower base that has an excellent threshold to prevent the water from coming out of the base. Also, it doesn't hurt your toes, and that's a big relief.
Lastly, the shower base is easy to clean and requires less maintenance.
6. Proflo Shower Pan with Strainer
Being on a budget doesn't mean you should settle down with any shower pan, and that's why I shortlisted ProFlo Shower Pan for this list.
It is an affordable pan that's highly durable and built to last longer. The one-piece module enhances its strength and prevents the pan from cracking.
Moreover, the material is resistant to heat, and shock, which takes the durability to another level. The solid surface shower pan is easy to assemble due to the one-piece body. ProFlo has used composite material that's strong and lightweight.
The high threshold keeps the water inside, and your bathroom remains dry all the time. This shower pan doesn't have any fancy features, but it's perfect if you expect longevity and ultimate water-resistance. The built-in strainer eliminates the need to use a drain plate.
The slip-resistant surface reduces the chances of any accidents. Also, it minimizes the build-up of stains and dirt that's common in most shower pans.
The cheap pan is worth every penny, and its thick protective layers don't come off easily. You can install this lightweight shower pan with all types of shower doors.
Install this shower pan in your bathroom to get an ultimate shower experience. The surface has a textured pattern for added grip. Also, the pan has extra reinforcement that enhances its durability.
Pros
Made with durable material
Easy to install
Lightweight
Heat and shock-resistant
Cons
It comes with a one-year warranty onlyv
No color choices available
Final Verdict
This shower from ProFlo is a bang for the buck. It lasts longer, absorbs the shock, and comes with a built-in strainer that doesn't let the soap scum enter the drain. Just install it, and enjoy an amazing shower every day.
7. Kohler K-9026-47 Purist Shower Receptor
Kohler is here with another fantastic shower base that's perfect for any bathroom. The base is easy to install, and you get a detailed installation guide from Kohler inside the box.
With Kohler K-9026-47 Purist, you get ultimate convenience, as it has a low-profile design. The threshold isn't that high, so you never bump your toes into it. Moreover, the threshold keeps the water inside the shower receptor, so the bathroom remains spick and span.
This is an amazing shower receptor in terms of durability. The material that Kohler has used is enameled cast iron, which's tough and scratch-resistant. Furthermore, the SageGuars anti-slip coating curtails the chances of accidental slips.
Even your kids and aged parents can use this shower receptor due to its non-slip surface. The drain at the center improves the flow of water.
Kohler K-9026-47 Purist also resists stains, so you don't spend a lot of time cleaning it. Just wipe it off with a damp cloth, and you are good to go.
The thing that I liked the most about K-9026-47 is the way it feels on your feet. The surface is a bit grainy for added traction, but it feels soft and smooth when you stand on it.
There are no hassles of mold formation or scum build-up due to the non-porous surface. Kohler offers a Cast Iron Lifetime Warranty on this shower receptor, so you can rest assured about its life.
You can purchase it in a range of colors, including Almond, Biscuit, and much more.
Pros
Easy to install
Non-slip surface
It comes with a lifetime warranty
Cast-enameled surface
Cons
Expensive
Drain plate sold separately
Final Verdict
Kohler K-9026-47 Purist lets you step in luxury. Also, it is a super-stylish shower receptor that can make any bathroom look good. The material is glossy and resists stains and scratches, so it looks clean at all times.
Best Shower Pans Buying Guide
Just searching the "best shower base" will get you hundreds of options, and it can be quite daunting to select the right one. Moreover, these pans are available in multiple types and sizes.
To make a rewarding choice, go through this guide and know everything about the modern shower bases.
What are Shower Pans?
A shower pan or base is a one-piece item that's installed on the floor of the showering area. Made using a variety of materials, shower pans are easy to clean and reduce the chances of slips.
Furthermore, the base's curved shape channelizes the water into the drain, so your bathroom looks spick and span after every shower.
There are multiple types of shower pans available in different shapes and sizes. Furthermore, installing them is pretty easy, and you don't need a plumbing guy to get one installed.
Why Do You need a Shower Pan?
You might be wondering why I should install a shower base when my bathroom has a tiled floor? Well, there are numerous reasons why getting a shower base is indispensable.
First, shower pans look absolutely gorgeous and can contribute a lot to your bathroom's overall attractiveness.
Moreover, they reduce the chance of slipping, and you can bathe with ease. Cleaning a shower pan is easy when compared to scrubbing the tiles with mold on them.
The design of a shower base lets the water seep into the drain quickly, so your bathroom remains clean and dry.
Types of Shower Pans
Most of the shower pans look the same with varying sizes, but there are a lot of differences in terms of material and quality. Here are the types of shower pans you'll find in the market when searching for the best shower base.
1. Composite
Composite shower pans are highly durable and have a gel coating on them, which keeps them look neat and clean. Furthermore, they are strong, lightweight, and assembling these pans is an easy task.
Some of the best branded composite shower pans can last for years, so it's worth investing in them.
2. Acrylic
Popular for their appearance, acrylic shower pans are a perfect substitute for using tiles and stone on the floor. These pans are made using multiple materials infused together to deliver durability and strength.
Moreover, maintaining acrylic pans is easy, and you can keep them spotlessly clean just with a soft brush and tile cleaner.
3. Fiberglass
Shower pans made using fiberglass are cheaper than acrylic and composite so that you can buy one at a bargain. Made using a combination of woven glass and polyester resin, these shower pans are durable and don't crack easily.
However, cleaning fiberglass pans is a task and may require a lot of time, so you'll save money on them, but not the time when it comes to cleaning.
4. Custom Tile
Custom tile or tiled pans looks luxurious, and if you love a tiled floor, these pans should be your choice. The shower pans are glossy and can enhance the aesthetics of your bathroom for sure, but these pans come with some downsides as well.
Custom tile shower bases aren't that durable and need regular maintenance and cleaning. Also, they are hard to install, so get ready to spend some money on the labor charges.
Benefits of the Shower Base
There are multiple benefits that you can experience by installing a good shower base in your bathroom. Not only do they look good, but they also keep the showering area clean and free from mold formation.
Here are a handful of benefits of using a good shower base:
1. Easy to Clean
One of the biggest perks of using a shower base is that they are easier to clean than tile and marble floors. The coating on the shower pan doesn't let the water rest on. All the water slips into the drain, so there's no need to spend a lot of time cleaning it.
2. Reduces the Risk of Water Leakages
Another reason why folks love using shower bases is that it reduces the risk of leakages. Water can seep out of the glass shower door if there is no pan or base installed on the floor.
The raised edges of the pan keep the water inside.
3. They look Great
There's no doubt that shower bases look great. They come in a variety of colors and different shapes to take your bathroom's appearance to another level.
4. No Hassles of Mold Formation
If there's water, there'll be mold! Well, mold can grow anywhere where it finds water to thrive. When you have a shower base installed in your bathroom, you can eliminate the chances of mold formation.
How to Choose The Best Shower Base?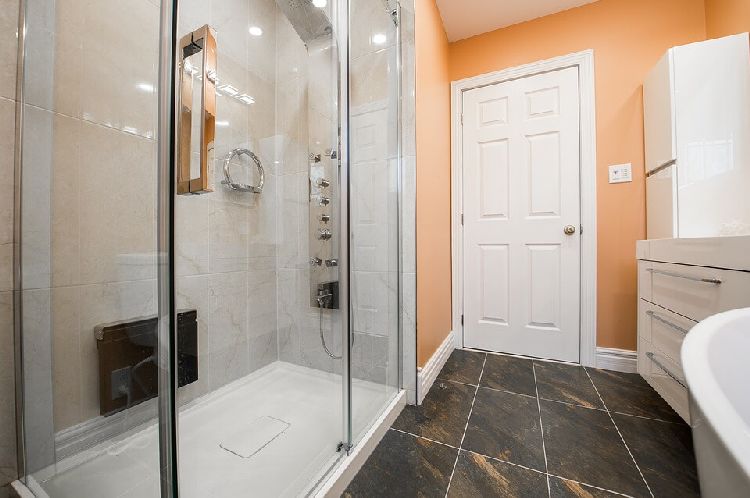 Anyone can get confused when it comes to choosing the best shower base. All of them look almost the same, and that's why there's a lot of confusion.
But, with the following factors in mind, you can select the best shower pan for your bathroom:
1. Materials
The strength, durability, and quality of the shower base depend on its material. Shower pans are made using porcelain, acrylic, fiberglass, and other similar materials.
Make sure to choose the best shower base material that's tough, durable, and doesn't break or crack easily.
2. Ease of Installation
Usually, most shower pans are easy to install. Just following any DIY video will help you install it on the go. However, there are some pans available such as custom tiles, which are hard to install.
So, make sure to go through the customer reviews to determine if the installation is quick or daunting.
3. Size
It is imperative to check the size of the pan so that it fits in the shower area. Shower bases are available in multiple options with varying sizes.
Choose a size that fits into the shower door and occupies the entire floor space. It'd be great to use a measuring tape to measure the area inside the shower door in order to buy the right size.
4. Coating
Always buy a shower base that comes with scratch and stain-resistant coating. These coatings keep the pan's surface look clean with minimal effort.
Usually, most of the branded shower pans have these coatings.
5. Waterproof Design
Check whether the shower base you are planning to buy has a waterproof design. A good shower pan must have this feature, else the water will seep outside the shower door, making the entire bathroom wet.
6. cUPC Certified
cUPC is a standard followed in America and Canada to determine the quality of a product. Go for shower pans that come with cUPC certification.
FAQs
Q1: How Durable are Shower Pans?
A1: The durability of a shower pan depends on several factors, such as the material and its strength. Usually, most of the branded pans like Tile Redi USA P3048L are highly durable and last longer.
Make sure to check the material or go through the customer reviews to determine the durability of a pan before buying it.
Q2: What's the difference between a Shower Base and a Shower Pan?
A2: Well, anyone can get confused between a shower base and a shower pan, as both sound similar. But there are some significant differences you should know before buying one.
When it comes to function, both shower base and pan are similar. Both channelize the water into the drain so that the showering area remains clean.
There's a big difference in shower pans and bases in terms of installation. Installing a pan is easy because it comes in one-piece, so you can put it in place using the adhesive.
On the other hand, installing a shower base is a bit challenging when compared to pans. Installing a base requires you to lay a layer of mortar for installation.
Also, there's a big difference in terms of price as well. Shower pans are usually cheaper when compared to shower bases.
In this best shower base and pans article, I have covered some good pans and bases so that you can choose one depending on your need.
Q3: How much does it Cost to get a Shower Base Installed?
A3: The cost of getting the shower base installed depends on multiple factors such as the size, material, and position of the drain.
There are some good shower bases available, Swanstone FR03260RM.037 Veritek Shower Base that you can install by yourself. If you hire a tile guy, then the cost depends on how much is the labor charge in your area.
If you need it done at the lowest price, go for a shower base that requires DIY installation.
Q4: Should I use Quikrete while Installing a Shower Base?
A4: Yes, you can use Quikrete while installing a shower base to make it water-proof and long-lasting. Make sure to use the concrete properly, and let it sit for 24-hours at least before you start using the shower base.
Q5: Is it Required to use Mortar under a Shower Pan?
A5: No, there's no need to use mortar under a shower pan. Most of the pans come with studs, and you can install them without any mud job. Follow the instruction manual for more information depending on the pan you have.
Q6: Which Shower Base Material is better, Acrylic or Custom Tile?
A6: Both materials are better in their own ways. If you need a highly durable base, go for acrylic. On the other hand, if you want the base to look elegant, go for a custom tile one.
In this article, you will find both acrylic and custom tile base, so just go through the reviews and choose accordingly.
Final Thoughts
Now that you are aware of why using a shower base is essential for your bathroom, it's time to select one. Go through the best shower base reviews to get more details about these products.
You can even refer to the comparison table to know about the material and dimensions of these bases and pans.
Sale
DreamLine SlimLine Center Drain Shower Base
Durable construction eliminates any flexing of the base and allows for quick installation
Product dimensions – 36" D x 48" D x 2 3/4" H | This base is designed to be installed to the...
I've been using DreamLine SlimLine Center Drain Shower Base for six months now, and it is pretty impressive. So, I recommend this shower base if you need something that's tough, durable, and looks good in your bathroom.