Bath Advisors is supported by readers. If you buy through links on our site, we may earn an affiliate commission at no extra cost to you.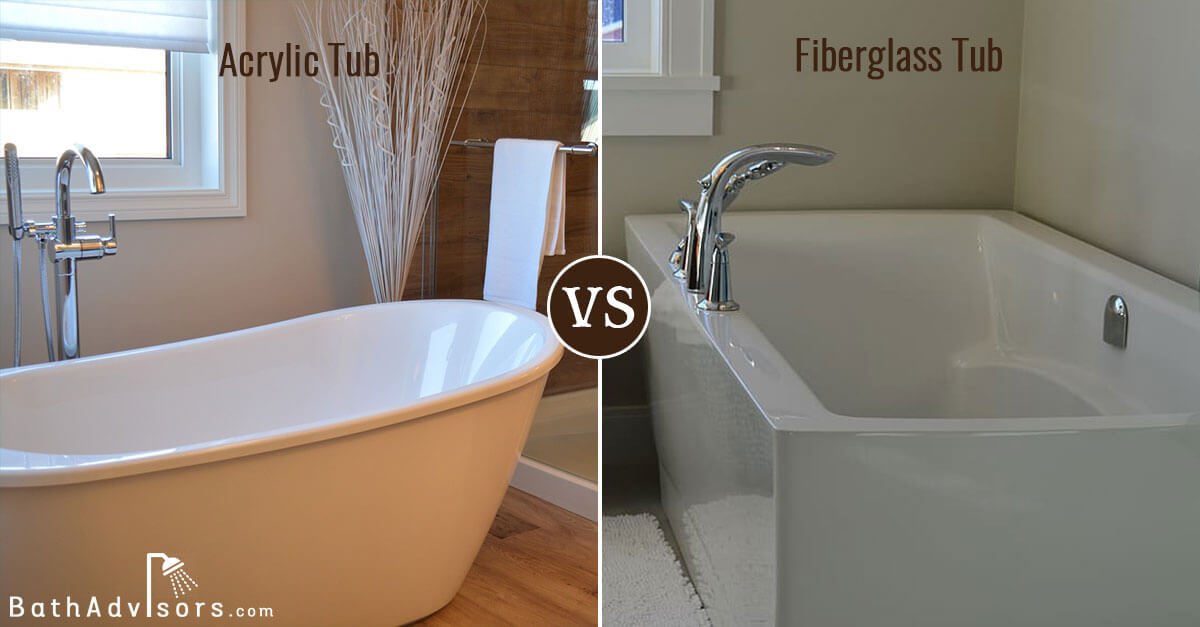 You have probably had a busy day and you can't help but look forward to a relaxing time in your bathtub. There's only one problem though, you don't have one installed yet. Or you need to replace your old one.
Where do you start?
You aren't sure of whether to go for an acrylic or fiberglass tub. In this article, we shall have an in-depth look at acrylic vs fiberglass tub comparison so as to help you select one that best meets your needs.
What are Acrylic Tubs?
Acrylic tubs are manufactured by heating a solid sheet of acrylic that is then heated to make it pliable for molding. The tub is shaped by pulling it out of the mold after the material cures. Fiberglass layers are then sprayed onto it for durability and sealed to add protection and give it a shiny finish.
Due to their manufacturing process, they are a tad bit more expensive than fiberglass tubs. They are durable, easy to install, light in weight and they don't need a lot of maintenance. Acrylic material is mostly used to make whirlpool jets, seats, headrests including other molding details.
Acrylic bathtubs have a lifespan of 10-15 years.
What are Fiberglass Bathtubs?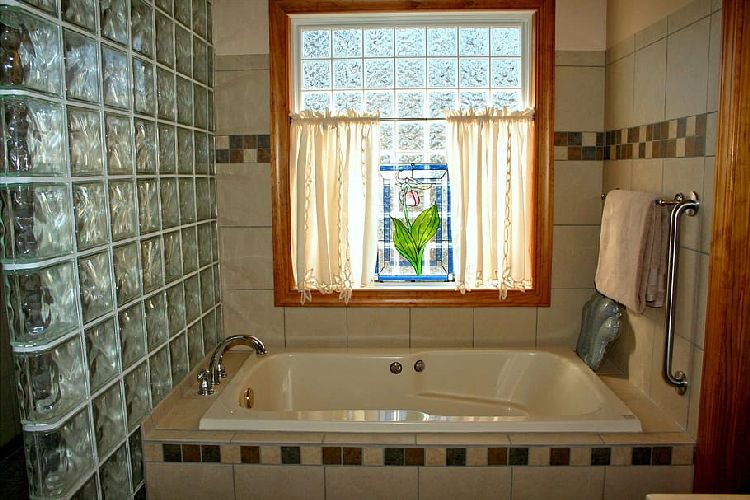 Fiberglass bathtubs are made of layers of heated interwoven glass. It is then shaped, molded, and sprayed with a coat of resin gel. It is among the easiest to install and also quite affordable.
It doesn't need any additional support between the floor and the tub making it suitable for two-story homes. It is equally durable and has a lifespan of 10-15 years.
So, acrylic vs fiberglass tub, which one is the best for you?
Acrylic vs Fiberglass Tubs
Each of these options has both advantages and disadvantages, as well as similarities and differences. To help you make an informed decision, let's have a look at each.
Similarities between Acrylic and Fiberglass Tubs
They are both lightweight and durable.
They both contain fiberglass material and have a glossy finish.
Easy to install.
The materials used are quite affordable.
Easy to clean and maintain both fiberglass and acrylic tubs.
Both are commonly available at the stores.
Differences between Acrylic and Fiberglass Tubs
| Acrylic Bathtubs | Fiberglass Bathtubs |
| --- | --- |
| Exceptionally durable. Rarely chips, cracks, or fades. | Prone to fading, scratches, and cracks happen often. |
| Doesn't easily stain or create mildew. | If not cleaned well, it can stain or have mold. |
| You can choose from a variety of colors, fixtures, or textures. | You have limited options regarding color or texture. |
| Due to the manufacturing process of customizing features, it can be slightly expensive. | Simple manufacturing process hence affordable. |
Feature-wise Comparison of Acrylic vs Fiberglass Bathtubs
1. Durability
Acrylic tubs are stronger and thicker than fiberglass tubs making them less prone to cracking. This means that they can be used for even 30 years. The plastic component used in manufacturing makes it the safest bathtub material.
Fiberglass bathtubs are more brittle and thinner than acrylic tubs; which translates to easy cracking and chipping.
Here is the complete guide on fixing hairline crack in fiberglass tub.
2. Ease of Repair
As much as fiberglass is more prone to chipping and cracking, it is quite easy to repair. Minor problems in fiberglass can be re-finished. You'll need to do some sanding, mixing, and curing but the repair kits have covered the whole process.
If you can recall, color is found in the final coats of the resin gel, so if your bathtub has significant scratches or cracks, the underlying color will show, and much care is needed to match the top coat's color.
Acrylic has a more solid surface and its color is spread throughout the material so scratches are less obvious. Using fine-grit sandpaper, the scratches can be easily sanded away.
Cracks on the other hand can pose a bigger challenge as they may even cause leaks. The repairing process can become more complicated and the whole supporting structure may need to be checked.
3. Weight
A fiberglass tub is lighter than an acrylic tub which makes it easy to put into position and to transport especially if your bathroom space is on an upper floor.
It also requires minimal floor support.
Installing acrylic tubs can be cumbersome because they are heavier than fiberglass tubs since they are made with thicker layers of materials. Although they are lighter than other types of tubs like cast iron, they will still require a tad bit more care during installation when compared to fiberglass tubs.
4. Ease of Cleaning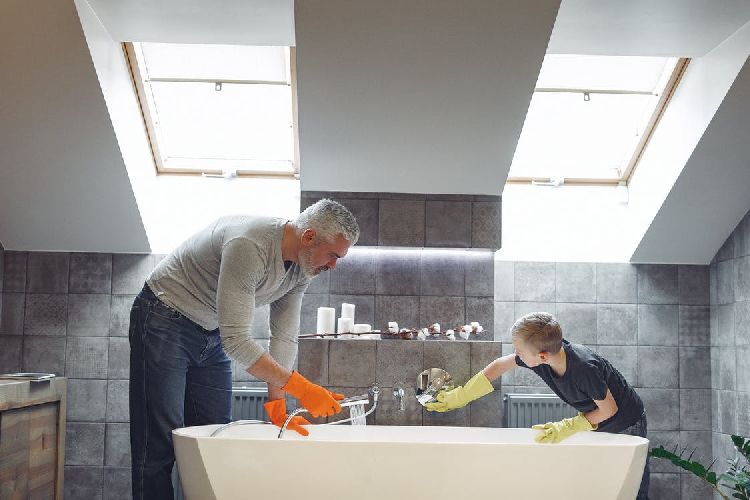 It is important to maintain the shiny finish of your bathtub. Fiberglass bathtubs get this glossy look from the resin gel coat that is normally the final layer.
This makes it thinner and softer than the finish used on acrylic tubs, meaning it is prone to scratching and will not keep its shine for long.
Therefore, it is advisable to use non-abrasive cleaners so as not to damage the glossy layer.
Acrylic tubs are less prone to color loss and abrasion due to the thick material that they are made of. The glossy finish can last longer and it is not vulnerable to cleaning products. However, it is still important to use gentle cleaning products.
Acrylic vs Fiberglass Tub – Pros and Cons
Pros and Cons of Acrylic Bathtub
Pros
Easy to repair
Affordable
Light in weight
Easy to clean and maintain
Durable
Comes in a variety of colors and sizes
Retains heat
Comfortable, nonporous, and smooth surface
Cons
Prone to discoloration and staining
May have a "hollow" feeling
Prone to scratches
Pros and Cons of Fiberglass Bathtub
Pros
Repairable finish
Easy to install
Affordable
Lightweight
Cons
Inconsistent surface
Prone to scratching and cracking
FAQs
Q1: How can I Clean my Acrylic or Fiberglass Tub?
Both bathtubs can be cleaned using similar cleaning agents and procedures. You don't need any special cleaner that you must use to preserve these tubs. You only need to use gentle and non-abrasive cleaning agents.
Fill the bathtub with warm water and add a few drops of dish soap. Let it remain there for a while, then drain and rinse it. To clean the exterior of either of the tubs, use an all-purpose cleaner or dish soap.
Apply automotive wax to maintain the glossy finish probably 3 times a year.
Q2: Which are the Best Cleaners for Acrylic and Fiberglass Tubs?
The best cleaners are baking soda and vinegar. They are both mild and non-abrasive.
Sale
Better Life Natural Tub and Tile Cleaner
POWERFUL FOAM STREAM - This powerful tile and bathtub cleaner emits a fresh foaming spray that will...
WORKS ON - A multi-purpose shower spray that works wonders on tile, grout, fixtures, sinks, toilet...
Q3: Can Baking Soda scratch my Acrylic Tub?
No, it won't. It's actually a mild cleaning agent best for removing stubborn stains. Just ensure that you are using a non-abrasive sponge or cloth to scrub your tub.
Q4: Can Acetone Damage my Acrylic Tub?
Yes, it will. You should avoid using acetone or cleaning agents containing acetone to clean an acrylic tub.
Q5: How can I Repair my Acrylic Tub?
Repairing an acrylic tub is inexpensive and rather simple. Once you have thoroughly cleaned the tub, remove the scratches by sanding using fine-grit sandpaper then use car wax to buff the surrounding area.
Areas that are mildly scratched can be buffed using a damp cloth and toothpaste.
Q6: Is it Possible to Tile an Acrylic Tub?
Most acrylic bathtubs can't be securely bonded to tile, which causes the tiles to fall, ultimately voiding the warranty of your tub.
Q7: How can I Install a Fiberglass Tub?
Here are the steps to follow for installing a Fiberglass bathtub:
Get to know the space available in your bathroom before installing the tub. You could opt for a regular size or larger (soaker) bathtub based on the area you're working with. Ensure that the wooden support is sufficient and strong enough to handle the weight of the tub.
Set the waste assembly or trip lever component as guided by the manufacturer's instructions. However, leave the connections loose for repositioning.
The rubber should be fitted at the back of the tub. Attach the drain assembly to the bathtub's hole and install the drain. You'll need to apply a layer of putty at the bottom of the flange of the drain. Tightly screw them together.
There's a hole at the top of the bathtub, place the trip lever assembly and fasten them using a screwdriver.
Place the tub in position and check if the plumbing connections are intact.
To fit the diverter, you will need to mark a spot from the center of the tub, drill holes from the bathtub's back and then insert the diverter fittings into the diverter. Secure it and join the spout to the diverter using a pipe.
Connect the water supply lines to the diverter's sides. In case you plan to use a shower riser, place a pipe on top of the diverter. A support block that supports the shower riser should be attached between two studs of the wall. Finally, tighten all fittings and connections to ensure there are no leakages.
Checkout this detailed guide along with a video on installing fiberglass tubs.
Final Thoughts
So, acrylic vs fiberglass tub, which one is the best for you?
They are both attractive, affordable, easy to install, and durable. They are readily available in the market unlike other types of bathtubs.
If your home is a multi-story one, the fiberglass tub would be ideal because of its lightweight which makes it easy to transport and position.
In case you are looking for a low-maintenance tub without having to worry much about scratches, then an acrylic tub would be most ideal.
Having these factors at the back of your mind, it should be easier for you to pick a bathtub of your choice and you'll soon be on your way to a relaxed, long bath.
Further Reading: