Bath Advisors is supported by readers. If you buy through links on our site, we may earn an affiliate commission at no extra cost to you.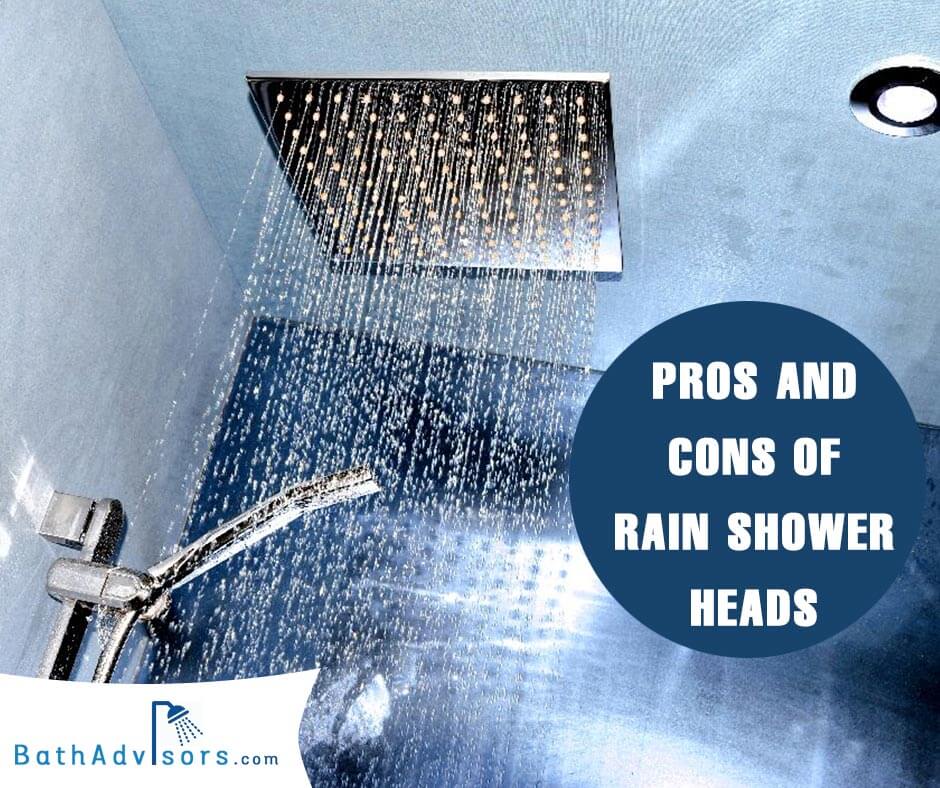 So you have vowed to make your bathroom exactly the same as that of the posh hotel you stayed in last night? Well, a rain shower head should be on the top of your list!
Bathing under a rain shower head may be one of the best feelings, but do you know the pros and cons associated with it?
In this article, we'll talk about rain shower head pros and cons so that it becomes easy for you to decide whether you need it or not!
Furthermore, we have explained about the different types of rain shower heads available in the market, and you can quickly decide which one to buy for your bathroom.
What is a Rain Shower Head?
So you don't know what a rain shower head is? No worries, here's a brief explanation!
A rain shower head is a ceiling/wall-mounted showerhead that sprinkles water just like a drizzle of rain. These showerheads can be of any shape and size, but the function is the same.
Also, some of these shower heads offer a variable speed of the water, and you can select from plastic and metal options based on your budget and requirements.
Types of Rain Shower Heads
You'll be astounded to know about the types of rain shower heads as there are multiple options to choose from. Here are some common types used in modern and contemporary bathrooms.
1. Wall Mounted Rain Shower Head
If you are not looking to remodel the entire bathroom, then a wall-mounted showerhead can be the right choice. You can install the showerhead at the existing place without sabotaging the walls and other areas of the bathroom.
These types of showerheads are the easiest to install, and you can enjoy a mesmerizing bath every day.
2. Overhaul Panel Rain Shower Head
The overhaul panel will inevitably take some space in the ceiling, but it's a perfect solution for tight bathrooms. If the wall is short or you don't have any option to use a wall-mounted rain showerhead then you can opt for overhaul panels.
These panels cost more but go well with modish bathrooms as it is seen as a style enhancer.
3. Ceiling-Mounted Rain Shower Head
These are popular among a lot of homeowners because of the reasonable cost and aesthetic appeal. Ceiling mounted rain shower heads are more affordable than overhaul panels, and you will feel like a real shower of rain in your bathroom.
If you are considering a bathroom remodel or looking for a showerhead for your new bathroom, ceiling-mounted heads should be your choice.
Rain Shower Head vs Regular Shower Head
There are various factors that set rain showerheads apart from the regular ones. Here are some notable differences in case you are curious to know why a rain shower head should be your choice.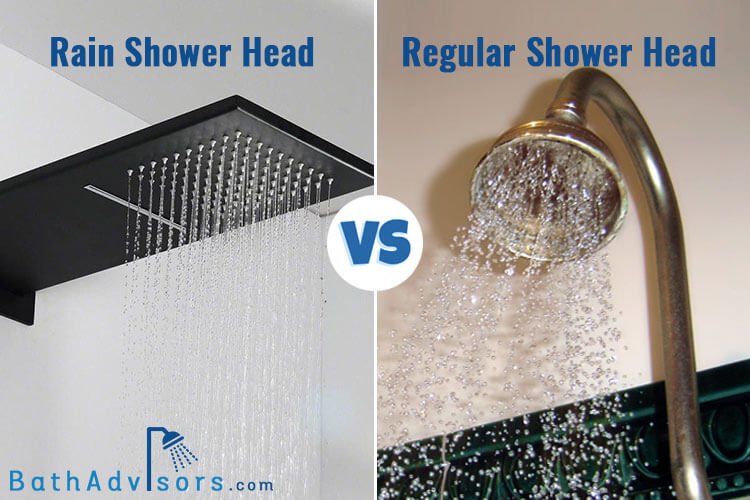 1. Size
There is a significant difference in the size of rain showerheads and regular ones. The regular showerheads are compact as their only purpose is to shower water on you.
On the other hand, rainfall showerheads provide you with the feel of bathing in the rain, so the size of the head has to be bigger. On average, rain showerheads are available in a size range of 6-10 inches, but there are some bigger models available as well if you are willing to use a pressure pump at your home.
2. Placement
Regular showerheads are destined to fit on the wall, and you can quickly install one by connecting the shower arm. But rain showerheads are a bit different. These are generally suitable for the ceiling so as to mimic the effect of rain.
However, some manufacturers are offering wall-mounted rain shower heads as well, so everyone can enjoy using them in their bathrooms.
3. Water Flow Rate
The water consumption of a rain shower head is larger as compared to regular showerheads because of the size of the shower. Also, you will see more water showering down from the head as there are multiple nozzles available on rain showerheads.
There are many models available in the market that lets you control the flow; still, the consumption will be more than that of regular showerheads.
Rain Shower Head Pros and Cons
Go through these rain shower head pros and cons to decide whether it's ideal for your bathroom or not.
Rain Shower Head Pros
1. Full Body Coverage
There's a common problem with small shower heads that you have to adjust your body under it to get a proper bath. But this is not the case with rain showerheads. These are bigger in size, so more water flows through the nozzles.
With a rain shower head, you don't have to move around under the shower as it will rinse your body entirely from head to toe.
2. Ultimate Relaxation
When your entire body is getting rinsed with warm and fresh water, it's obvious to feel refreshing. Rain shower heads sprinkle water just like real rain, and you get the best feel at your home. If you haven't tried a rain shower head yet, then you are missing something exciting and amazing!
3. Enhances Aesthetics of Your Bathroom
A rain shower head is one of the essential components that make your bathroom look good! If you want to improve the value of your home, then you need to work on its bathroom. Having a rain shower head, especially the ceiling-mounted and overhaul panel will make your bathroom look phenomenal while adding a lot to the value of your home.
Most homeowners are considering rain shower heads due to their aesthetic appeal and irresistible designs. Even if you are planning to remodel your bathroom to sell your house, a rain shower head can contribute a lot.
4. Superb Features
With modern rain shower heads, you can expect some astonishing features like multicolor LEDs, Touch-Clean system that cleans the clogs itself, and much more.
You haven't seen these features in regular showerheads as these weren't available with them. But with a rain shower head, you can experience these fantastic features to make your bath routine exhilarating.
Some rain shower heads can even mimic the effect of rain completely, and you cannot tell the difference with your eyes closed.
Rain Shower Head Cons
1. Daunting Installation
Getting a rain shower head installed can be daunting; depending on the type you have chosen. For the ceiling-mounted and overhaul panel, you need to prepare a lot of things before fixing the showerhead with it.
Some installations may also require sabotaging the walls to set the shower head properly, and that takes a lot of time. Lastly, improper installation can result in several rain shower head problems, so you have to be extra careful while installing it.
2. Expensive
When you are getting tons of exciting features with a rain shower head, it's evident that you have to pay more for it. These shower heads are pricier than the regular ones, and the cost of installation can take the overall price even higher.
If you are comfortable spending some more bucks for a luxurious experience, then there's nothing good than having a rain shower head at your home.
3. High Water Usage
Not all rain shower head models use a lot of water; still, there are some models available that need more water to offer a refreshing bath. It is the need of the hour to go with eco-friendly shower options so that you can save water without compromising with the performance of the showerhead.
In a nutshell, rain shower heads have a little bit more water usage than regular ones.
4. Not Best for Everyday Occasion
Though rain shower head will rinse your complete body from head to toe due to its bigger size and numerous water nozzles, but it can serve you with a disadvantage as well.
If you don't want to wash your hair on a particular day, then it'll be challenging to take a bath under rain showerheads. It can be more problematic with ceiling-mounted and overhaul panel options as these will shower water on your head as well.
FAQs
Q1: Are Rain Shower Heads Worth It?
Having a rain shower head in your bathroom offers you a plethora of benefits like refreshing bath and full-body coverage, so having one is worth every penny. You should go with eco-friendly models that use less water, and there won't be any issues left to regret your decision of buying one.
Q2: What should be the ideal Size of a Rain Shower Head?
It ultimately depends on your requirements. Rain showerheads are available in a myriad of sizes starting from 6-12 inches. Going with a 10-inch showerhead will be the right decision as it'll look good installed in your bathroom while the pressure of water will be good.
Bigger shower heads require a separate pressure tank which costs more.
Q3: Are Rain Shower Heads easy to Maintain?
Maintaining a rain shower head is similar to what you do with your regular one. You can unscrew the shower from the shower arm to clean it thoroughly. However, it can be a little bit challenging as you need a small bench or something to reach the showerhead installed on the ceiling.
Q4: How to Install a Rain Shower Head?
Installing a rain shower head primarily depends on the type and model you have purchased. Also, some other factors can impact installing the rain showerhead process. Here's a quick video to understand how the installation process works.
Final Thoughts
Adding a rain shower head to your bathroom can be a wise decision to make it look stylish while enjoying a relaxing bath every day.
We are sure with these rain shower head pros and cons you can quickly find out whether your bathroom needs one or the regular one is good.
Lastly, make sure to go for branded and best rain shower heads only as these are reliable and you will have a rewarding experience with it.