Bath Advisors is supported by readers. If you buy through links on our site, we may earn an affiliate commission at no extra cost to you.

Are you confused between Toto Drake or Drake 2? Well, there are a lot of other folks as well that get confused while choosing the right toilet between these two options.
Undoubtedly, these two toilets from Toto are reliable, but you have to choose one, and that can be a task.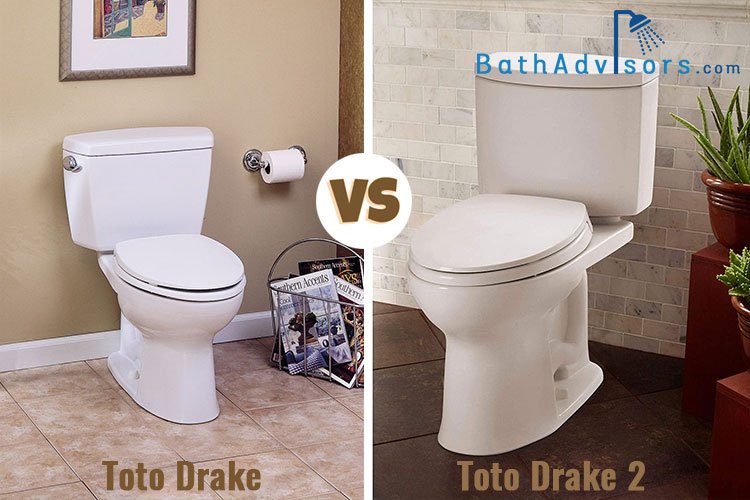 Here in this article, we have analyzed Toto Drake Vs Drake 2 to find out the primary differences between the toilets.
Stick to this Toto toilet comparison guide to get all the answers you need to select the superior one between these two options.
Toto Drake Vs Drake 2
We compared the two Toto Drake toilets based on a list of parameters to find out the winner. Furthermore, we focused on every aspect of the toilet, including the design, flushing system, water capacity, and some other things you should know before buying.
In short, you can count on this article to find out the significant differences between these two highly-selling toilets from Toto.
Notable Differences
If you don't have enough time to plunge into this in-depth comparison, then having a look at these notable differences will surely help. Check out the table to find the core differences between these two toilet models by Toto.
Flushing System
Double Cyclone Tornado Flushing System
Ideal For
Commercial Properties and Home
Toto Drake
Ideal For
Commercial Properties and Home
These are some of the core differences that set Drake and Drake 2 apart. With these differences in mind, it would be a straightforward task for you to choose the best option.
Things in Common
Toto Drake and Drake 2 just don't have everything different. There are some things that you will find in common for both the toilets. It is essential to know the similarities between both toilets so that you can be extra-sure before purchasing a toilet.
1. Bowl Shape
Both the toilets have an elongated shape and are perfect for medium or spacious bathrooms. The dimensions of both toilets are different, but both belong to the elongated toilet category.
2. Two-Piece
Drake and Drake 2 both are two piece-toilets and you will receive the tank and the closet in different boxes. Toto offers all the accessories you need to install the toilets, excluding the toilet seat.
3. Durability
Most of the toilets manufactured by Toto are durable. Drake and Drake 2 are no exception, and the toilets are highly durable and reliable. The virtuous china material makes the toilet last longer, and you can expect a remarkable lifespan from both the toilets.
4. Easy to Clean
Cleaning both of these toilets is easy due to the elongated shape. Both models have a SanaGloss finish that prevents the growth of mildew and bacteria. Furthermore, the surface of the toilets is smooth, and waste will not stick to them.
However, the power of flushing is different, and it impacts the cleaning a little bit.
5. Single Flushing
Drake and Drake 2, both are single flushing toilets so you cannot dispense lesser water to flush liquid waste. Both the toilets have a chrome-plated lever that is easy to push even by kids and the elderly.
Click here to get more details about Toto Drake
Click here to get more details about Toto Drake 2
6. Trap Diameter
The trap diameter of both toilets is the same, i.e., 2-1/8 Inch, and you can easily install these toilets. The bigger trap diameter ensures fewer clogging, and the water will get flushed smoothly through it.
7. Straightforward Installation
Installing any of these toilets is easy, and you can hire a plumber to get the job done. Moreover, you can follow the DIY steps to install a toilet yourself if you don't need professional help.
The two-piece toilets don't have complex installation, and 12-inch rough-in available on both toilets fits the drain connection easily.
Feature Wise Comparison of Toto Drake Vs Drake 2
Based on these features, you will be more likely to settle down with the best toilet out of these. Check this Toto Drake Vs Drake II comparison to find out which one is better.
1. Water Consumption
The water consumption is evaluated by how much water the tank dispenses per flush. Generally, both of these toilets use less water, but one is better over the other.
Toto Drake uses 1.6 gallons of water per flush. This is a single flush toilet so that the entire tank will empty in one go. Drake doesn't come with WaterSense certification, as it uses more water per flush.
On the other hand, Drake 2 saves more water while flushing out waste efficiency. The toilet uses 1.28 gallons of water for every flush, so it's a good option if you are looking to cut the consumption of water.
Drake 2 even comes with EPA WaterSense Certification and is an efficient two-piece toilet.
2. Flushing System
It's critical to buy toilets with powerful flushing so that the waste doesn't adhere to the bowl, and a single flush is enough to clean the bowl entirely. Furthermore, choosing a powerful flushing system eliminates the chances of clogging.
Toto Drake comes with a G-max flushing system that has a 3″ wide valve to dispense the water quickly. Additionally, the bigger siphon adds more power to the water to clean the bowl in one go.
When it comes to Drake 2, it uses double cyclone flushing technology. There are bigger holes available in the closet instead of multiple holes, and these create a cyclone inside the bowl to clean the waste efficiently.
Drake 2 uses less water per flush, but the cleaning is excellent.
3. Cefiontect Glaze
Cefiontect Glaze is a special type of glazing used by Toto on its ceramic products, including toilets. The glazing prevents the growth of mold and limescale, enhancing the finish of the toilet.
With Toto Drake, you don't get Cefiontect Glaze as it is more of a budget toilet. The finish of the toilet is good, but when compared with Drake 2, then it's mediocre.
Toto Drake II has got Cefiontect Glaze, and the toilet prevents the growth of mildew. Also, the waste doesn't stick to the toilet, and one flush is enough to make it sparkling clean.
4. Flush Score
The flush score of a toilet is determined by its MaP Score. A higher MaP score means the toilet has more efficient cleaning. There is a significant difference between Drake and Drake 2 when it comes to the flush score.
Toto Drake has a MaP score of 1000, which means the toilet has efficient cleaning. The flushing system can easily clean a bowl full of waste, and that's why this toilet is good for both residential and commercial properties.
Coming to Toto Drake 2, the toilet has around 800 MaP score, so it's not as efficient as Drake when it comes to flushing more waste. Drake 2 is good for residential properties, but it isn't the right choice for commercial use.
The overall Winner
After comparing Toto Drake vs. Drake 2, it's evident that Drake 2 is overall a good toilet that uses lesser water and is comfortable for people of all age groups.
The toilet has got some exclusive features like Cefiontect Glaze, so you will get a clean bowl every time after using the toilet.
On the other hand, Toto Drake has efficient flushing and has a better flushing score. Also, the toilet is comfortable and ADA compliant, which makes it a considerable choice.
However, Drake 2 is the winner as it uses less water, and is a perfect toilet on every parameter.
Checkout Latest Price and Customer Reviews of Toto Drake
Checkout Latest Price and Customer Reviews of Toto Drake 2
FAQs
Q1: Are Toto Drake Toilets Water Efficient?
Yes, both the Toto Drake toilets compared in this article are water-efficient as these use lesser water, thus complying with the guidelines. You can purchase any of these toilets with the assurance that you are buying a toilet that uses less water.
Q2: How to Install Toto Drake Toilet?
Installing the Toto Drake toilet is easy, and you can do it immediately after getting the toilet out of the package. As Toto Drake is a two-piece toilet series, therefore you have to attach the tank with the closet using the bolts available in the pack.
After attaching the tank, you can connect the water connections to get the toilet working. Follow this complete Toto Drake toilet installation guide to install the toilet in the right way.
Final Verdict
We are sure that this detailed Toto Drake Vs Drake 2 comparison has helped you in choosing the best Toto toilet. In case, if you are still unsure about making a choice, then we have broken the comparison down here for you again.
Toto Drake is a good option if you need an affordable two-piece toilet that flushes out the waste efficiently. Moreover, the toilet is comfortable, and the elongated shape makes it a modish toilet.
Drake 2, on the other hand, is a bit expensive but the toilet will surely reward you with a fantastic experience. It has a fully-glazed closet that prevents the waste from adhering to it.
Also, the toilet is more water-efficient, and the double cyclone flushing system cleans the bowl quickly. The toilet offers good comfort and is ideal for kids and the elderly.