Bath Advisors is supported by readers. If you buy through links on our site, we may earn an affiliate commission at no extra cost to you.

Toilets come in a myriad of shapes and sizes, but it is indispensable to have a toilet that is suitable for your requirements and is powerful enough to wash everything in a single flush.
If your existing toilet is malfunctioning and is not in good shape, then it is better to replace your existing toilet with a new one!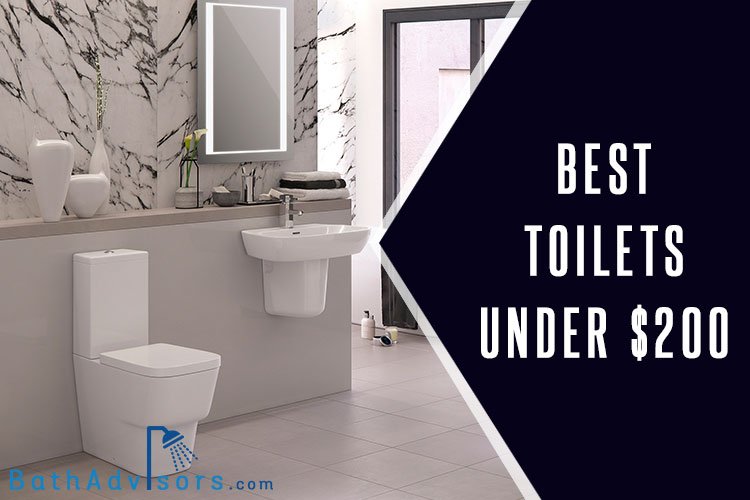 Frankly speaking, searching for a budget toilet seemed to me like I am buying a substandard one. But after looking for the options, I was stunned to see the quality and features available in the budget toilets!
Here is a list of the best toilets under $200 that are perfect for every budget freak out there who are not willing to spend a fortune on a toilet. Moreover, you can check these best toilet reviews to shortlist a toilet that works best for your requirements.
Also, I have compiled a comprehensive buying guide so you will get complete information about the best budget toilets in one place.
Best Toilets Under $200 Comparison Table [2023]
Reviews of the 7 Best Toilets Under $200
Are you on a mission to buy the best toilet on a budget? Well, you will surely need some detailed information which I have penned down here for you!
1. American Standard 288DA Toilet
It's not news that American Standard is a prominent brand in the US, and the reason why I shortlisted this toilet was the quality and after-sales service. This is a two-piece toilet, and that makes it easy to install and ideal for bathrooms of all types, whether modern or vintage. The best part that makes this toilet a must-have is that it meets EPA WaterSense criteria.
Now you are not flushing gallons of water in a single flush, and that saves a lot of water. The water holding capacity of the tank is about 1.1 gallons, and that is enough to wash all the waste down in a single flush.
Well, I have a small bathroom, and the round front design was a savior for me. The toilet saves space in small bathrooms, and your bathroom will not look fully occupied by the toilet. Also, the surface of the toilet is made using EverClean technology that prevents the growth of bacteria which can lead to odor.
This water-saving toilet has a fully-glazed trap way, and the Siphon jet bowl technology washes away everything inside the bowl with no water splashes hopping out in your bathroom. Lastly, the handle has a chrome finish that enhances the aesthetic value of the toilet.
Overall, the toilet is great and is available at a reasonable price. Also, it is one of the best-selling American Standard toilets. However, there is no toilet seat available with it, so you have to buy it separately, which adds to the total cost. The height of the toilet is ideal for kids and aged people, and that makes it a good option if you live with your family.
Pros
Saves a lot of water
CALGreen and CEC Certified
Requires less maintenance
Round front saves space
Quality is topnotch
Cons
No seat included
The lever is small in size
2. TOTO CST244EF#01 Entrada Toilet
I was impressed by the elongated design of this toilet. The lines are so clean that having this toilet can actually enhance the aesthetic appeal of your bathroom. TOTO CST244EF#01 is a two-piece toilet so that you will get two separate packages, one for the tank and another one for the elongated bowl.
If you want to wash the whole waste with a single flush, then the powerful flushing system of this toilet will help. The capacity of the tank is around 1.28 gallons, which is enough to wash away the waste while leaving no residue or stains behind.
Also, with this toilet, you can save some bucks on the water bills, and this is what I liked the most after the design. The lever is available on the left side of the tank, which makes flushing more convenient. TOTO has installed a pilot-operated fill valve in the tank that ensures a quick refill even if the water pressure is low.
This toilet needs less water to work, and you don't have to wait for the tank to refill if someone has used the toilet just before you. Installing this toilet is easy, and it has a universal height, which makes it useful for people of all age groups.
The 2-1/8″ trapway has appropriate glazing that allows the waste to pass thoroughly without any blockage. Also, the toilet is ADA compliant, and people with disabilities can use it without any challenges.
To sum up, TOTO CST244EF#01 is the best elongated toilet under $200 with a fantastic design. Also, the Siphon jet flawlessly works while flushing down the waste with a single press of the lever. The toilet is available in two color options, and you can get a toilet that complements the theme of your bathroom.
Pros
Works quietly
Easy to install
Ideal for people with disabilities
WaterSense Certified
Works even at a low water pressure
Vitreous China construction
Cons
No toilet seat available in the package
Not the best in this price range
3. Dometic 300 Series Standard Height Toilet
If you are a keen camper just like me, then you will find this toilet pretty useful. Dometic 300 Series Toilet is not like a regular one as it is way more compact and handy. Whether you need a toilet for your bathroom or you need one to install on your camping bus, you can get this toilet without thinking twice.
The toilet works on a triple-jet bowl rinse technology so you can rest assured that a single flush is enough to wash all the waste down the drain. The design is friendly and people of all age groups can use the toilet without any difficulties. The thing that makes Dometic 300 Series different from others is the availability of a foot flush pedal.
You can flush the toilet using the foot pedal, and it is way more convenient then you can think! I personally enjoyed using the foot pedal, and it is easier for the kids to use it. This toilet has a gravity flushing system that uses less water and offers a powerful flow of water inside the bowl.
When it comes to installation, the Dometic 300 Series is just like any other toilet. It has a two-bolt installation, and you can install it easily in your bathroom. You will find that the toilet looks premium, and is perfect if you need it for your home.
Moreover, the surface is non-sticky, and the waste cannot stand still whenever you press the foot pedal for a powerful flush. You can choose from two color options i.e., white and bone.
In a nutshell, this toilet seat is perfect for you if you don't want to indulge in arduous installation. The foot pedal is made using plastic, and it is prone to breaking if someone applies more pressure than it can bear. Also, there is a chance that the foot pedal can get loose after frequent use.
Pros
The design is superior
Foot pedal eliminates the use of hands
Gravity flush uses less water
Triple-jet bowl rinse
Lightweight
Cons
The foot pedal is made using plastic
Requires a powerful flow of water to work properly
No toilet seat included
4. Kohler K-3977
Kohler is a brand that never fails to set a high benchmark standard for other toilet-making companies when it comes to their toilet range. If you need a premium looking toilet under your budget, then I'd suggest you consider this toilet as a fair option.
This toilet is engineered to deliver you with an unforgettable experience. It is a two-piece toilet so that you will receive the bowl and the tank separately. If you are battling to find a toilet for your small bathroom, then this toilet from Kohler is a sure-shot solution for your needs.
The round-front bowl makes this toilet perfect for bathrooms that have less space to offer. You can even install this toilet in a powder room where space is always an issue. Kohler has used vitreous China to manufacture the toilet, which is a non-sticky material.
You can rest assured that the toilet will look promising, and there will be no hassles of inappropriate flushing as vitreous China material resists the waste from sticking inside the bowl. I found out that the water holding capacity of the tank is enough to flush everything in one go.
With one flush, the tank dispenses 1.6 gallons of water evenly inside the bowl. What you will get is a clean bowl that is free from any stains due to the power-packed flush. The sleek trip-lever is available at the left side of the tank for the convenience of flushing.
Kohler offers no toilet seat with this product, and you have to buy one separately, which is an additional expense. Moreover, there is no wax ring available, so you have to be prepared to spend some more money if you are planning to buy this toilet.
Overall, there is nothing better than getting a premium-looking toilet seat under 200 and especially when it belongs to a brand like Kohler. The Class Five Flush Technology ensures comprehensive cleaning of the bowl even in the case of bulk waste. As a result, you will get a clean bowl every time.
Pros
Stylish design
Perfect height
Water-saving toilet
Pre-installed tank bolts save a lot of time
Cons
No toilet seat included in the package
3-bolt installation is a bit challenging
5. Mansfield Plumbing Toilet
Here is a toilet from Mansfield Plumbing that can be an ideal choice if you need a water-saving toilet. The two-piece toilet is manufactured using high-quality vitreous China material. Also, the entire bowl is glazed so that no waste sticks on it, and it looks clean after every flush.
The tank can dispense 1.6 gallons of water per flush and that is adequate to wash away all the waste in a single swoop. This toilet can even work with low water pressure, so there is no need to worry about anything. Also, the tank has a Mansfield ballcock valve installed in it that fills the tank quickly after you flush it.
The ballcock is anti-siphoning, and it will prevent the pipelines from sucking contaminated water in the case of low water pressure. Also, it has better life as compared to regular ballcocks, and that comes as an added benefit.
The trip-lever is chrome-plated and is available on the front so that you can access it with ease. If someone in your family is aged or suffering from any disability, then the frontal trip-lever will make it easier for them to flush. Also, the glazed trapway is 2-inch in size, which means that there will be no blockage at all.
Even if you flush bulk waste, the trapway is big enough to deal with it. After checking the 3-bolt tank-to-bowl installation, I was pretty sure that installing this toilet will not be a pain-in-the-neck. It is an elongated toilet, and that's why it requires some more space as compared to round-front toilets.
Mansfield Plumbing Toilet appeared to be a worthy option for me as this toilet has Smart Flush Technology, which saves a lot of water. Also, the elongated design looks attractive, and the tank comes with pre-installed bolt holes for ease of installation.
Pros
Anti-siphon ballcock
Pre-installed tank bolts
Powerful flushing system
Chrome-plated trip lever
6. Duravit 25350900922 Toilet
When it comes to establishing a presence, wall-mounted toilets always remain at the frontrunner position. Duravit 25350900922 is a one-piece toilet that doesn't come with a separate tank. You need to install an in-wall toilet tank inside the wall to attain a superior and minimalistic look inside your bathroom.
The lines of the toilet are clean and uniform, and it improves the handsomeness by making it an appealing toilet. The dual-flush technology will ensure a power flush every time and that can wash all the waste present inside the bowl.
This is an elongated toilet and is perfect if you have a medium or a big bathroom. For the installation, you need an actuator plate and an in-wall tank, and unfortunately, that is not available with this toilet, but you will get a trip lever inside the package.
Duravit 25350900922 is a wall-mounted toilet, and you cannot install it on the floor. You need a plumber to install this toilet as the installation process is tricky and time taking. The toilet is rated as eco-friendly, and it consumes less water in every flush.
The elongated ceramic bowl prevents the waste from sticking, and everything will be flushed away after you tap the trip lever.
To sum up, Duravit 25350900922 is a nice option if you want your bathroom to look fantastic all the time. Also, the dual flushing technology dispenses 1.6 gallons of water per flush, which can clean the entire bowl. The ceramic material is of high-quality, and you will get a decent experience with this toilet.
Pros
Minimalistic look as the tank is installed into the wall
Water-saving technology
Dual flush for powerful cleaning
Trip lever included in the package
Cons
No in-wall mount tank and actuator plate available in the box
You need a professional for the installation
7. TOTO CT418F#01 Aquia
Here is another toilet from the house of TOTO. This one is a wall-hung toilet and can be used with an in-wall tank system to save a lot of space. TOTO CT418F#01 toilet is CalGreen compliant, which means that it will save water on every flush.
Also, I liked the dual-max flushing system that works great even with low water pressure. The bowl can get cleaned thoroughly as the toilet is designed to dispense water evenly. You can pair this toilet with any in-wall TOTO tank, but that comes at an extra cost.
Installing this toilet can be challenging, as you have to install the in-wall tank system along with the toilet! The elongated design makes it comfortable to sit, but at the same time, it acquires more space.
Every flush needs 1.6 gallons of water to wash the bowl completely without leaving any residue behind.
If your family consists of aged people and kids, then the universal height of this toilet will make it easier for them to use it. TOTO is a prominent brand, and I am sure you will get excellent after-sales services if needed.
Overall, TOTO CT418F#01 Aquia can be a great option for you if you need a wall-mounted toilet in your budget. The toilet is made using ceramic material, and you can expect a decent lifespan from it. The only downside of this toilet is that you have to purchase the in-wall tank and seat separately, and the installation can also cost you more money.
Pros
Attention to detail
Durable body
Low water consumption
Dual-lax flushing system
Cons
The seat, in-wall tank, and trip lever increases the overall cost
Hard to install
Buying Guide for the Best Toilets Under $200
After extensive research and after comparing different parameters, I've compiled this toilet buying guide. Make sure to go through it if you need the best budget toilet, which is ideal for you in every way.
Types of Toilets
The toilet industry is a massive one with a lot of toilet types available these days. Here is a brief of the different types of best affordable toilets available in the market.
1. One-Piece Toilet
A one-piece toilet comes in a single piece, and the tank is attached to the bowl. There is no crevice in the middle, and that makes it easier to clean these types of toilets. The height of one-piece toilets is generally small, as the tank is a bit smaller than the bowl. Also, the installation is easier as you don't have to mount the tank with the bowl.
2. Two-Piece Toilet
Tow-piece toilets come in two different pieces one is the tank, and the other one is the bowl. Just like one-piece toilets, these have some convincing benefits as well. With a two-piece toilet like TOTO CST244EF#01, you can expect better flushing. Tanks available with two-piece toilets are generally bigger than one-piece toilets.
3. Wall Mounted Toilets
Wall-mounted toilets like Duravit 25350900922 are definitely an ideal option for you if you need a good-looking toilet. Generally, these toilets are not available with a visible tank, and you need an in-wall tank for the installation. The benefit of using a wall-mounted toilet is that your bathroom looks squeaky clean and minimalistic as the tank is not visible at all.
4. Squared Toilet
The squared toilet got its name from its shape as it is nearly like a square. These types of toilets are perfect for you if you need a toilet with a bigger tank and a bigger bowl that catches more waste. However, there are some downsides to using these toilets, and the most significant one is the less availability of replacement parts.
5. Portable Toilets
If you love hiking and camping, then you cannot take a one-piece or a two-piece toilet along with you. The only reason why I incorporated a portable toilet on this list was to make you aware of its existence.
Factors to Look For in a Budget Toilet
Here is a list of critical factors you need to look for in the best toilets under $200.
Bowl Shape
Modern best budget toilets are available in a myriad of shapes, but the most common are elongated and round-front! I am personally using a round-front toilet because of my small bathroom. If your bathroom is small and there is less space available, then you should go for a toilet with a round bowl.
On the other hand, elongated bowls are a bit longer in size than round bowls. Yes, an elongated toilet looks attractive, but it is ideal for a bigger bathroom with more room available for installation. If you install an elongated bowl toilet in a small bathroom, then it can interfere with the drawers and the door.
Flushing System
Just like bowls, flushing systems come in a plethora of options. You can choose from dual-flush and standard flush systems based on your requirements.
Dual-Flush System: Dual-flush toilets have two buttons available on the lever. This toilet is perfect for you if you are looking for something that is water efficient. One button is dedicated for a partial flush and the other one is for a full-fledged flush. You will get dual-flushing systems in all types of toilets, including wall-hung, one-piece, and two-piece.
Standard Flush: Standard flush is what you see in regular toilets. The flushing system contains a single trip-lever that dispenses the whole water available in the tank. Single flush toilets are less water-efficient than dual-flushing systems.
Height of the Bowl
You can easily measure the height of the bowl from the floor to the bowl's top to get an idea. In this list of best budget-toilets, I made sure to incorporate the toilets that have standard height so that kids and aged people can use them without any challenges. You can measure the height of your existing toilet to ensure what height would be perfect for you.
Water-Saving Functionality
You should also check whether the toilet has a water-saving feature or not. Most of the modern toilets available out there use less water due to the powerful gravity flushing system. But it would be great if you check the water holding capacity of the tank beforehand.
I would suggest you get a water-saving toilet so that you can contribute something to nature while saving some bucks on your water bills.
Tips on Toilet Cleaning and Maintenance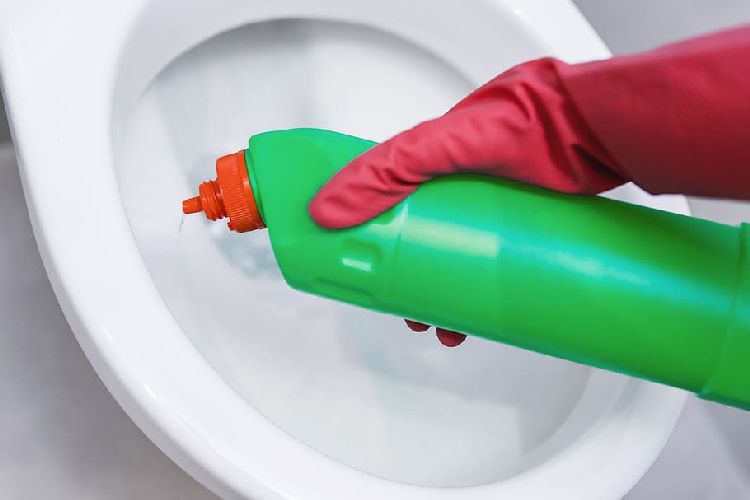 I love my toilet to remain squeaky clean and proper functioning every time. Here are some tips I follow to keep my toilet clean and working.
1. Never Flush Garbage in a Toilet, I Repeat NEVER
Flushing garbage like empty cans and wrappers down the drain is not a great idea at all. The trapways of the toilets are not that big to let these items pass through. As a result, your toilet will get clogged, and you will have to call for professional plumbing help.
2. Frequent Cleaning is the Key
Just like any other thing, your toilet needs regular cleaning. You can use a toilet cleaner and a cleaning brush to clean the inside of the bowl. Also, you can make sure to use some rags to clean the seat and the outer area of the bowl. It will ensure a spick and span toilet that is free from odors and bacteria.
3. Check for Leaks
Leakage is one of the most significant issues that can ruin your toilet. You can use food coloring to check for any leakage. Put 5-10 drops of any food coloring to the tank and allow it to sit for 10-20 minutes, if you see the water in the bowl changing color then there is some leakage which needs immediate treatment.
4. Inspect the Shutoff Valve Regularly
I always make sure that the shutoff valve of my toilet is working fine so that it can save me in case of any emergency. Try to turn off the knob and make sure that it is working correctly. If you are not able to turn off the knob, then it is a clear sign that the shutoff valve needs plumbing assistance.
Tips on How to Install a Toilet
Here are a few handy tips by the expert plumbers that will assist you in installing a toilet in your bathroom. You can also try these proven installation tips for an easy-breezy installation process.
1. Position the Bowl With Extra Care
When you are positioning the bowl over the opening on the floor, do it with extra care. You should use the flange with the outlet of the bowl. After aligning it, you can apply some weight so that the wax seal settles down secure in its place.
Don't try to displace the bowl after the wax seal has adjusted on the flange as it could break the seal. If the seal is broken or damaged, use a new one.
2. Screw the Bowl
Screwing the bowl is an essential phase of toilet installation. If the bowl isn't screwed tightly, then there can be a chance of leakage. Use plastic cap bases with T-bolts so that there are no chances of any leaks. You can also shorten the bolts using a hacksaw if needed. Lastly, don't apply too much pressure in screwing the bolts as it can damage the bowl.
3. Check for Leaks before Using the Toilet
Once you have finished with the installation, check for any leaks. You can connect the water supply to the toilet's tank. Now open the valve and check whether there are any leaks. You can use the food coloring method to detect leaks.
Once you are good to go, install the lid and the toilet seat. Put the tank cover over the tank, and your toilet is ready to use.
Final Thoughts
So these were my thoughts about the best toilets under $200! All of these budget toilets have excellent build quality, and you can expect a decent lifespan with them. Moreover, make sure to go through the buying guide so that you can get some assistance in picking the right toilet for your needs.
In my opinion, the best toilet among this list is TOTO CST244EF#01 Entrada. It is a reliable two-piece toilet that is easy to install. Also, this toilet has a powerful flushing system and is available in two color options.