Bath Advisors is supported by readers. If you buy through links on our site, we may earn an affiliate commission at no extra cost to you.

I recently installed a pressure assisted toilet in my bathroom after my gravity feed toilet stopped working! The decision of choosing a pressure-assisted toilet turned out to be rewarding as the flushing performance of the new toilet is much more as compared to gravity feed toilets.
If you are also planning to change your toilet, then getting one of the best pressure assisted toilets could be an excellent decision. When I was choosing a toilet, I compared a lot of options to make sure to buy the best one.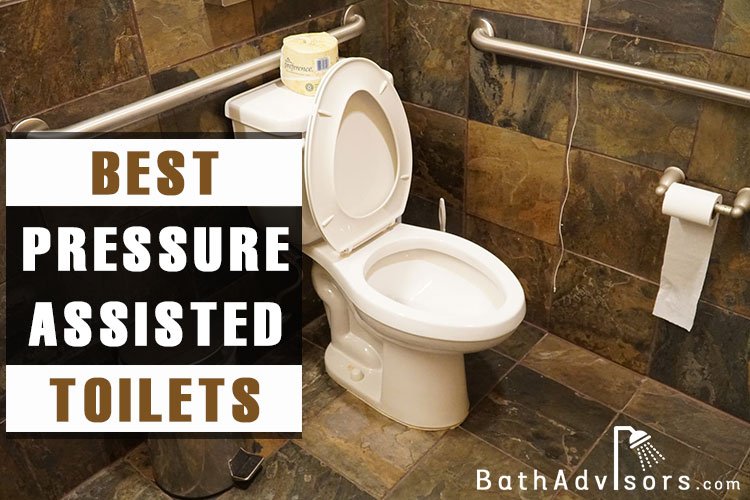 Here are the best pressure assisted toilet reviews that will help you in selecting the right type of toilet for your needs. Moreover, below is a comparison table that will make it even straightforward for you to learn how these pressure assisted toilets are different.
Best Pressure Assist Toilet Comparison Table [2023]
Take a quick look at this best pressure assist toilet comparison table for an overview of the pressure-assisted toilets we will review in the next section.
Warranty
One Year Limited Warranty
One Year Limited Warranty
One-year limited warranty
Three Year Limited (residential). One Year Limited (commercial)
Top Rated Pressure Assist Toilet Reviews
1. Toto Eco UltraMax
Toto Eco UltraMax is a one-piece toilet that will surely attract you with its aesthetic looks and clean lines. You can install this sleek high profile toilet easily, as it requires a nut and bolt installation process. The round bowl is perfect for smaller toilets. Also, it will not make your toilet look fully occupied, and that is why a lot of modern homeowners are investing in this quality toilet.
With a single flush, the tank will dispense 1.28 GPF (gallons per flush), which is enough to clean the entire bowl without leaving any residues behind. This is a single flush toilet, and you cannot flush less water for liquid waste.
The best part about the Toto Eco UltraMax pressure assisted toilet is that it has a bigger and broader fully glazed trap way that ensures lesser chances of clogging. Moreover, the ceramic material makes the bowl look clean in a single flush, as it prevents the waste from sticking.
Eco UltraMax is a WaterSense certified toilet, which means that it consumes lesser water and is an eco-friendly option. There are about four different color options available, and you can get the one that matches the décor of your bathroom.
Overall, Toto Eco UltraMax is a good option if you have a small bathroom. Also, the bowl is not very high from the ground, and your kids can also use the toilet without using a ladder. You can install this toilet without any professional plumbing services, and that will save you more money.
Pros
Utilizes less water
Available in four color options
Chrome flush lever
Clean lines
Ceramic material resists stains
Cons
Not a good option for bigger bathrooms
The height can be an issue for tall users
2. Kohler Highline Classic Pressure Lite Toilet
If you have a bigger bathroom, then Kohler Highline Classis is a fantastic toilet to make it appear even better. This is a two-piece toilet, and you will receive the tank in a different package. You can easily install the toilet using the instruction manual provided by Kohler.
The pressure assist flushing system works seamlessly, and it cleans the entire bowl in one go. The elongated design looks great and makes it an ideal toilet for modern bathrooms. Moreover, this Kohler Pressure Assist toilet has got Comfort Height(R) feature, so kids and adults can use this toilet easily.
The manufactures don't offer a seat with it, and you have to purchase it separately, which is an additional expense. The chrome-plated flush lever is available on the left side for the ease of access.
The tank dispenses 1.6 gallons of water per flush to clean the bowl thoroughly. Kohler Highline Classic is made using vitreous China material, which is non-sticky, and you will get a pristinely clean bowl with every flush.
There are four amazing colors available to match the aesthetics of your bathroom. I chose the black color as it suited my bathroom the most.
To sum up, Kohler Highline Classic is what every medium and large-sized bathroom owner deserves. Cleaning this toilet is not tedious at all, and you will get the assurance of a brand like Kohler. However, there is no seat or supply line available, and that can make this purchase a bit pricier.
Pros
Powerful flushing
Easy to clean and maintain
Non-sticky vitreous China bowl
ADA Compliant
Cons
No WaterSense certification
Not ideal for small bathrooms
3. American Standard Cadet Elongated Pressure Assisted Toilet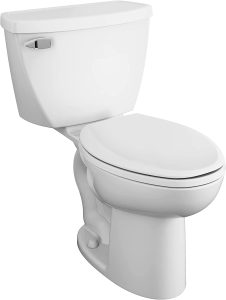 Do you care about sleek lines in your bathroom? This two-piece toilet from American Standard is exactly what you've been looking for. The toilet looks sleek yet offers a comfortable seating space, making it a great choice for homes with kids and older adults.
American Standard has used Permanent EverClean to ensure the waste gets flushed out in one go, and it reduces the hassle of cleaning the toilet. The flush is a pressure-assisted siphon jet flush that creates a whirlpool inside the toilet washing off the stubborn waste.
Another advantage of this elongated toilet is its water efficiency. While the flush is powerful, it still uses 1.6 gallons of water. However, there's just one lever, and you can't use less water to clean liquid waste. 
Furthermore, it's ADA-certified and features a chair height (419 mm), making it comfortable for people with disabilities to sit and stand. Installing this two-piece toilet is a no-brainer, and you don't need a professional to do it. 
While most elongated toilets these days come in various colors, you'll find the American Standard Cadet Toilet in white color only. Talking about the material, it is metal, so you can expect the toilet to last for years with proper upkeep. 
Besides the single flushing lever, the one-year limited warranty is another disappointment. However, this water-saving toilet is popular, and I haven't heard people complaining about its durability.
Pros
The powerful flush cleans the entire waste quickly
The tank consumes less water per flush
Chrome-plated metal trip lever
The EverClean surface maintains cleanliness
Cons
The warranty isn't impressive
The seat may wobble if not installed properly
4. Toto Drake ADA Toilet
If you don't mind spending some extra dollars on a beautiful and durable toilet, I'd suggest Toto Drake. The two-piece toilet is as beautiful as your bathroom and looks perfect in any space. 
The biggest benefit of this elongated toilet is the flushing technology that consumes less water but cleans better. The G-Max flushing system makes the tank throw water from all directions inside the bowl flushing everything efficiently. 
I've seen a problem with most pressure-assisted toilets, and the water splashes out of the bowl. But this toilet keeps everything contained, so you can rest assured about hygiene.
Just like other popular Toto models, this one is ADA-compliant as well, making it a nice fit for every household. Usually, toilets have the lever at the front, but the Toto Drake has it at the side for maximum flushing convenience even while sitting. 
Although there is no specialized coating, the toilet still cleans itself properly. Installing this elongated piece is easy, and you can mount it on the floor without external help. In addition, the tank perfectly sits on the bowl, and you can attach it using nuts and bolts.
Toto doesn't ship a seat with this toilet, so make sure to buy it separately here. Lastly, the toilet is available in one color, which might be disappointing for some.
Pros
The flush valve is larger than conventional toilets
Uses less water per flush
Excellent durability
Commercial-grade flushing performance
Cons
The flush is a bit loud
It doesn't have a specialized coating
5. American Standard Cadet Set
Here is another pressure assisted toilet from American Standard that can add more value to your bathroom. The two-piece toilet comes with a chrome trip flushing lever available at the extreme left for easy flushing.
Also, the toilet has got an EverClean surface that prevents the growth of bacteria while eliminating foul odor and mildew formation. The trap way is big enough to avoid any clogging issues, and thus you will have to worry less.
American Standard has used pressure-assisted siphon jet so that the toilet flushes the water with full impact. In one flush, the tank releases 1.6 gallons of water, which can take all the waste with it down the drain.
As it is an elongated toilet, therefore it is ideal for medium and large-sized bathrooms only. Your kids and parents can use the toilet easily due to its perfect bowl height, and this makes American Standard Cadet Toilet suitable for every home.
Lastly, the vitreous China surface remains clean and free from stains and residues. This is not a dual flush toilet, and you cannot dispense different quantities of water.
Overall, this American Standard pressure assist toilet can reward you with a significant lifespan. The toilet has an excellent design and a fully glazed trap way to avoid clogging.
Note: If you need this toilet for your office, then I'd recommend you to buy it in a pack of three or four toilets, as it could turn out to be a better deal!
Pros
Durable and long-lasting
Sleek and modern appeal
Efficient flushing system
Suitable for kids and adults
Cons
No seat included
No dual flushing
6. Toto Neorest
One of my friends was looking for a decorative and high-end toilet for his lavish condominium, and I suggested to go with Toto Neorest. The toilet is totally a killer when it comes to looks. The design is very appealing, and the toilet can surely enhance the look of your bathroom.
This toilet features a SoftClose seat, and there will be no irritating shut sound even if your naughty kid drops the seat accidentally. Also, the toilet comes with a remote control so you can flush with just a few clicks.
You can even accommodate an aerated water spray with this toilet if you need it. There is a gentle nightlight available as well, so your kid won't be afraid of going to the bathroom in the night.
Toto Neorest is a dual flush toilet, and it has got a 0.8 GPF, and 1.0 GPF flushing option. The double cyclone flushing system makes sure to clean the bowl in a single flush so you will see no stains and residues after pressing the flush button.
The high profile tank isn't visible at all, and the toilet looks minimalistic and clean. Now there is no need to reach out to the flushing lever when you have an automatic flushing controller. There are some other luxury features available as well that will make your experience even unforgettable.
As per my friend's experience investing in this toilet was a great idea. His kid and wife love using this smart toilet, and a heated seat makes it comfortable to sit when it's cold. If you too need this kind of experience with a pressure assisted toilet, then Toto Neorest is worth every single penny.
Pros
Automatic flushing
Gentle nightlight
Heated seat with temperature control
Powerful flushing
Cons
Very pricey
Difficult to install
7. Kohler 645157 Toilet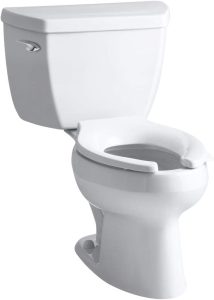 Kohler has combined style and performance in this toilet! While it's a gorgeous closet for your bathroom, it does the flushing job perfectly, leaving no stains behind. Equipped with Sloan FLUSHMATE, the toilet dispenses water with great pressure to clean the entire closet. 
Besides its flushing performance, this is a water-saving toilet that utilizes 1.6 gallons per flush, making it suitable for states like California. The elongated top offers a comfortable seating area, and getting up from this toilet is pretty easy. Even people with disabilities will find this Kohler toilet easy to use. 
Other toilets in the same price bracket have specialized coatings, but the Kohler 645157 doesn't have it. However, the waste doesn't stick to the closet, and the flushing system keeps it pristinely clean.
Installing this two-piece toilet is easy, and it requires standard installation while occupying less space. 
It comes with DryLock technology that ensures the toilet doesn't leak. The rough-in is around 14", and you won't need any plumbing modifications to install this closet. 
The chrome lever on the tank's side is big enough to flush conveniently and requires a gentle push. 
Overall, if you need a toilet that requires less cleaning and looks good in your bathroom, the Kohler 645157 Toilet is a good option. It has bolt holes at the back, so the base looks clean and beautiful. 
Pros
The elongated bowl offers added room and comfort
Polished chrome tip lever for a touch of elegance
Uses less water per flush
The bowl height is ideal for kids and adults
Cons
Installing the floor bolts can be a little difficult in smaller bathrooms
The water splashes out of the bowl sometimes
Pressure Assist Toilet Buying Guide
Here are a few things you should know to make the most out of your purchase. Also, I'd suggest you to check out the factors that can influence the choice of buying a pressure assisted toilet.
What is a Pressure Assist Toilet?
So you don't know what a pressure assisted toilet is? No worries, here's an easy explanation!
The flushing system of a pressure assisted toilet depends on the pressure of water and not on the gravitational force. The reason why more and more homeowners going for best pressure assisted toilets is powerful flushing.
Pressure assisted toilets are perfect for commercial and personal use. Also, the water is dispensed with enormous air pressure, and it can clean the entire bowl in one go. In short, pressure assisted toilets rely on the air pressure formed inside the tank to impact the flush.
How does a Pressure Assisted Toilet Work?
I used to wonder how do pressure assist toilets work and I was impressed to find out its working process. Here are a few steps that will help you in understanding the working of pressure assisted toilets.
As soon as the water starts pumping inside the tank, it starts building up air pressure to make the flush even more powerful. The pressure of flush will depend on the size of the tank and the brand of the toilet.
After you press the lever or flush button, the pressure will be released, forcing the water to flush rapidly inside the bowl.
The gravity pull makes the pressure even impactful, and it will clean the entire bowl in a single flush. However, it depends on the quantity of water dispensed by the tank.
The pressure starts forming again as the tank is getting filled with water. You can flush as many times as you need with the assurance of a powerful flush every time.
Pressure assisted toilets use gravity force and air pressure combined to make the flush even powerful. Checkout a detailed guide on how these toilets work.
Benefits of Pressure Assisted Toilets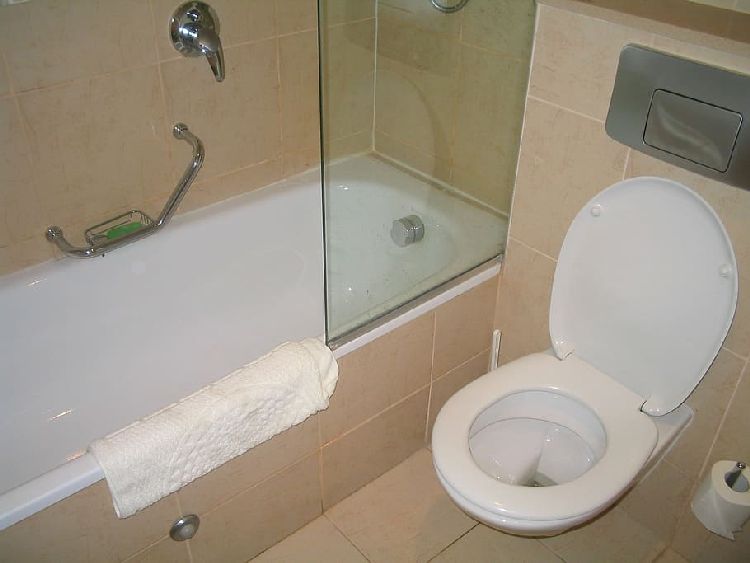 These perks of pressure assisted toilets were enough to convince me to get it installed. Have a look at what benefits you will get with the best pressure assisted toilet.
1. Powerful Flushing
Pressure assisted toilets have powerful flushing, which means the entire waste will flush down the drain in a single swoop. Now there is no need to wait for the tank to refill so that you can flush the waste again.
2. No Residues
There will be no residues left behind, and that will make things even rewarding. A single flush is enough to clean the bowl while making it pristinely clean and free from stains and marks.
3. Easy to Maintain
Pressure assisted toilets are easy to maintain. Also, you can clean these toilets without any hassles. There is no need to invest in expensive cleaning supplies, and you can use regular supplies to clean the toilet.
4. No Tank Sweating
Tank sweating is a common problem in humid areas, but with a pressure assisted toilet, there's no need to worry about a sweating tank. I am using a pressure assisted toilet, and I haven't faced sweating tank issues till now.
5. No Clogging
A pressure assisted toilet can flush the whole waste down the drain in a single flush. Also, it ensures that there are fewer chances of clogging. The powerful flush can clear the drain so that you will experience minimal clogging with a pressure assisted toilet.
6. Uses Less Water
Pressure assisted toilets use less water as compared to gravity feed toilets, which is a considerable benefit. These toilets require less water as the air pressure is enough to make the flush powerful without flushing gallons of water.
How to Pick the Best Pressure Assisted Toilet?
Not all toilets are the same, so it is necessary to make sure that you are choosing the right one for your needs. Here are some critical factors you should consider before buying the best pressure assisted toilet.
1. Type of Toilet
There are many types of toilets available in the market, including one-piece toilets, two-piece toilets, and wall hanging toilets. You can make your choice based on the size of your bathroom and your budget.
Each toilet has different aesthetics and will make your bathroom look different.
2. Type of Flushing
There are two types of flushing systems available with pressure assisted toilets i.e., single flush and dual flush.
In a single flush toilet, there is just one lever, and the tank dispenses the whole water after you press the lever. In the case of dual flushing toilets, there are two buttons available on the tank.
The smaller button dispenses a lower quantity of water, which is ideal for cleaning liquid waste. On the other hand, the bigger button flushes more water, and it is perfect for cleaning solid waste.
Pressure assisted toilets with dual flushing are a bit pricey than single flush pressure assisted toilets.
3. Installation
If you are planning to install the toilet without any professional plumbing assistance, then it would be great to make sure that it is easy to install. One-piece toilets are easy to install as compared to two pieces, and wall hanging toilets.
The reason behind it is that a one-piece toilet doesn't have a separate tank so you can place the toilet directly on the hole. In the case of two-piece and wall hanging pressure assisted toilets, you have to indulge in the tedious installation.
However, installing a two-piece and a wall hanging toilet is worth as your bathroom will look good.
4. Shape
You might be wondering why it is important to check the shape of the toilet, as all of them have the same purpose! Well, the shape of the toilet holds paramount importance due to the fact that a wrong shaped toilet will consume more space while making your bathroom look small.
If you have a small bathroom, then consider pressure assisted toilets with a round bowl. Elongated bowls require more space and are perfect for medium-sized and large bathrooms.
5. Capacity of Tank
Every tank system has a different water holding capacity. Generally, all the modern pressure assisted toilets use less water to meet the regulatory standards. If you want to save water, then you can consider toilets with less water capacity.
Yes, tanks with better water holding capacity perform better when it comes to flushing. But you can also go with lower capacity toilets, as these can also clean the bowl easily.
6. Height of Bowl
Do you have kids in your home? If yes, then you should check the height of the bowl so that your kids can use it easily. Some pressure assisted toilets have bigger bowls, and kids find it hard to climb up there.
Checkout comfort height vs standard toilet comparison and find out which is the best toilet for your home.
7. Coating Material
Check the coating material to make sure that the toilets prevent the waste from sticking to it. Most of the modern pressure assisted toilets have a ceramic coating that prevents any stains and residues after you press the flushing lever.
8. Budget
Lastly, you should consider your budget to prevent overspending. Pressure assisted toilets are available at a myriad of prices. And if you are a frugal buyer, then you can go with the best inexpensive pressure assisted toilet.
Checkout the best toilets under $200 if you are short on budget.
Frequently Asked Questions
Q1: Are Pressure Assisted Toilets better than Gravity Feed?
Yes, pressure assisted toilets are a lot better than gravity feed toilets when it comes to flushing. A pressure assisted toilet dispenses a combination of air and water, which is much more powerful and ideal for cleaning the entire bowl.
Whereas, in gravity feed toilets, there is no air build-in inside the tank. The performance of the flush depends solely on gravity, and that is the reason why pressure assisted toilets offer better flushing.
However, when it comes to repairing, then gravity feed toilets are a better option. Gravity feed toilets are much easier to repair as compared to pressure assisted toilets.
Pressure assisted toilets don't require any repair if proper maintenance regimen is followed, so you can go with these toilets without thinking twice.
In this pressure assist toilet vs. gravity comparison, pressure assist toilet is a clear cut winner due to the powerful flushing and ease of use.
Q2: Can I repair a Pressure Assisted Toilet at Home?
It depends on the type of repair the toilet system needs. If it requires the replacement of the flush lever, then you can do it without any hassles. On the other hand, major repairs require you to book a plumber, as you cannot repair a pressure assisted toilet at home.
Q3: How to Clean a Pressure Assisted Toilet?
Cleaning a pressure assisted toilet is similar to other toilets provided that you are not opening the tank mechanism. You can use a cleaning brush and toilet cleaner to make sure that your toilet looks spick and span.
Also, I would suggest you clean the debris formed in the tank so that it works perfectly, and you don't have to face any issues in the future.
Make sure that you don't flush any wipes and other items down the drain as it can block the trap way, which leads to a multitude of issues.
Q4: Is it true that Pressure Assisted Toilets are Dangerous?
With a plethora of perks, pressure assisted toilets have some downsides as well, but that doesn't mean that they are not safe! Pressure assisted toilets use compressed air along with water for powerful flushing, and some people believe that they can explode if the air pressure exceeds its limits.
But this is not the case! Pressure assisted toilets don't explode as there is no air pump attached to them. Also, the pressure formed inside the tank is lesser than what is required for an explosion.
However, make sure to hire a professional plumber at the time of installation. Moreover, buy a branded pressure assisted toilet so that you get the best quality product for your money.
In short, pressure assisted toilets are safe in every way, and you can use them in your home or office.
Q5: Can I convert a Gravity Feed Toilet into a Pressure Assisted one?
Well, there is a huge population of homeowners out there who are looking to convert their gravity feed toilets into pressure assisted. Presently, there is no device available that can transform a gravity feed toilet into a pressure assisted one.
The only option available for you is to choose any of these best pressure assisted toilets from the list.
Final Thoughts
If you have the residues left on the bowl after flushing numerous times, then you need any of these best pressure assisted toilets. Installing a pressure assisted toilet is similar to other toilets, so don't think you won't be able to install them.
Make sure to go through the buying guide and FAQs to get some essential details about these pressure assisted toilets.
The best toilet out of the list is Kohler Highline Classic Pressure Lite Toilet. However, if you have a limited budget, then Kohler 645157 Toilet should be your choice.