Bath Advisors is supported by readers. If you buy through links on our site, we may earn an affiliate commission at no extra cost to you.

Do you want a freestanding tub in your bathroom but worry about the material getting damaged? Well, acrylic and fiberglass tubs require care and are a bit fragile as well, but that doesn't mean you cannot have a freestanding tub.
I was also in the same dilemma as you are, so I decided to get a cast iron freestanding tub.
No more kids scratching the tub!
No more chipped-off rims!
And no need to spend a lot of time maintaining the tub!
These tubs remain as it is even after years. However, choosing a cast iron tub is not as easy as choosing a regular one, weight being the biggest concern. In this article, I've reviewed the best cast iron freestanding tubs I had on my list for my bathroom.
Comparison Table
Product Name
Ove Decors Castor 69" Clawfoot Freestanding Bathtub
Signature 72" Cast Iron Soaking Tub
Cheviot 61" Cast Iron Bathtub with Pedestal Base
Kingston Brass Aqua Eden 60"
Tub Connection Chariton 61" Cast Iron Slipper Tub
Warranty
25 Year Limited Manufacturer Warranty
Reviews of Best Cast Iron Freestanding Tubs
I spent hours searching for the best cast iron freestanding bathtubs and asked several bathroom experts about their opinions.
Furthermore, I weighed the user opinions for the shortlisted tubs and then reviewed them below. All the tubs that I have reviewed belong to popular brands and are worth your dollars.
1. Ove Decors Castor 69″ Clawfoot Freestanding Bathtub: Editor's Choice
Here is a freestanding bathtub from Ove Décor that's stylish, durable, and perfect for almost any bathroom. There are plenty of reasons why I've picked it as the best choice, is because of its aesthetic appeal and perfect shape required for soaking.
Equipped with bronze feet, the tub looks striking and can uplift your bathroom's look. Furthermore, the feet are interchangeable, so you can adjust them according to the level of the bathroom floor.
All the rims are well beveled and do not cause abrasion when you get in and out, making this tub ideal for homes with kids and the elderly.
"A user mentioned on Way Fair that this tub has an amazing size, and the quality is also up to the mark."
Ove Decors has used multiple layers, including reinforced cast iron, fiberglass, and acrylic, to ensure the tub withstands the tests of time. Cleaning this bath is a cakewalk, and it remains stain-free just with basic ringing.
The capacity is around 55.6 gallons, and the tub can easily accommodate two adults. The package includes a satin nickel hardware finish for pop-up drain and overflow, so you can assemble it quickly following the detailed manual.
However, there are no rim holes, thus, you can only pair this tub with a freestanding filler. Lastly, Ove Décor offers it in a range of colors and multiple sizes for every type of bathroom.
Pros
The reinforced material improves its durability
Well-leveled feet keep the tub stable
You can use a bath pillow for soaking
It comes with a 25-year hassle-free warranty
Cons
Not compatible with tub-mounted faucets
Improper installation of the feet may result in squeaking
2. Cheviot 61″ Cast Iron Bathtub with Pedestal Base: The Premium Pick
Made in Portugal, the Cheviot 61″ cast iron bathtub is for the modern bathrooms that need a chic appeal. If you want the tub to grab the attention and reward you with a pleasing bathing experience, this tub should be your choice.
The design looks classy, while the bath offers ultimate comfort. Moreover, it is ideal for soaking, and the reinforced walls maintain the water temperature for longer.
It has got a heavy pedestal base, so forget about those loud squeaks while the tub remains securely in place. Talking about the material, it feels heavy-duty, and the upper layer makes cleaning easier.
Cheviot claims that it has used a thick coating of AA grade titanium-based enamel that reduces the porosity, thus, the tub remains free from mold and stains.
I loved the retro-style round main drain, and the overflow drain also looks the same. You'll find 8″ drilling holes on the rim for installing a Cheviot tub-mounted faucet. Moreover, you can go for a freestanding filler, depending on your requirements.
While the tub looks big, but it can only have a capacity of 46 gallons, and two adults can barely fit in it comfortably. Nevertheless, you should choose this bath if you need a luxury piece for your lavish bathroom.
This tub is available in multiple variants, including drilled and undrilled rims.
Pros
It has a big pedestal base for added stability
Smooth and non-porous surface for ease of cleaning
It maintains the water temperature for a longer time
Pre-drilled holes for installing a faucet
Cons
Not suitable for two adults
Low water capacity
3. The Tub Connection Chariton 61″ Cast Iron Slipper Tub: Budget Pick
If you are on a budget but still need an impressive freestanding tub, choose The Tub Connection Chariton 61″. The tub looks good, while the bronze feet add a classy element to it.
The tub is not that big, but the oval design increases the space. People up to 6'2″ can easily fit inside the tub along with a toddler. But this is not ideal for two persons. The porcelain coating over the top improves the smoothness while making cleaning the tub easier.
One side of the tub is higher and the straight back lets you soak inside it with a bath pillow. As there are pre-drilled holes, you can pair the bath with any good tub filler (I recommend going for a bronze-oil finish filler to complement this tub).
Installing the tub is easy, ensure using blankets around it when lifting to prevent scratches. As the tub is not that wide, you can use a shower caddy with it to have all bathing essentials handy.
You don't have to worry about the bathroom's floor or tiles, as the coated feet don't damage it, provided you do not move the tub over the floor.
The Tub Connection offers this bath in three options with chrome, brushed nickel, and bronze feet. Lastly, several users said they had an amazing service experience with the brand, making this tub worth every penny.
Pros
The quality of the material is up to the mark
Easy to clean and maintain
The finish on the feet lasts longer and requires less cleaning
Pre-drilled holes make it compatible with tub-mounted fillers
Cons
The feet are not interchangeable
Leveling this tub on an uneven floor is challenging
4. Signature Hardware 72″ Cast Iron Double Slipper Pedestal Tub
Signature Hardware 72″ cast iron pedestal tub is suitable for two people, and there's still some room left, so you can expect comfort. Be it regular bathing or soaking in warm water, this tub is ideal for all purposes.
With its classic design, this pedestal tub will improve your bathroom's décor. Moreover, when installed with a tub-mounted faucet, it looks next level. You get pre-drilled holes, so just mount the faucet, and you are good to go.
Equipped with a porcelain-enameled interior, this 72″ cast iron freestanding tub feels smooth and offers a decent grip. I would still recommend using a non-slip tub sticker. Cleaning and maintaining this bath is easy, and regular rinsing is enough to keep it squeaky clean.
The back of the tub is high and straight, so you can throw in a bath pillow and relax. Moreover, it has reinforced walls for better insulation and to keep the water temperature maintained for longer.
You can refill this tub with 53 gallons of water, and that completely submerges your body for a refreshing bath. However, the weight can become a hurdle when installing this tub because it weighs 610 pounds, so choosing professionals for this job will be a great idea.
Signature Hardware offers a lifetime warranty, and their service pan USA is amazing. Lastly, there are no color choices available, so you have to settle with a white tub.
Pros
It does not catch stains and scratches easily
It's big to easily fit two adults
A bigger pop-up drain empties the tub quickly
Getting in and out of the tub is easy
Cons
It's heavy
The tub does not fit in alcoves and small bathrooms
5. The Tub Connection Clay 67″ Cast Iron Slipper Tub
Here's another freestanding bathtub from The Tub Connection that's durable, stylish, and perfect for big bathrooms. If you prefer tubs that can fit two people and last really long, choose this bathtub.
It's a clawfoot tub with oil-rubbed bronze feet that make it look classic, and you can enjoy a retro appeal in your bathroom. The oval shape improves the tub capacity, while the footprint isn't that big, so you can install them in small bathrooms.
The capacity is around 53 gallons, and the straight higher back gives you ample space to enjoy soaking with a bathing pillow. The tub has a 2-inch drain on the left side, and the right side is slightly raised so that the water flows in quickly.
"A user commented on Houzz that this tub has ample space for comfortable bathing and looks absolutely stunning when installed."
Moreover, the overflow drain is 14-inches high and is concealed, thus, no pipes and connections are visible on the outside.
On the top, you'll see pre-drilled holes to install a tub-mounted faucet. The Tub Connection has reinforced cast iron and porcelain interior on the top to make the surface smooth and non-porous.
Cleaning the tub is easy, so just rinse it, and you can get rid of stains and marks. The only downside to this tub is that the feet are not replaceable, so leveling it could be challenging.
Lastly, the cast iron soaking tub comes with metal feet coated in multiple finishes including oil-rubbed bronze, chrome, and brushed nickel.
Pros
You can use a vanity with this bathtub
The metal feet are very durable
The porcelain interior is easy to clean and maintain
You can fill this tub up to 14-inches to enjoy soaking
Cons
The tub is heavy
It has pre-drilled holes, so you need to patch it for using freestanding filler
6. Kingston Brass Aqua Eden 60″ Cast Iron Slipper Bathtub
The Kingston Brass Aqua Eden Cast Iron Bathtub combines timeless elegance with exceptional functionality, creating a lavish bathing experience. One of the standout features of this bathtub is its construction. Made from durable cast iron, this tub is built to last, and you don't have to upgrade to a newer tub every few years. 
The material ensures longevity and provides excellent heat retention, allowing for longer and more enjoyable baths. The sturdy construction also contributes to the stability and sturdiness of the tub.
You'll love the slipper clawfoot design as it can add a touch of vintage charm to your bathroom decor. The raised backrest provides ample support, allowing for a comfortable and relaxing bathing experience. 
It's worth mentioning that the slipper design also helps to maintain the water's temperature for a longer duration for you to indulge in a soothing soak.
Under the tub, there are four oil-rubbed bronze feet enhancing sophistication and elegance. The dark, rich finish complements the white enamel interior of the tub beautifully, creating a stunning visual contrast. Not only do the feet provide a stylish element, but they also ensure stability and secure placement of the tub.
Overall, the Kingston Brass Aqua Eden 60" Cast Iron Bathtub is a fantastic investment for those seeking a luxurious and visually striking bathtub
However, the absence of faucet drillings may require additional steps during installation, but the overall quality and experience this bathtub provides make it well worth the money.
Pros
The oil-rubbed feet resist corrosion
Hand-smoothed for a comfortable bathing experience
Built-in adjuster keeps it stable on uneven floors
Freestanding and wall-mount tub filler ready
Cons
No faucet drillings
The installation can be challenging
7. Tub Connection Buchanan 71″ Cast Iron Double Ended Slipper Tub
This gorgeous bathtub from Tub Connection offers a blend of traditional design and functional features. While it has some appealing qualities, there are a few aspects that may be worth considering before deciding on this tub.
The double-ended slipper design of the Buchanan tub is highly attractive and bestows modernity to any bathroom. With raised backrests on both ends, it offers comfort while bathing, whether you prefer to recline on one end or the other. This design also provides flexibility in positioning within the bathroom.
In terms of size, the 71″ length of this tub provides plenty of space for a relaxed bathing experience. It is suitable for individuals who are taller than 6 feet; enjoy stretching out and immersing themselves fully or for those who want to share the tub with a partner. However, it's essential to consider the dimensions of your bathroom to ensure it fits properly.
While the Buchanan tub has its merits, there are a few considerations to keep in mind. Firstly, the cast iron material makes this tub quite heavy, which can present challenges during installation. It may require additional support and planning to ensure proper placement in your bathroom.
In a nutshell, this beautiful bathtub with traditional embellishments is a perfect choice if you need comfort in style. It is available in three amazing finishes and has a 7″ faucet hole for easy installation. 
Pros
The bigger brushed nickel feet offer added support
Plenty of space to even fit two people
Contoured ends for a comfortable bathing experience
Goes perfectly with any type of faucet finish
Cons
It's quite heavy
Low overflowing capacity
Cast Iron Freestanding Tubs Buying Guide
Since the base material in these tubs is almost the same, there are some other important things that deserve your attention. This guide covers everything you should know before buying a cast iron freestanding tub.
What is a Cast Iron Bathtub?
Cast iron bathtubs are made using multiple layers of material, including cast iron as the base layer and porcelain or some other soft material as the top layer. These materials are reinforced using fiberglass, and that makes the tub highly durable.
Cast iron baths are less prone to chipping and other damages because of the characteristics of iron. Furthermore, these tubs can easily handle heavy impacts while maintaining insulation for longer. However, these tubs are heavy and difficult to install, as compared to regular freestanding bathtubs.
Common Sizes for Cast Iron Bathtubs
There are plenty of sizes available in cast iron bathtubs, but the most common sizes range from 66 to 72 inches. The reason why these sizes are popular is because of the versatility and ease of installation.
You can even install a 66 inches bathtub in an alcove or use it as a drop-in. Another benefit of these common sizes is that they can fit you comfortably and are ideal for a relaxing bath.
One of the most popular cast iron freestanding tubs in this size range is Signature Hardware 72″ Cast Iron Pedestal Tub.
Advantages of Cast Iron Tubs
Cast iron tubs are popular because of the exclusive advantages they offer over regular tubs. I'm also using one for some months, and here are some benefits I've experienced.
1. Built to Last for a Lifetime
Cast iron baths last really long, and that is why homeowners prefer investing in them. The extremely durable tubs do not chip or break down easily. Moreover, they are timeless and classic and never go out of style.
2. Low on Maintenance
You don't need to spend hours maintaining a cast iron bath because they require minimum care and are easy to clean. The porcelain coating over the tub makes it easier to get rid of stubborn stains. Thus, you can keep the whole tub spick and span with a basic cleaning regimen.
3. Better Heat Retention
Freestanding tubs made using cast iron are popular for their insulation. The multiple layers of these tubs retain heat for longer, so the water remains hot for more time, and you can enjoy a bath.
4. Easy to Repair
Repairing a cast iron tub is possible, as some brands offer refurbishing, painting, and refinishing services to make the tub look and function like a new one.
Cast Iron Tub vs. Acrylic Comparison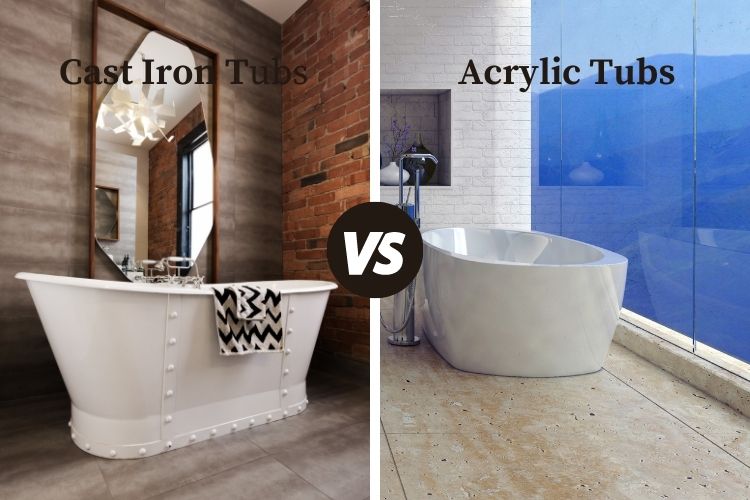 Are you confused between a cast iron and an acrylic tub? Well, here is a detailed cast iron tub vs acrylic difference that you should know. I have compared both tubs based on some factors to help you make a decision.
1. Durability
Cast iron tubs win the league with a big margin against acrylic tubs when it comes to durability. If you need a bathtub that lasts longer, choosing a cast iron tub will be the best decision.
2. Maintenance
As cast iron baths are extremely durable, they require minimal maintenance and upkeep. While some good acrylic tubs also require less maintenance, it is still more than iron bathtubs.
The reason is that acrylic tubs are more prone to catching stains, thus, they need more cleaning.
3. Ease of Installation
Acrylic tubs are better than cast iron baths when it comes to ease of installation. This is because cast iron freestanding tubs weigh more and requires multiple people to lift and install the tub.
4. Insulation
Cast iron tubs are popular for their insulation and can retain heat for longer. Iron absorbs the heat from the water, and this helps maintain the right temperature ideal for bathing and soaking. Acrylic tubs, on the other hand, have poor heat retention and cannot keep the water hot for longer.
5. Cost
Acrylic tubs are cheaper than cast iron tubs, and if you need something affordable, an acrylic bath is your way to go. The reason why cast iron tubs are expensive is because of the material. These tubs last longer, and you get the best value for your investment.
How To Choose a Cast Iron Freestanding Tub?
1. Type
The first thing to consider is the type of tub. These freestanding baths are available in multiple types, including pedestal (with a big base), clawfoot (with pegs), and slipper (with a short but flat base).
Choose the tub according to the space in your bathroom. Also, the type of tub will affect the aesthetics.
2. Dimensions
Measure the space in your bathroom, and then choose a bathtub that fits easily. If you need one for an alcove, a small tub like The Tub Connection Chariton 61″ Slipper Tub would be the best choice.
3. Capacity
The capacity of the tub is how many gallons you can fill in it. Tubs with higher capacity are ideal for soaking, while they can fit more than one person. Smaller capacity bathtubs are suitable for smaller bathrooms and can fit one person only.
4. Weight
Always check the weight of the tub to ensure it will be easier to install. If the bathroom's floor is old and not well reinforced, I'll recommend choosing a lighter tub.
5. Warranty
Cast iron tubs are slightly more expensive than regular tubs, so make sure to check the warranty before buying. There are brands like Signature Hardware that offer a limited lifetime warranty on their tubs.
FAQs
Q1: Is a Cast Iron Tub worth the Money?
A1: Yes, cast iron tubs are worth every penny because they last longer, require less maintenance, and look very stylish. Some tubs are pretty expensive, but their longevity justifies the price tag they come at.
Q2: How long does a Cast Iron Tub Last?
A2: On average, these tubs can easily last around 25-30 years. However, the lifespan depends on how you take care of the tub.
Q3: Can you Paint a Cast Iron Bathtub?
A3: Yes, painting a cast iron tub is possible, but you need a spray canon to repaint it. It is recommended to call professionals to repaint and refinish the bathtub.
Q4: Are Cast Iron Tubs Safe?
A4: Cast iron tubs are as safe as any other bathtub, so don't worry about anything. Just scan the user manual carefully, and avoid using electrical heaters in the tub if recommended by the manufacturer.
Q5: How much do Cast Iron Bathtubs Weigh?
A5: These tubs are available in different weights; with some baths weighing as much as 700 lbs. Heavier tubs are more durable because of the thick layer of cast iron. The lightest cast iron tubs can weigh around 300-400 lbs.
Final Thoughts
Choosing the best cast iron freestanding tub is essential to enjoy all the exclusive benefits these baths offer. Choose a tub that lasts longer, is easier to maintain, and offers ultimate insulation so that you can enjoy the bath.
If you ask me for a recommendation, I'd suggest Ove Decors Castor 69″ Clawfoot Freestanding Bathtub. It looks amazing, has interchangeable feet, and can fit in almost any bathroom.
If a budget tub is on your mind, choose The Tub Connection Chariton 61″ Cast Iron Slipper Tub.